"When you look at the sky during the day and don't see the stars, can you say they don't exist?"
If you are 20-something years old, then I'm about a decade older than you. I decided to write this essay after coming home from an all girls' birthday get-together. Young women, good music, delicious tiramisu among other delicacies, and deep conversations, the best ones, of course, taking place in the kitchen.
I'm writing this because, looking at you, I see myself 10 years ago. Oh, if I could only travel back to those days, to tell myself what I know today. But I can't, so allow me to share it with you now.
You are wonderful. You are complete. You are brilliant, hardworking, ambitious, sensitive, and friendly. You have all you need. Your happiness is here. You are your happiness. And perhaps right at this moment, you think this is all bogus. But guess who is whispering this in your ear? What would happen if you believed my words?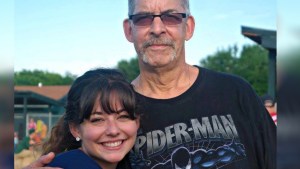 Read more:
Young woman's sweet tribute to her single dad goes viral
You say that sometimes you just want to be hugged. So you agree to go on a date with a guy who doesn't even show up because you "only just sort of made a soft date" with him, a guy who simply isn't honest. I see the sadness in your eyes. I know this feeling. From here, it is only one step to the abyss of self-pity or the dawn emerging from behind the mountains. You don't have to fall; you can do something. But what?
For years I didn't know the answer. St. Francis and his prayer came to help (not in person, of course!): "Lord, grant that I may seek to comfort rather than be comforted. To understand, rather than be understood. To love, than be loved. For it is by giving that we receive."
So what if you don't have a boyfriend. That doesn't mean you're alone. Did you ever replace the question "Why?" with "For what reason?" What is the reason you're not in a relationship? Maybe you need this moment of your life to get to know yourself better, so you can open yourself up to people around you, or maybe to truly get to know God? To enter into a deep and strong bond with Him. Trust me, it will be necessary, because the further in your life you go, the greater storms will tug that raft that is your sensitive heart. Let Him who can weather any storm, reside there.
Read more:
7 Edith Stein quotes every woman should read
Acceptance. I know it's hard. It's easy to say, easy to write. It's harder to let it in. But it is even harder to live in rebellion. I know something about that. If I were a fairy godmother, I would take that "it has to be my way" spell away with one touch of my wand. But I'm not a fairy godmother. And that is a good thing because now I know what you feel and I can tell you there is a way out.
Once, when I was sick, you visited me. You texted — "I'll get pizza for dinner." I answered — "You are wonderful!"
And when we divided the stretchy pieces of the pie, all four cheeses tempting our nostrils, you mentioned that you were happy that I wrote that.
"No one talks to me like that," you confessed.
"All in good time," I say. "The prince will come."
"Oh, he doesn't exist."
Your denial pierced the air. But tell me, when you look at the sky during the day and don't see the stars, can you say that they don't exist?
Read more:
Growing Up with a Single Mom Isn't Like Life on "Gilmore Girls"
And sometimes even at night, you can't see them. If you leave a bright room and look up, your eyes need time to adjust and see the abundance of the heavens. Maybe you need this time without someone by your side? Believe me, the older I get, the more I tend to believe people who are older and wise than me. I think that Ecclesiastes is already very old and trustworthy. And when the writer says (well, for accuracy's sake — writes) that everything has its time and there is a designated time for all things under the heavens (Ecclesiastes 3: 1), I believe him. But also, looking at my life, I see that he's right.
Dear single friend, that time is now — it's a gift of freedom. Enjoy it and practice it, because disappointments will come and you will need your strength. Another person is like a bird who will sit on your open hand. The temptation may be great, but you cannot hug him or caress him so he will stay with you. If he wants to, he will stay, if he wants to, he will fly away. It is his freedom. Where then will your heart seek consolation? Now is the time to answer that question. Who knows, maybe today is the last day you will be alone? Are you ready for that?
There is a time for everything,
and a season for every activity under the heavens:
a time to be born and a time to die,
a time to plant and a time to uproot,
a time to kill and a time to heal,
a time to tear down and a time to build,
a time to weep and a time to laugh,
a time to mourn and a time to dance,
a time to scatter stones and a time to gather them,
a time to embrace and a time to refrain from embracing,
a time to search and a time to give up,
a time to keep and a time to throw away,
a time to tear and a time to mend,
a time to be silent and a time to speak,
a time to love and a time to hate,
a time for war and a time for peace.
— Ecclesiastes 3:1-14
This article was originally published in the Polish edition of Aleteia.