Traditionally, royals never officially 'retire' -- which is why everyone's talking about what it means.
You can get Aleteia inspiration and news in your inbox. Our specially curated newsletter is sent each morning. The best part? It's free.
Sign up here
After it became public knowledge that all the Queen's staff had been called back to Buckingham Palace for an emergency meeting today, there was a lot of speculation in the press and on social media over what was happening behind the palace walls. Many thought the worst, believing that the Queen's husband, the 95-year-old Prince Philip, the Duke of Edinburgh, had died (with one British publication actually announcing his death), others questioned if the Palace was going to be totally revamped, and a few pet lovers were concerned that the Queen's last beloved corgi had died!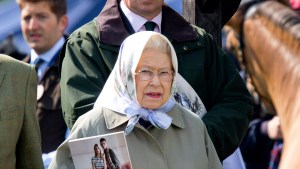 Read more:
Queen Elizabeth photographed on horseback — at age 90!
Thankfully, there were no deaths, or costly refurbishment plans. Instead the Queen announced to her staff that her husband, or her "rock" as she has referred to him previously, has taken the decision to retire from public engagements in the fall. And the Queen, who has vowed to continue serving as long as she lives, has given him her full support. The exact statement issued by Buckingham Palace stated:
His Royal Highness The Duke of Edinburgh has decided that he will no longer carry out public engagements from the autumn of this year. In taking this decision, The Duke has the full support of The Queen. 

The Duke of Edinburgh is Patron, President or a member of over 780 organizations, with which he will continue to be associated, although he will no longer play an active role by attending engagements.
And just one hour after the announcement, the couple were seen going to a church service at St. James' Palace, both looking remarkably well.
Since their marriage in 1947, Prince Philip has notched up an impressive 22,000 solo engagements and given over 5,000 speeches, and that's not counting all the times he has accompanied his wife on royal tours abroad, and the thousands of royal events they've been to together back in the UK. These figures give just a glimpse of how Philip has totally devoted his married life to the Queen and his adopted country, as quite simply he believed it his duty. On marrying the then-princess, Philip gave up his Greek nationality and his flourishing naval career in which he had reached the rank of commander. Although as consort he was always in the Queen's shadow, he still managed to carve out a royal career of his own, as patron to thousands of charities, and with popular initiatives such as the Duke of Edinburgh's Award scheme, encouraging self-improvement in adolescents and young adults that is now present in 144 nations. 


Read more:
The Mary, Queen of Scots You Don't Know


The Duke's motto, "God is my help," may be behind his impressive achievements, as well as how at 95 he has amazed many by his stoicism in continuing to turn up to events immaculately dressed and with a posture equal to that of much younger men, to carry out his duty. But now it really seems time to hang up the suits (well, in as much as he can) and to take some well-deserved rest. Fortunately he knows that he is not abandoning his wife. As with all families who need to adapt to aging parents, the couple's four children, including Princes Charles, Andrew, and Edward, as well as their daughter, Princess Anne, and their many grandchildren, will be there to step up for the British sovereign and offer their support. 
Remarkably, the statement also said that the Queen, at 91, will continue to fulfill all her royal engagements as usual. A devoted Queen, who can only admire the sacrifices, achievements (with just the occasional mishap), and support of her dutiful husband.