But you have to drink it like you really mean it.
For years doctors have looked askance at us coffee drinkers, warning us about the dangers caffeine poses to our hearts, brains, and bowels. They implored us to quit coffee entirely or at least keep it to one cup a day. But did we listen? No. And what do we have to show for it?
Really, really good health.
Listen up, coffee drinkers. This is the day of our vindication. It turns out we were right all along — we actually would die without our coffee.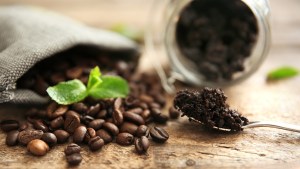 Read more:
Natural skincare: 5 Cosmetic uses for coffee
Research the world over is confirming that drinking coffee keeps you alive … but it doesn't work if you drink it in moderation. In fact, Harvard researchers found that low consumption of coffee is linked to deaths from heart-related illnesses. To get the health benefits of coffee, you have to drink it like you mean it.
Drinking three to five cups of coffee per day gives you a longer life, making you 15 percent less likely to die early, lowering your risk of dying from a heart attack or a stroke by 21 percent and slashing your risk for type 2 diabetes by 12 percent.
Three cups of Italian-style espresso per day cuts the risk of prostate cancer in half. And a study in the British Medical Journal found that coffee helps prevent clogging of the arteries.
When it comes to your brain, coffee does more than just help you feel alert. It has neuroprotective properties, and drinking it regularly can reduce your risk of Alzheimer's — but to get the full 20 percent reduction, you have drink at least 3 cups per day.
Read more:
5 Longevity tips from the World's Oldest Person
Drinking two to three cups of coffee per day is particularly beneficial for us women, as it cuts our risk of depression by 15 percent. It also lowers our risk of endometrial cancer by 22 percent.
But coffee's benefits are not merely protective and preventative. A 2012 German study found that drinking coffee three times per day helped patients recover from bowel surgery faster. And the next time someone warns you that coffee will stain your teeth, don't believe it. Brazilian scientists have found that coffee breaks down the bacteria that causes plaque, and can prevent or slow down tooth decay.
And for you moms out there, a study in my kitchen this morning found that two cups of coffee in rapid succession improved my happiness level by 100 percent. Pint-sized researchers confirmed that coffee "makes you so much more smiley, Mommy."
So pull out the biggest mug you have and drink up, because coffee is almost certainly the only reason you're still alive. Cheers!