On our tour of Rome's "Little Madonnas" we find a much beloved image of Our Lady of Perpetual Help.
We continue with our daily tour this month through a particular artistic expression of Marian devotion: Rome's "Madonnelle" ("little Madonnas"). These are images of Mary—some of them miraculous—scattered throughout the streets and alleyways of the city. They are the object of much popular devotion. Follow the series here: Little Madonnas of Rome
"Traveling down this road, we lift our thoughts to Mary." ["Viandante pe' sta via, un pensiero pe' Maria."] This inscription appears on a wall plaque in a southeast section of Rome called Largo Preneste.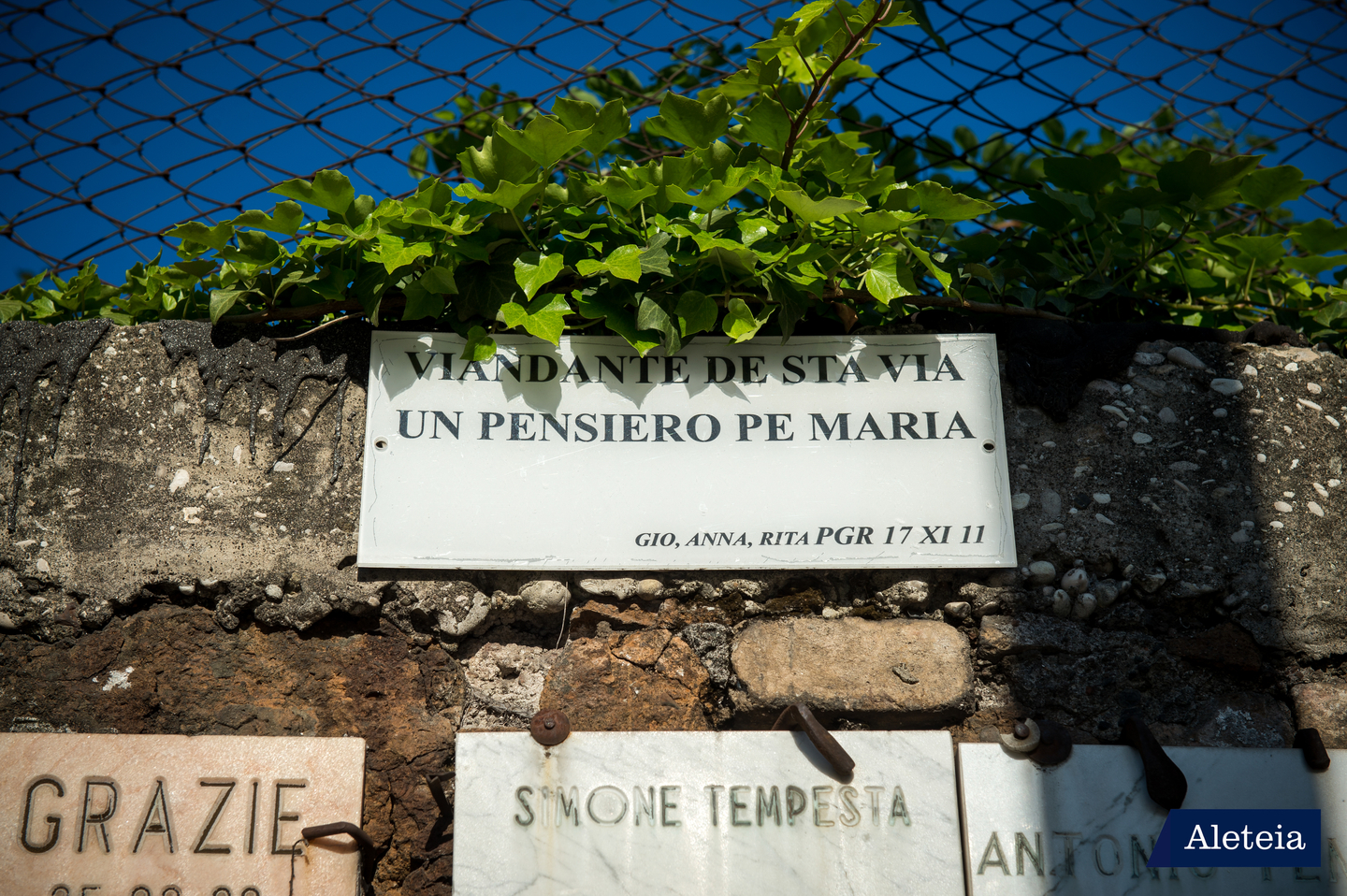 Largo Preneste lies at the crossroads of two major traffic routes in Rome: via Prenestina and via di Portonaccio. Here, too, the stories and destinies of so many men and women intersect in the veneration of Mary under the title of "Our Lady of Perpetual Help."
Hundreds of votive offerings cover the wall, each one a 'thank you' to Our Lady for a grace received, many of them for the birth of a child.
And there are always fresh, colorful flowers. Miss Pina has been bringing them for more than 60 years, since she was a little girl helping her parents at the flower stand they ran close-by.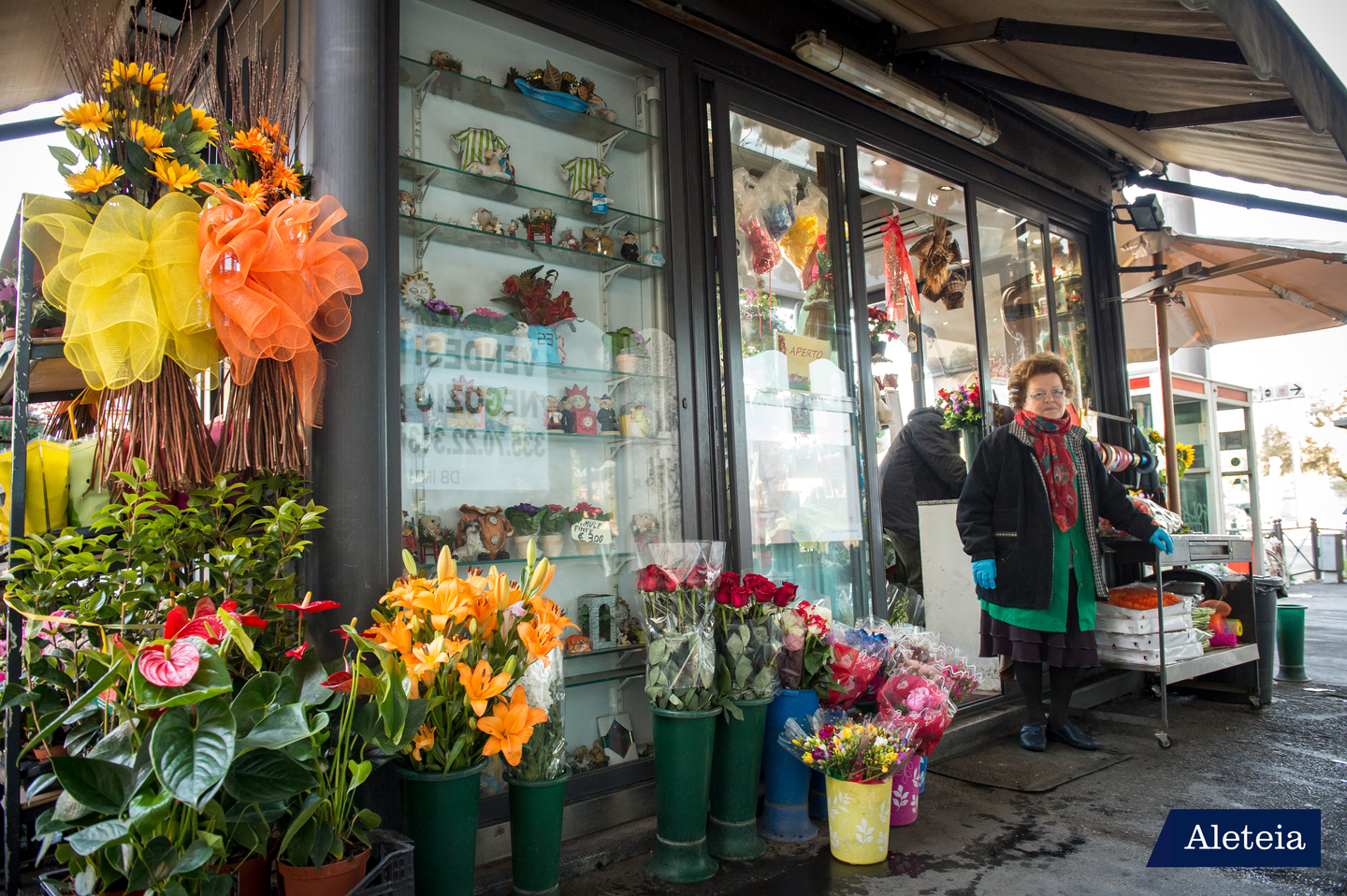 Miss Pina has been running the flower stand catty-corner from Largo Preneste since 1956. "I have a special devotion to the little Madonna," she said some years ago on a site called Little Notes. She says the Madonna saved her life after she suffered a violent hemorrhage when she was 25. As she was being rushed to the hospital, "the ambulance passed right by the image of Our Lady of Perpetual Help, and, managing to lift my head a little, I was able to see her. 'My little Madonna,' I said to her, 'lay your hands on me.'"
"Through her intercession, everything went well. Since then, every morning I bring her fresh flowers," Miss Pina says.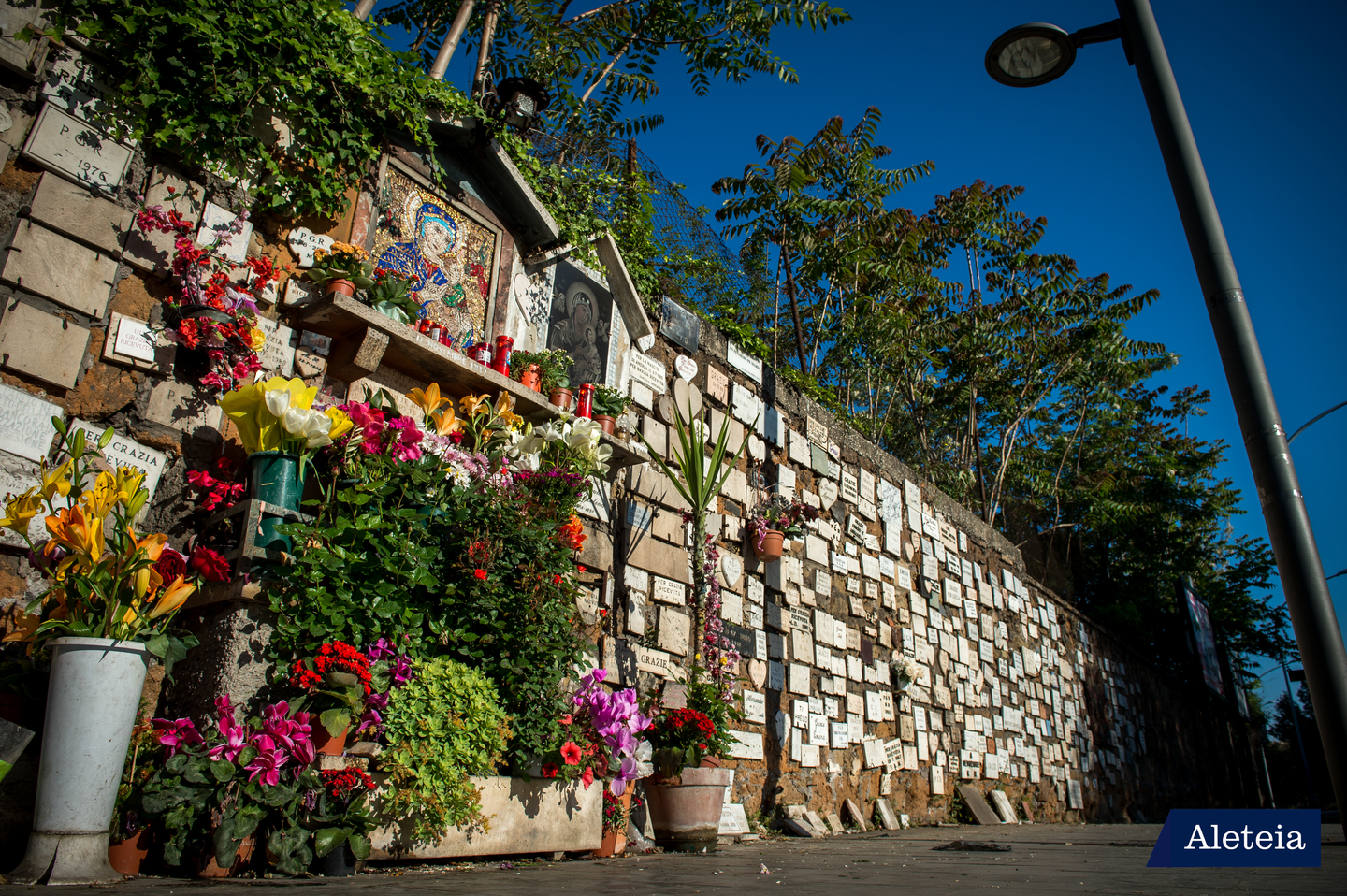 The mosaic image at Largo Preneste dates back to the early 1900s. Though it is often mistaken for the image of Divine Love, it depicts Our Lady of Perpetual Help, with characteristic elements. The Virgin holds the Child in her arms. Her gaze is not turned toward him, but to us, her adoptive children.
Jesus, on the other hand, seems to be looking at two angels holding the instruments of his Passion: on the left, St Michael holds the spear and bitter sponge; to the right, St Gabriel holds the cross and nails. Under her blue mantle (a symbol of purity), Mary is dressed in a red tunic (a symbol of charity), thus representing Our Lady as Virgin and Mother.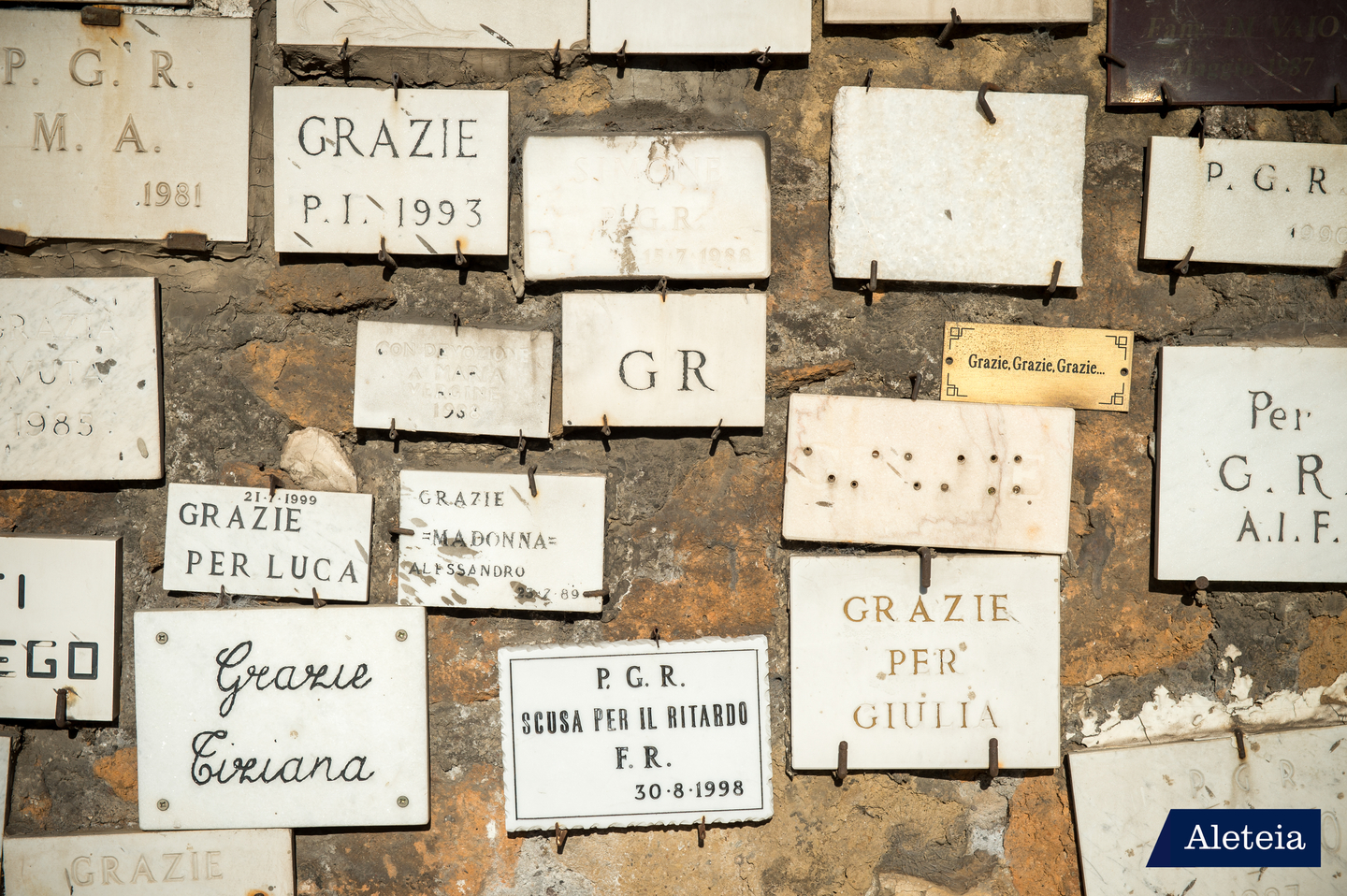 The story of this image is interwoven with the legend of the icon of Our Lady of Perpetual Help, which is widely venerated in Rome. The story of this reproduction begins on November 26, 1917. On that day, a bomb was thrown into the Snia-Viscosa factory. Fortunately, it did not explode. In thanksgiving, a Roman noblewoman, whose identity is unknown, decided to place an image of Our Lady of Perpetual Help at the spot where the bomb had fallen.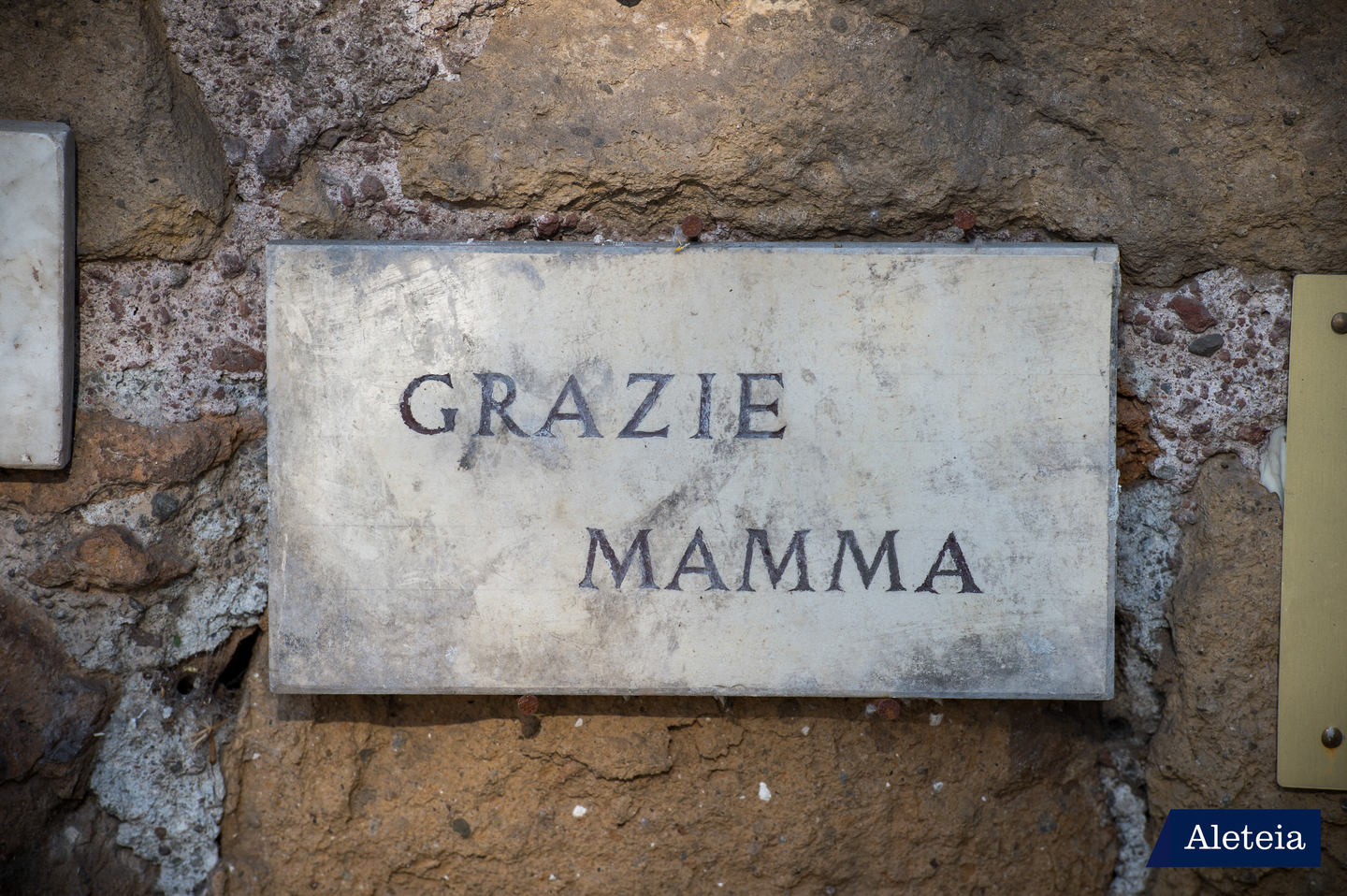 Since then, Our Lady has obtained many graces for her children, as the ex-votos fixed to the wall attest. The oldest one dates back to the 1950s, but there are also very recent ones, some just a few months old. And popular devotion is very much alive. In addition to the flowers and lights, a group of faithful from the nearby St. Luke's parish come here each day to pray the Rosary.
~
Follow the series here: Little Madonnas of Rome
See more articles like this at Aleteia's Art & Travel section.