Our May tour of Rome's "Little Madonnas" takes us today to Via del Banco di Santo Spirito
We continue with our daily tour this month through a particular artistic expression of Marian devotion: Rome's "Madonnelle" ("little Madonnas"). These are images of Mary—some of them miraculous—scattered throughout the streets and alleyways of the city. They are the object of much popular devotion. Follow the series here: Little Madonnas of Rome
As you walk from Castel Sant'Angelo in Rome, along the Via del Banco di Santo Spirito, on the right you find an archway that opens onto the Via Arco dei Banchi.
Here, a little grotto protects an image of the "Madonna of the bow" under a painted blue, starry sky. Restored just a few years ago by the Nando Peretti Foundation, the scouts of the nearby parish of Santa Maria in Vallicella (Chiesa Nuova) help to take care of it, often bringing the Little Madonna a flower or a candle.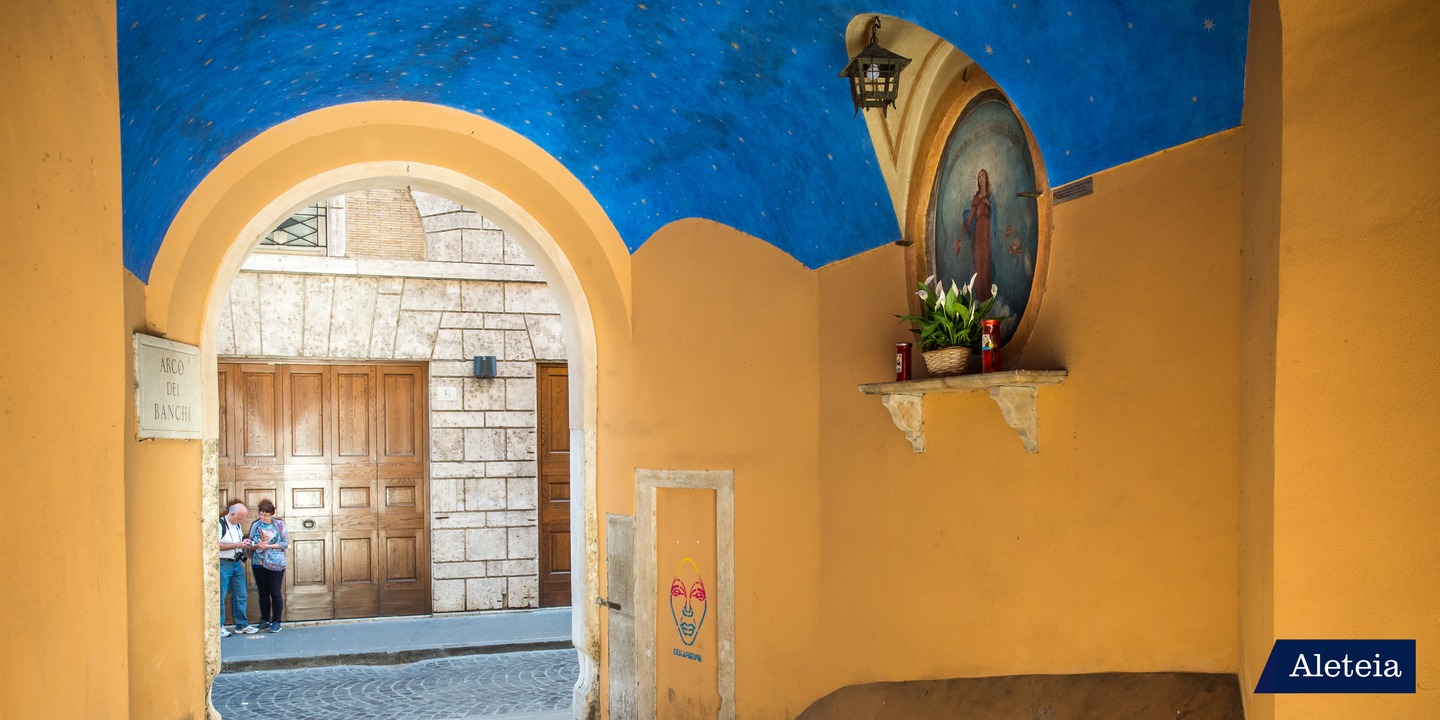 We are close to the Tiber, just opposite Castel Sant'Angelo, in an urban area built in the early 1400s by affluent bankers from Tuscany and Umbria. Hence the street names: Arco dei banchi, Banchi vecchi, Banchi nuovi, indicating the places where merchants of every sort engaged in business, taking advantage of their proximity to the Vatican.
Indeed, in those years, St. Peter's Basilica became the political, moral and religious center of Rome. This in turn directed traffic toward the Bridge of Sant'Angelo which one had to cross in order to reach the Vatican.
Under the archway that connects via the Banco di Santo Spirito and Via Paola, in the 16th century a beautiful wooden sculpture of the Virgin was removed, never to be found. Two centuries later, it was replaced by a beautiful oil painting depicting the Blessed Virgin, which is still venerated today.
~
Follow the series here: Little Madonnas of Rome
See more articles like this at Aleteia's Art & Travel section.