We have more control over our emotions than we think.
Need an idea for Lenten almsgiving?
Help us spread faith on the internet. Would you consider donating just $10, so we can continue creating free, uplifting content?
Make a Lenten donation here
Too often I see my husband out the door to work with sighs of exasperation and a half-hearted "have a good day." Being a stay-at-home mom is hard — I'm constantly surrounded by endless work that never gets done. It's particularly difficult to sit down and write or play with the kids when the floor is littered with toys, the laundry is piled up, and the counters are cluttered with mail, homework, hairbrushes, and (the worst) dirty socks.
Read more:
How the Cult of Positivity is turning us against each other
These little annoyances add up and make it easy for me to slip into a foul mood. But as the New York Times recently explained, I have more control over my emotions than I think — and constantly dwelling on the negative could be more detrimental than I thought.
Negative feelings activate a region of the brain called the amygdala, which is involved in processing fear and anxiety and other emotions. Dr. Richard J. Davidson, a neuroscientist and founder of the Center for Healthy Minds at the University of Wisconsin — Madison, has shown that people in whom the amygdala recovers slowly from a threat are at greater risk for a variety of health problems than those in whom it recovers quickly.

Both he and Dr. Fredrickson and their colleagues have demonstrated that the brain is "plastic," or capable of generating new cells and pathways, and it is possible to train the circuitry in the brain to promote more positive responses. That is, a person can learn to be more positive by practicing certain skills that foster positivity.
Dr. Barbara Fredrickson, a psychologist at the University of South Carolina, has done extensive research on the importance of "micro-moments of positivity" — small moments of positive emotion that accumulate over time and are essential to human flourishing. But these aren't just emotions that strike us out of the blue; they're emotions that we are capable of generating, particularly through thoughts and acts of kindness and compassion.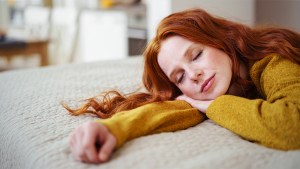 Read more:
Your brain has a reset button: Here's how to use it
Dr. Fredrickson calls this "loving-kindness meditation," and her studies show that six weeks of such meditation resulted in not only improved positive emotion and social connectedness, but also improved function of one of the main nerves that helps control heart rate. This leads to a more variable heart rate, which in turn helps control blood glucose, reduces inflammation, and promotes faster healing from heart attack.
Even as little as two weeks of compassion and kindness meditation can generate changes in brain circuitry — so how do you do it?
First, focus on directing goodwill and compassion toward others in your thoughts throughout the day. So for me, rather than be irritated when I trip over shoes in the kitchen, I should think of the child who left them there with compassion. Maybe I can say a quick prayer that she'll have a good day and be grateful for the misplaced shoes that gave me a moment to pray for her.
Then put your compassion into action. I could pick up the shoes and put them away, or I could be grateful for the opportunity to help form my daughter's character by reminding her to put them away when she gets home. Either way, I am still fostering love and kindness instead of irritation and annoyance.
Read more:
How to love the body God gave you, even in a swimsuit
Loving-kindness meditation helps us develop and strengthen our relationships with family and friends, which are a vital source of positive emotion and interaction. These relationships also help us live longer, healthier lives. But not all positive emotion is relationship-based.
Taking a moment to step outside and enjoy the sunrise or pausing to listen to a bird sing are simple ways to generate positivity. So is setting goals and accomplishing them — even goals as small as "fold this basket of laundry after lunch." Learning something new is a more challenging activity, but the positive benefits can be correspondingly larger, giving you a lasting a sense of confidence and achievement.
The major component of all these ways to generate positivity is mindfulness. Pay attention to where your mind is wandering. Don't dwell on how hard things are or how big the mess is, or even how badly you've just failed at something. If you're stewing on what you can't control you'll miss the sun setting, the bird singing, and the way your husband smiles at you when he comes home. Be present and aware of the people around you, so you don't miss all the joy and love they have to offer.
Most importantly, love them back — in your thoughts and in your actions.