The world can be far from rosy, but this color is still popular for clothes and interior decor.
Each year, the color technology firm Pantone proposes an "official" color, and although for 2017 it's Greenery (a yellow-green shade), the color that is actually setting the trend this first half of the year is called "Millennial Pink" (or "Tumblr Pink").
It is a hue of pink that mixes tones of salmon and grapefruit, and is present in all kinds of showcases (thanks also to the fact that it was on the spring runways of fashion houses like Gucci and Balenciaga) — and even in the decor of restaurants, one of the most famous being Pietro Nolita in New York.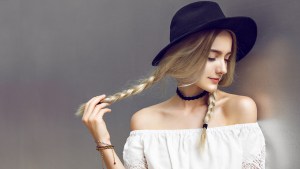 Read more:
5 Fashion trends from childhood that are back in style
Where is this surge of popularity coming from? Many think it started in 2015 with the launch of the pink iPhone 5. Others believe it was the year before, with Wes Anderson's movie The Grand Budapest Hotel,whose main building was painted different shades of pink in a retro-kitsch aesthetic.
What is certain is that both events certainly had something to do with it, since Rose Quartz was the color of 2016 according to Pantone. But apparently, people weren't ready to let it go yet, and now practically the same tone of pink is back in the spotlight, just with a new name.