Having formerly resisted devotion to Our Lady of Fatima, this writer says to doubters "You need to give her a second chance..."
Need an idea for Lenten almsgiving?
Help us spread faith on the internet. Would you consider donating just $10, so we can continue creating free, uplifting content?
Make a Lenten donation here
It was the morning of May 13, 1960. We 4th graders at Immaculate Heart of Mary were lined up on the playground to march into class. Ahead of me, Mary Dean was sobbing. "It's my birthday," she whispered. "And they're opening the Third Secret of Fatima today. I'm only 10 years old and it's the End of the World!"
I started crying, too – not least because my birthday wasn't until October and I'd never see the Big 1-0. But it was very real fear. The Cold War was hot. We practiced drop drills, ducking under our desks to avoid nuclear incineration every Friday when the air-raid signal sounded. The year before, our 3rd grade teacher – a sister whose family had fled persecution in Cuba –regularly ended the day by saying things like "The Russians will bomb us if you don't do your homework tonight!" or "Will you stand up for your faith when the Chinese shove bamboo skewers under your fingernails? Think about it!"
I thought about it a lot. And about Our Lady of Fatima, whose job it was – in my 9-year-old mind – to beat us over the head for not fighting Communism hard enough. She was like a stick used by God, along with a bag full of hellish visions, to whack little children.
Of course, Mary Dean and I both saw our 10th birthdays, and many, many more. The Third Secret was not opened that May 13, not for many years later. The world did not end, then. But the association of Our Lady of Fatima with childhood fear, with conservative geopolitics, and with a particularly florid brand of Catholic apocalyptic conspiracy theories, persisted.
The source of ineffable peace
I developed a deep devotion to Our Lady of Guadalupe, mother of the oppressed. I believed strongly in the healing presence of Our Lady of Lourdes. But Fatima? I'd pass, thanks. Through the wrangling over whether Russia had truly been consecrated to the Immaculate Heart (this is a thing we wrangle about, some of us). Through the tabloid headlines that claimed reading the Third Secret killed Pope John Paul I (false) or that the seer Sister Lucia had been kidnapped and replaced by a ringer (also false). Through the fall of the Evil Empire (sort of) and the demise of the John Birch Society's witch hunts (sort of). No need for the Lady of the Cova da Iria, not me.
And then I went to Fatima 5 years ago, and the scales fell away.
I came to Fatima having been given a Marian pilgrimage by friends. But I came badly broken, at the frayed end of a rope woven from depression, ill health, alcoholism, and hoarding disorder, all unacknowledged and unconfessed. I came angry, with a child's irritability and ingratitude. I came afraid. I came expecting God to beat me with the stick of Our Lady of Fatima, to show me hell in the mirror. As in 1960, I didn't expect to see another birthday.
And all that was there was peace.
The place where the Lady first appeared 100 years ago this Saturday on May 13, 1917 is utterly devoid of fear and politics and wrangling and apocalypse. Simple, even stark, it is what the name of the meadow where she appeared, the Cova da Iria, literally means – the Vale of Peace.
Prayer is there, in the pilgrims praying with their bodies, making their way on their knees to the Chapel of the Apparitions. Light is there, pouring from the Portuguese sky like a daily miracle of the sun. Mercy is there, and a great heaping of joy. Families stroll the olive-shaded paths of Fatima like they're on a picnic, visiting Mama on Sunday afternoon. (They are.) Hope is there, in the candles lit and carried in procession, in the letters dropped into "Mary's mailbox" requesting – no, expecting – miracles.
I was astonished. I sat by the pathway to Loca do Cabeco, where the Angel of Portugal appeared to the shepherd children, and prayed a Rosary, bowled over by wonder. If I could have been so wrong about the real message of Our Lady of Fatima – and I was, and you might be, too – could it be that I was wrong about myself, too? Could there be somewhere beyond fear? Could this peace come home with me? Yes. And yes.
Fatima Mysteries: Mary's Message to the Modern Age
Here's the thing. This is all Mary wanted to tell us at Fatima, then and now:
Peace is not only possible, it is inevitable. You will make it happen. Give everything over to my Immaculate Heart.Nothing that hurts you, no sacrifice, no war, no fear can stand up to the peace my Son offers. The way to that peace is through the Cross, which is not a stick to beat children but a key to all there is, a path to walk with me. It is not – it is never – too late.Sin hurts, but sinners can be bathed in mercy. Wars happen, but they will not be the last act. You can drive God out of the country, but my image will stand in Red Square.
Since my return from Fatima I have been moved to learn more about the complicated history of these apparitions. I was delighted to be offered the chance to read and review the book Fatima's Mysteries: Mary's Message to the Modern Age, by Grzegorz Gorny and Janusz Roskon, a Polish work recently published in English by Ignatius Press.
It's a beautifully produced volume, like others in the authors' Mysteries series, full of photographs and personal accounts. What I appreciated most about this book, though, and why I recommend it especially to any Fatima resisters out there, is that it places the events of the Fatima century in a context that most Americans of my generation never had, or never let ourselves see.
There is much here about the geopolitics of the Fatima crusade against Communism, and for good reason. The book comes from those who experienced the real-life vision of hell that was the dark side of socialism. I am only just beginning to come to know some of these sufferings — I first learned of the Holodomor, Stalin's planned famine that cost 10 million lives in Ukraine, when reading the novel A Gentleman in Moscow — so more scales are dropping. The central role of Fatima in St. John Paul II's life – again, a moving story with which I was not very familiar — forms the framework for the book.
But what comes through it all is the power of the message of Fatima. Not the "secrets," but the out-loud truth of mercy, and peace, and salvation.
"During his homily of May 13, 2010, Benedict XVI said: 'We would be mistaken to think that Fatima's prophetic mission is complete …' He then explained what he meant … : Sin, on the one hand, exists and activates a cycle of death and terror, but on the other hand, God ceaselessly seeks the just in order to save the city. So it was with Fatima, where three little shepherds offered to bear all sorts of suffering to convert and save sinners. This is still relevant, and addressed to each one of us." (Fatima Mysteries, pp. 396-397)
If you've been resisting Fatima, join me this jubilee year in visiting this source of peace. Not because Russia is in the news again (though it is). Not because nuclear sabers are ratting (though they are). Not because Islamic terror threatens to obscure the heartfelt connection between the Muslim world and Our Lady of Fatima (the town named for Muhammad's favorite daughter). Not because the apocalypse groupies are predicting the End of the World for this Saturday (though they are).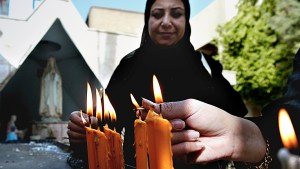 Read more:
The surprising connection between Our Lady of Fatima and Islam
Revisit Fatima because Mama wants you to come for a family picnic in the Vale of Peace, and leave your fears and your illness of spirit behind. She wants you to shoulder a cross that means something, and to believe you can change the world. Give it a try. Say a Rosary. Make peace with a family member. Read Fatima Mysteries and admit you have lots to learn. I'll come with you.
Immaculate Heart of Mary, we place our trust in you.