These 3 easy fish dishes will all but transport you to Portugal this weekend with the millions of pilgrims.
Millions of Christian pilgrims are traveling to the small city of Fatima in northern Portugal this weekend to celebrate the 100th anniversary of the first appearances of the Blessed Virgin Mary to three shepherd children on May 13, 1917. Even Pope Francis will be there.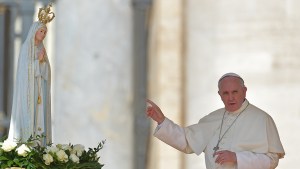 Read more:
Pope Francis prepares for Fatima: "I want to meet everyone at the feet of the Virgin Mother"
While Fatima is a dry and rocky area where people historically raised animals for a living, Portugal's large defining coastline means fishing has long been a way of life for many of its citizens. The country's cuisine is rich in seafood dishes, especially whole fish, stews, and fried sardines.
Whether you're commemorating Fatima this weekend or just want to try a traditional Portuguese fish dish, the recipes below will get you started. And by the way, don't let cooking a whole fish intimidate you — it's easier than you think!