Our May tour of Rome's Madonnelle today brings us to a representation known by the odd title "Madonna of the finger."
We continue with our daily tour this month through a particular artistic expression of Marian devotion: Rome's "Madonnelle" ("little Madonnas"). These are images of Mary—some of them miraculous—scattered throughout the streets and alleyways of the city. They are the object of much popular devotion. Follow the series here: Little Madonnas of Rome
Madonna of the finger: Vicolo d'Orfeo (Borgo Pio)
A finger peers out from under the Virgin's mantle, in an attempt to keep it from slipping. This is the origin of the nickname "Madonna of the finger," by which this image is known.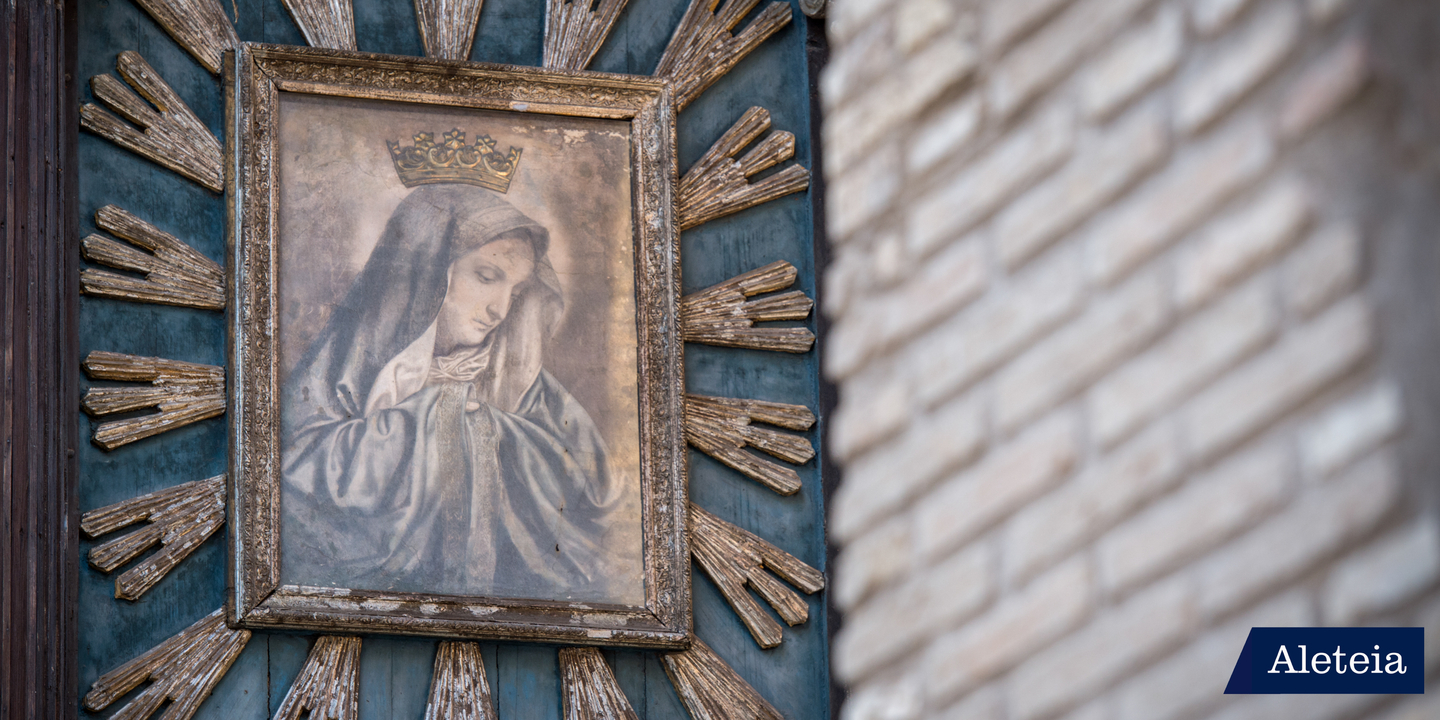 One such likeness is found under an arch of the famous "passetto di Borgo," a fortified and protected walkway commissioned by the Borgia Pope Alexander VI at the end of the 15th century. The popes used this passage to move safely and swiftly between the Vatican Palace and the fortress of Castel Sant'Angelo.
The image—one of the oldest in the Borghi quarter—is located inside a small wooden shrine, under an arch that spans the entrance to Vicolo d'Orfeo from Borgo Sant'Angelo street. It's a very unusual location, both for the way the light plays in this space and for the imposing size of the sacred structure in a space which, all things considered, is very limited.
The current image is an oleograph of Our Lady of Sorrows from the 19th century, which was substituted for the previous 17th-century image. This representation is known as the "Madonna of the finger" because of the finger sticking out from under her mantel.
The wooden shrine is shaped like a classical temple. From its thin base rise two elegant fluted columns, capped by Corinthian capitals. The whole is surmounted by a tympanum, in turn tipped by a three-lobed cross. Inside this structure, on an intense blue background, is a halo of golden rays, which frames the image of the Madonna.
~
Follow the series here: Little Madonnas of Rome
See more articles like this at Aleteia's Art & Travel section.