Mother Olga Yaqob shares "a nun's eye view" of a night of prayer and adoration
Last Saturday, May 13, the Universal Church celebrated the 100th Anniversary of the appearance of Our Lady of Fatima in Portugal. On that same day the Holy Father, Pope Francis, presided over the canonization Mass of Saint Francisco Marto and Saint Jacinta Marto, the two visionaries who witnessed the apparition with their cousin, Sister Lucia.
Read more:
Slideshow: See Pope Francis' trip to Fatima in these beautiful images
In honor of this great celebration our community, Daughters of Mary of Nazareth, wanted to commemorate this Anniversary and the canonization in the heart of our city where we live, in Quincy, Massachusetts. It was our intention to bring the messages of Our Lady of Fatima to the people who couldn't make it to Portugal. Here in the Archdiocese of Boston, we were very blessed by the presence of the National Statue of the Immaculate Heart of Mary of Our Lady of Fatima who was scheduled to tour few parishes for three weeks for certain hours each day.
We all know that one of the main desires of the Heart of Mary, our Holy Mother, is to bring us closer to her Son so we requested to have the pilgrim statue come to our convent and to be present in our Chapel during our 13 hours of Adoration on the eve of the feast of Our Lady of Fatima, starting from 5 p.m. on May 12, and completing it with Benediction at 6 a.m., May 13.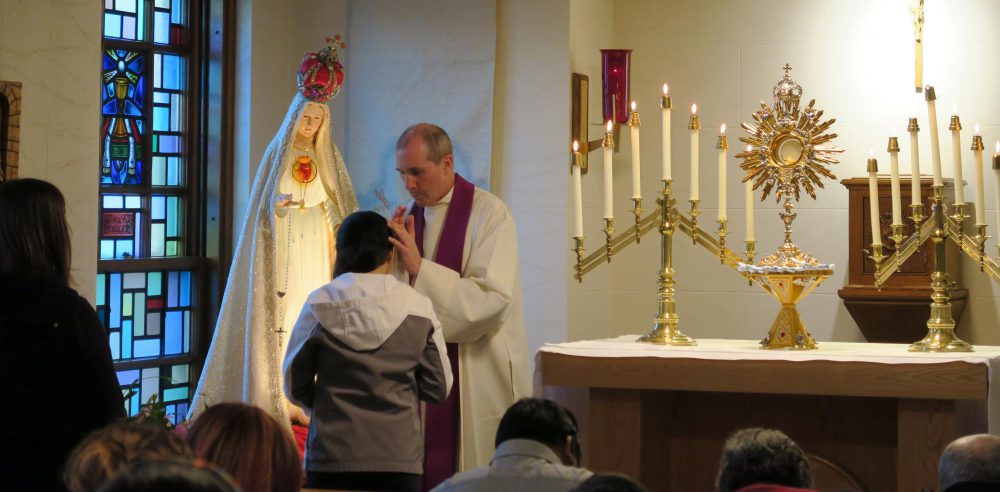 The Holy Spirit's help
When I first expressed my desire for this night of prayer, the Holy Father's schedule was not published yet regarding his time in Fatima. I was very moved by the Holy Spirit's confirmation of my discernment. It was very powerful to know that we began our prayer vigil here at our Convent at the same time and the exact hour when the Holy Father began the Vigil for Peace in Fatima because of the 5 hours difference! The same next morning we were still in Adoration when the Holy Father began his canonization Mass and the celebration of the 100th Anniversary.
Our Holy Father Pope Francis in his homily at Fatima said: "Dear pilgrims, we have a Mother, we have a Mother! Clinging to her like children."
Throughout the 13 hours of Adoration, we had about 530 people stop by our Chapel to adore the Lord and to ask for the blessings of Our Holy Mother and her intercession. It was a moving night and a powerful sight to behold to see all the people who came, young and old, poor and wealthy, religious and laity, simple workers and politicians, police officers, government leaders, priests, including a newborn baby who came with his parents after midnight. They all came because they knew as the Holy Father said, "We have a Mother." They came from nearby and afar to see their Mother who led them to Jesus in Adoration. Countless Rosaries were prayed in those 13 hours, among many other hymns and songs. Also thanks to our priests who served for 4 hours the Sacrament of Reconciliation that was offered throughout the evening.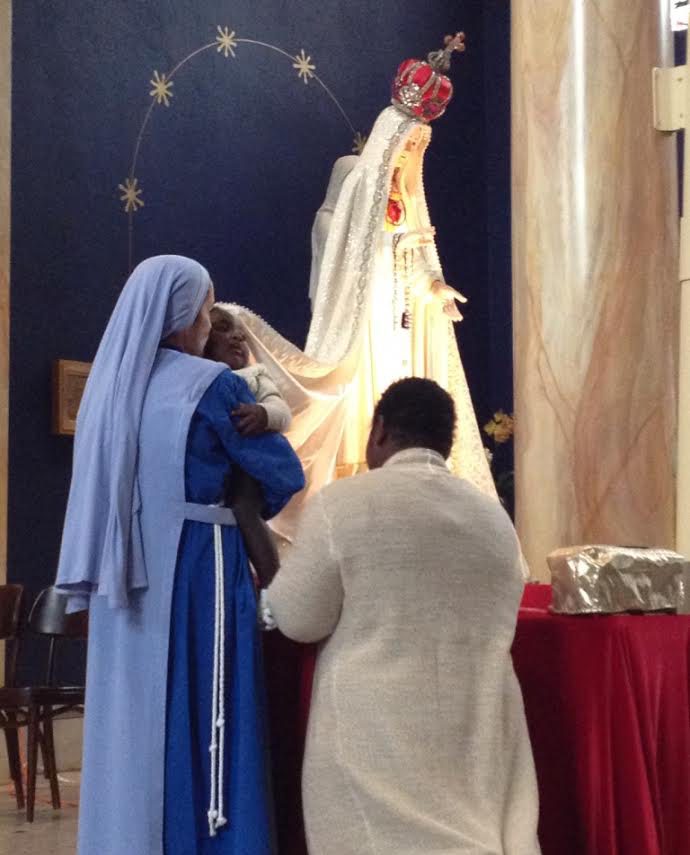 Then after the Benediction and the start of the big Feast, our Community traveled to Saint Mary's in Waltham to attend the special program that was organized by the World Apostolate of Fatima here in our Archdiocese. After I gave the reflection that I gave at the church, Mr. Ying, the custodian of the statue, invited me to minister to our people by praying with them as they came to venerate her statue. I stood there for 4 hours and watched hundreds of people waiting for hours in a long line to bring their needs and petitions, their hopes and dreams, and yes, even their fears and sorrows or just simply to be blessed by the shadow of her Mantle. I asked every individual, the young and old, those who spoke English perfectly or who with very few words of expression sharing their needs and petitions with me to pray with them through the Immaculate Heart of Our Holy Mother. I was humbled and overwhelmed to stand there to reverence their hearts as I placed them prayerfully into the Heart of the Mother that they came to seek her blessing. Indeed, as the Holy Father said, her children came to cling onto their Mother.
Shared prayer and intentions left in Mary's keeping
Reflecting on the celebration of this Anniversary of Our Lady of Fatima, the image of 530 people who came to pray in our Chapel and many more hundreds from Saint Mary's in Waltham has been imprinted in my own heart that will continue to carry their prayers each day before the Lord through the intercession of His Holy Mother. We have kept in our Chapel a big basket, which holds hundreds of petitions that the pilgrims who came to venerate their Mother during the all night Vigil placed before the Lord during the Adoration.
In awe of the faces that I encountered from different ages, stages of life, nationalities, careers, etc., and despite their various needs and intentions, they all had one thing in common, a profound love for the Lord and His Holy Mother as it was expressed by Pope Francis in Fatima: "My one hope of glory, Lord, is this: that Your Mother will take me in her arms, shelter me beneath her mantle, and set me close to Your heart. Amen."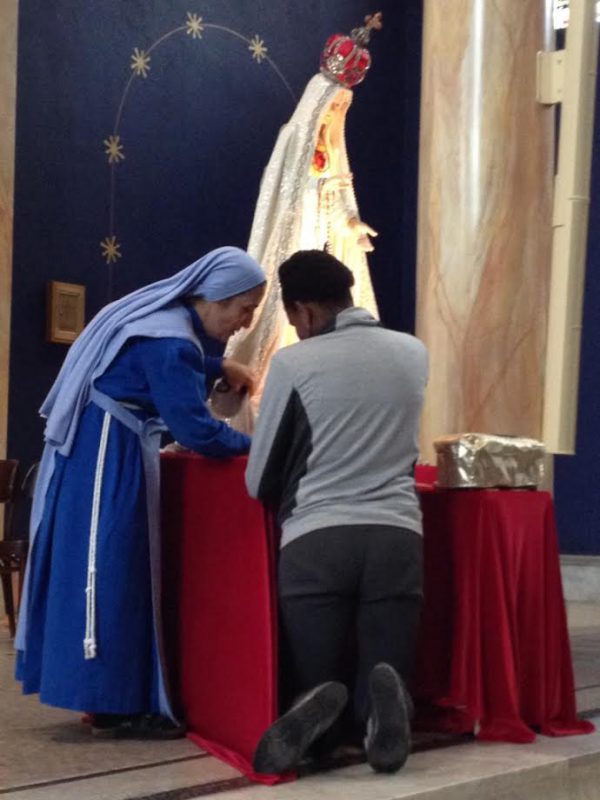 Since the Adoration prayer vigil and the veneration of the statue of the Immaculate Heart of Mary, we have received many prayers of thanksgiving for graces received from the Lord through His Holy Mother. She is a real Mother who never ceases thinking of her children, even when they are far away. She is our Refuge where she keeps us close to her Son, as Saint Thérèse of Lisieux said, "Dear Jesus, I long to see You, O my heart's Delight! I long to fly to Mary's mother-arms, and, sheltered there from troubles and alarms…"
We continue to feel blessed and spiritually rejuvenated by the graces of the big Anniversary of Our Lady of Fatima and the canonization of Saint Jacinta and Saint Francesco. May their powerful intercession bring peace to our world, protection to families and bring more souls back to Jesus through the conversion of hearts. And May the Blessed Virgin Mary, our Holy Mother, continue to be our refuge and keep our world and Church ever more under her maternal care and protection.