A time management experts shares tips to help us recover precious time for our loved ones.
Who has not felt like they're perpetually running behind, not having a minute to lose between the day's different tasks and emergencies? According to one international study covering the end of 2015 through May 2016, 74 percent of respondents believe that the pace of life in today's society is too fast. And 90 percent would like to change the way they organize their life in order to devote more time to their loved ones.
Diane Ballonad Rolland, an organization and time management consultant and author of the French-language book Magical Timing, gives us some tips to slow down and recover precious time for our loved ones.
Why do I feel overwhelmed?
Time management is not a new problem. Ballonad-Rolland points out that even Seneca wrote an article on the subject, and it is just as topical today as it was then. But, she says, over the past two decades, new information and communication technologies have contributed to the acceleration of time that many of us are experiencing.
The increase in our workload and the ensuing intensification of the speed of daily life are realities. "Everything circulates much faster today. We have access to a wealth of information and inevitably we are involved in many more activities than in earlier eras. The possibilities are multiplied," explains Ballonad Rolland.
The difficulty? "Self-regulating, realizing we have limits!"


Read more:
10 Habits that will give you 'more time' in your day


When should I think about slowing down?
The need to slow down can manifest differently from one person to another, says Ballonad-Rolland. It can be subtle. It sometimes starts from the observation that one doesn't have even a minute anymore for the small details, the little things. "Some people show it by being less available, less patient, getting irritated easily … these are small signs that are really warning signals," she adds.
Find time for your loved ones, keep your weekends free as much as possible
Preserving the family sphere is very important for personal balance. "But today, with the new technologies, there is a blurring of the boundaries between work and personal life – even more so when you are independent or an entrepreneur. We work from home," notes Ballonad Rolland.
So in these often overburdened days, how can we clear a little time to get together? "You have to try to simplify your daily life. Certainly, it seems easy enough to say, but it is not always obvious," she acknowledges.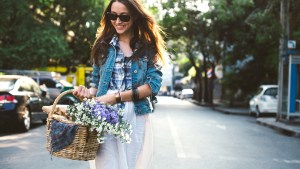 Read more:
40 habits of calm, centered women
One can, for example, try to free up the weekends. The ideal would be to avoid having too many to-do tasks on those days, which we need to slow down and decompress. Of course, certain tasks are unavoidable, but we should try to simplify them as much as possible and look specifically at what can be reduced. "This last point depends on each person," says Ballonad Rolland.
She adds, "During the week, we can simplify meals because we will be getting home later. We may not need to give a bath to our children every night; a shower is faster. The time saved should be devoted to relaxing, recovering, and even doing nothing together, or to taking time for oneself. We often have a hard time giving ourselves permission to use the brake!"
Give a few moments of real attention to others
We are in a society where our attention is worth gold. It is requested all the time and by everyone, remarks Ballonad-Rolland.
Read more:
How to build more silence into your busy daily life
In these circumstances, it becomes difficult to devote attention to our surroundings. It is, however, essential to grant them "small bubbles of attention." The goal is to be totally present to each other at specific times that everyone can agree on. "For example, cuddling your child in the morning, in full awareness, being fully present for him at that time, 'fills' him up with positivity for the day," says Ballonad Rolland.
Reclaiming our time is a long-term process, she warns, and it is above all a personal approach. There is no single way to do it. We learn through trial and error, through small steps. So do not hesitate to experiment to find the balance that suits you best.
The article was originally published in the French Edition of Aleteia.