St. Serapion won over the most hard-hearted members of the household.
We live in a miserly age. With the economy as uncertain as it always is, our fists clench tighter around what surplus we have, with less and less squeezed out for the widow, the orphan, and the alien. And this meanness doesn't stop at our checkbook; our unwillingness to give so often extends to our time, our energy, our goodwill. Times like these call for the example of 5th-century hermits.
It's hard to see that we who are glutted with knowledge (if not wisdom) have anything to learn from men who wandered the desert a millennium before the invention of the printing press, but I've never encountered a saint who more fully embodied Gospel generosity than St. Serapion the Sindonite.
Named for the one sheet that served as his only garment (a sindon), Serapion was a hermit in the Egyptian desert, a man whose acts of penance and mortification seemed superhuman. But after years of solitude and prayer, Serapion followed the call of God away from the desert to the notoriously sinful city of Corinth. There he met a performer who, with his family, lived in complete ignorance of the Gospel. Serapion wanted to evangelize them, but had no means, not being acquainted with them. Knowing that he couldn't easily form a friendship with the master of the house, he determined that the only way to impact the family would be to become their slave. And so a free man sold himself into slavery for the sake of evangelizing his captors.
The monk-turned-slave then set about his work of evangelization, largely by keeping his mouth shut. He carried out the most objectionable tasks with no complaint, fasting much, sleeping little, and speaking less. When he did speak, however, his wisdom was evident even to the most hard-hearted members of the household. Little by little, his quiet witness won over his master, who, with his whole family, was baptized and began to live a virtuous life.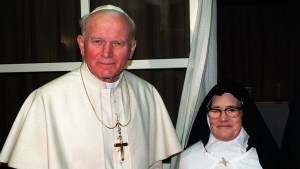 Read more:
100 Years of Fatima: The "scandalous betrayal" of Sister Lucia
Grateful for all his slave had done for him, the master offered him his freedom. Only then did Serapion explain that he had modeled himself on Jesus Christ, who had taken the form of a slave out of love for men's souls. Leaving there, Serapion made his way to Lacedaemon, where he discovered a widow in great need. Again, he made himself a slave, selling himself to a heretic and giving the money to the widow. Within two years, the whole family was reconciled to the faith and Serapion was once again given his freedom, this time with a coat, a cloak, and a book of the Gospels to boot.
But Serapion was incapable of keeping anything for himself. When he saw a half-naked beggar, he gave him his cloak. A little ways down the road, off went his coat for a freezing old man. On he went with only his sindon. When asked who had stripped him, he held up his book of the Gospels and cried, "It was this book that did it!" Shortly thereafter, he sold even that to prevent a man in debt from being thrown into prison, saying, "it seemed to me as if the Gospel was constantly crying out to me, 'Go sell all that you have and give it to the poor.' Now, this very book was all that I had, and therefore I sold it."
So consumed with the needs of others was Serapion that when asked by another monk (one who owned many books) for a word of wisdom, Serapion responded, "What shall I say to you? You have taken the living of the widows and orphans and put it on your shelves."
Yet even Serapion understood that material possessions could be used to good effect. One night, he went to a brothel and asked for a prostitute for the evening. Explaining to her that he must fulfill his rule of prayer before he could be with her, Serapion began to pray aloud from his breviary, begging the Lord to convert this woman. As he prayed, the Spirit began to move in her heart so that by the end of his time of prayer, she had been completely converted and eventually became a woman of deep prayer and virtue.
Serapion wandered all around the Mediterranean world, fasting and praying and pouring himself out for others until he died. For the sake of the salvation of souls, Serapion would have owned all the books in the world; for the sake of souls, he would gladly own nothing, not even his freedom. For Serapion, all the good things of this world existed only for the sake of eternity.
On May 21, his feast day in the West, let's ask St. Serapion's intercession that we would all live with boundless generosity for the salvation of souls. St. Serapion the Sindonite, pray for us!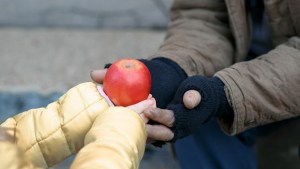 Read more:
Why you shouldn't worry about giving to the beggar on the street