As we wrap up another year of CCD and sacrament prep, we tell the Lord again, "Count on me!"
Lord, we want to feel that you are always close by,
like a dear friend,
so that our work as sowers of your word
is made lighter.
We want to love you and to understand you,
like your friends at Bethany.
Read more:
Why I'm the worst catechist at my parish, and still signing up
Teach us to find you in our brothers and sisters,
because each time we hear them and help them,
we are hearing you and helping you.
Scatter our fears, O Lord,
strengthen our resolve to teach your Gospel,
strengthen our wills, which go from yes to no.
Dispel our ignorance with your clarity,
alleviate our tiredness with your strength,
banish our egotism with your love,
replace our discouragement with your hope.
Lord, thank you for having chosen me
and for the trust you place in me.
With humility,
but with joy and hope,
today I want to tell you again:
Count on me!
Amen.
[Translated and adapted from Aleteia's Spanish edition]
Read more:
When the "Christmas and Easter Catholics" are children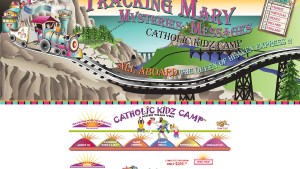 Read more:
"Tracking Mary": How to teach your children about the Marian apparitions