And that's not all -- her husband posted an emotional video of their first dance on Twitter.
When Jessica Taylor-Bearman was 15 years old, she contracted myalgic encephalomyelitis. The neurological disease left Jessica, once an athletic high schooler with hopes of attending the University of Cambridge, struggling with for her life. Today Jessica suffers from severe fatigue and painful muscles and joints, spending most of her day in a wheelchair or bedridden. Osteoporosis affects the strength of her bones and she also experiences seizures.
But even with all of the odds stacked against her, Jessica wasn't going to let any of that stop her from walking up the aisle on the day of her wedding.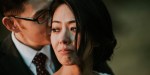 Read more:
Wedding photographer's question leaves bride in tears (PHOTO)


She first met her husband, Samuel, when he joined a mutual friend of theirs for a visit to see Jessica. He kept coming back to see her, and the two became fast friends. When Samuel proposed to her, Jessica became determined to walk for the first time in 10 years.
Although she was mentally ready for the big challenge, getting her body to cooperate was a whole different story. So Jessica started a full year of intensive physiotherapy and medication to help her train for the day of her dreams.
Doctors have told Jessica for years what she would or wouldn't be able to accomplish, and every time Jessica has beaten their expectations and crossed boundaries no one thought she was capable of. "I'm very determined, and that's why I'm walking down the aisle," Jessica told BBC news. After a full year of therapy and training, Jessica accomplished her dream and walked down the aisle to her husband, walking for the first time in nearly a decade.
@jayletay look beautiful as always. pic.twitter.com/VQewi0bdEa

— Samuel Taylor-Bearman (@sb14121991) May 3, 2017
But the big day was just starting for the newly married couple. Jessica decided she not only wanted to walk down the aisle, but she also wanted to be able to enjoy her whole wedding day — including her first dance with her new husband. This was an amazing feat for the girl told by doctors that the best she could hope for was to be able to sit up in a wheelchair. Her proud husband posted a video of their first dance on Twitter, calling his wife a fighter and saying that he couldn't watch the video without tearing up. And who can blame him? I couldn't watch the video without getting emotional, either.
So proud of my wife @jayletay for managing to make it to our first dance. I can't watch this without tearing up. #InspiringStories#fighterpic.twitter.com/E9A1I9EYrQ

— Samuel Taylor-Bearman (@sb14121991) May 1, 2017
"I think when you've had ill health in your life it changes your perspective on things," Jessica said. "Your aspirations are different because you realize you've got to just live, you never know what's around the corner. But I don't see four walls being my future." Walking down the aisle is just the beginning for Jessica. She already runs Share a Star Charity, which helps others with life-threatening illnesses. She's also authored a book, A Girl Behind Dark Glasses,where she shares her story about living with myalgic encephalomyelitis. Nothing can stop this beautiful bride with an inspiring outlook on life.