On our May tour of Rome's Madonnelle, we stop to consider how generation after generation is comforted by the Mother.
We continue with our daily tour this month through a particular artistic expression of Marian devotion: Rome's "Madonnelle" ("little Madonnas"). These are images of Mary—some of them miraculous—scattered throughout the streets and alleyways of the city. They are the object of much popular devotion. Follow the series here: Little Madonnas of Rome
Madonna of Divine Providence: Via delle Botteghe oscure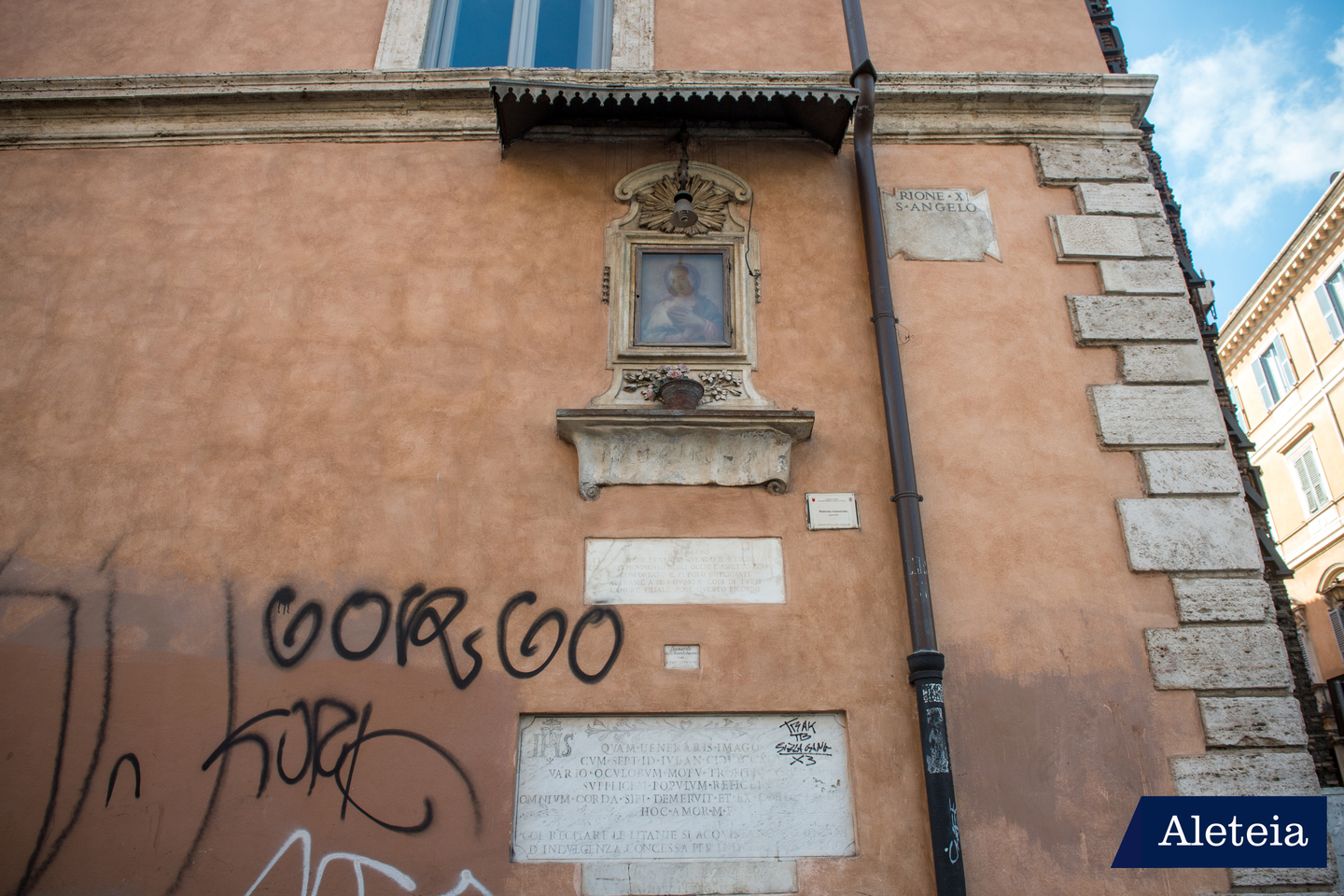 The "Madonna of Divine Providence" is located on the corner of the Palazzo Mattei Paganica building on Via delle Botteghe Oscure near Encyclopedia Square, at the edge of the Jewish quarter and near Torre Argentina Square. It is certainly one of the most famous of the "little Madonnas" in Rome, and is among the images that cried and moved their eyes in 1796, due to the French invasion of the Pontifical States. Two marble plaques under the shrine commemorate this miraculous event. The inscription is the same, in Italian and Latin: "Passerby, the image that you venerate comforted the people who were praying for help on July 9, 1796, with her benign countenance and various movements of her eyes. In this way, she won the hearts and praises of all. Filial love placed this commemoration."
The image—an oil painting on canvas—is in a stucco frame with straight sides and a curved top, probably from the 17th century, and it is covered by a simple wooden canopy. It is a half-length portrait of the Madonna with her hands crossed over her breast.
At one time, she was called "The Virgin of Elm Square" due to the presence of an ancient elm tree. Until not long ago, there were numerous "ex voto" tokens around the image, which were removed after a restoration of the building and the little Madonna.
Follow the series here: Little Madonnas of Rome
See more articles like this at Aleteia's Art & Travel section.