Today on our May tour, we stop at Piazza Navona, where Our Lady is nearly hidden by all the hubbub of the square.
We continue with our daily tour this month through a particular artistic expression of Marian devotion: Rome's "Madonnelle" ("little Madonnas"). These are images of Mary—some of them miraculous—scattered throughout the streets and alleyways of the city. They are the object of much popular devotion. Follow the series here: Little Madonnas of Rome
Madonna with Child: Piazza Navona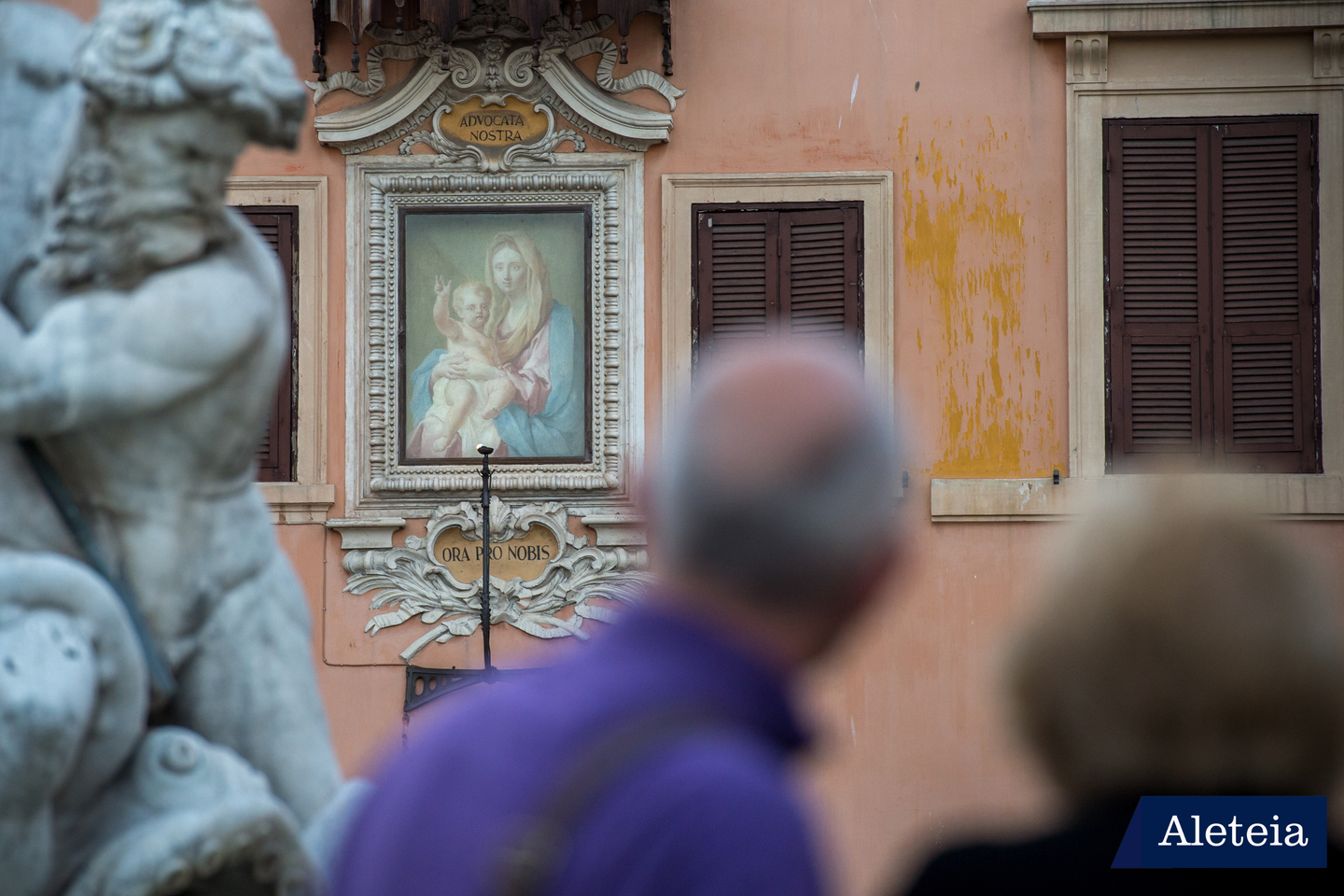 Amidst the white marble statues of the monumental fountains, the warm colors of the buildings and their numerous windows, and the vastness of Piazza Navona, it is easy not to notice the presence of this "Little Madonna," which anywhere else would doubtless stand out. The small shrine is located on the northern side of Piazza Navona, at the height of the second floor of building number 50, over a gelateria, just a few steps from the Fountain of Neptune. It is a fresco of the Madonna, holding the Child who is blessing the world.
The image is protected by glass and surrounded by a stucco baroque frame with a spiral motif. On the scroll above the image, you can read the title "Advocata nostra" ("Our Advocate"), and on the one below, "Ora pro nobis" ("Pray for us"). A wooden canopy covers and protects all of this, while a thin iron candlestick rises up in front of the image. In the past, the image was surrounded by "ex voto" (tokens of gratitude for favors received), later removed on the occasion of a restoration.
This little shrine has passed through a variety of incidents and historical periods. The image of the Madonna dates from the late 17th century, whereas the buildings that enclose Piazza Navona near the famous "Five Moon Square" are from half-way through the 20th century. That is due to the fact that in 1936, the previous buildings were demolished to open the way for a new street. The little shrine with the Madonna was also at risk of disappearing, only the demolition work was never finished, and they decided to rebuild the demolished buildings in the same style.
~
Follow the series here: Little Madonnas of Rome
See more articles like this at Aleteia's Art & Travel section.