Go beyond eroticism and get to the heart of what sex is really about.
It's hard to get a good, sane, sexual education today. In spite of what I learned from my upbringing as a fine, upstanding, Christian gentleman, my education in sexual ethics was supplemented (or more accurately hijacked) by the cast of Friends and a whole host of other nefarious characters. I know I'm not alone. I recently wrote an article about the dangers of over-stressing sex in your relationship and I would argue that our poor education about sex could be the primary culprit of this phenomenon (or fiasco — both terms work well here).
Dr. Gregory Popcak sums this up in his hilarious book Holy Sex! A Catholic Guide to Toe-Curling, Mind-Blowing, Infallible Love:
"… most people's sexual education, to the degree that it happens at all, tends to focus simply on biology and mechanics. When it comes to romance and passion, people learn from Hollywood, romance novels, daytime TV, their schoolmates, and porn. They only know about eroticism."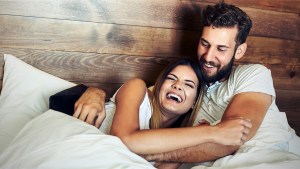 Read more:
Why we should laugh off our 'bad' sex lives
Those wise sages, the Bloodhound Gang, summarized our knowledge of sexuality into one profoundly poetic mantra: "You and me baby ain't nothing but mammals, so let's do it like they do on the Discovery Channel."
This was hard for me to reconcile as I prepared to get married —  a poor pop-drenched education teaching me to put my sexual life on a pedestal and my American-Christian sensibilities piquing a sense of shame and anxiety in me.
But I was shocked to find that the answer to my dire need for a re-education came from a little study group that met over beers with my college chaplain. I found that the Church has some great, practical insights on how to navigate a healthy, peaceful sex life (even for non-Catholics, so stay with me).
1. A principled way to think about your sex life (myth-busting the Bloodhound Gang philosophy)
I hope we've all discovered that we are more that "just mammals." We're complicated creatures, and we need help thinking through everything that's going on about sex so it's nice to have some principles to go into the thing with. Popcak speaks of this in his book where he offers four "pleasure principles":
Your sexual life should gel with your daily life. Don't pretend you have intimacy in your relationship in the bedroom if you really don't outside of it. Sexual intimacy isn't a replacement for social intimacy. You need both.
You have to respect the dignity of each other as persons. If you're uncomfortable or feel disrespected, talk about it! Nothing ruins intimacy like disrespect.
Everything should be pointed to an experience of your love for each other, not just the experience of having sex. Sex is the means to the end.
Open up a continual conversation evaluating how things are going: Discuss if there's dignity, social intimacy, and a shared experience of each other's love in your relationship.
2. The answer to Cosmopolitan's sex advice
Whether you're Catholic or not, St. John Paul II has some spot-on advice on how to consider if you're having good sex or not, and it's not about how much you get out of the experience. He challenges us to look at how we give into the experience. Yes, that's right, the pope gave us sex advice. You can find it in his book Love and Responsibility. And if you're like me, it will make you blush.
There's a good summary of JPII's insights with direct quotes on this post by the Aggie Catholic blog, but basically he boils down the sexual act to this: concentrate on your partner's experience and temper your own pleasure so that you can simultaneously experience the height of the sexual act. Opening yourself up to the other person has incredible effects on your relationship, as Peter Kreeft says in his article, "Is There Sex in Heaven?" "The highest pleasure always comes in self-forgetfulness," he writes.
3. SPICE-ing up your relationship holistically
Natural Family Planning makes people squirm, either in excitement or in uncomfortableness. You love it or hate it, but I think we can all get behind one of the often-forgotten resources that the Creighton model of NFP uses to help couples communicate and love holistically: SPICE. SPICE is an acronym that stands for: Spiritual, Physical, Intellectual, Communicative/Creative, and Emotional.
This one deals with the all-around relationship. But we evaluate everything in America, so how are we to know if we're healthy or not? Here's a quick summary of the categories:
Spiritual. If you're a couple of faith, do you pray together? Do you tell each other "I love you" on a regular basis? These foundations build a deep sense of trust.
Physical. Beyond actually having sex, how do you show affirmation through your use of affirmative touch: holding hands, hugging, etc. This extends to family life as well. Giving your kids a hug or rough-housing with them or playing a family game of tag is a vital part of your relationship.
Read more:
The best type of (marital) sex
Intellectual. Remember those deep conversations about the meaning of life you would have with your college roommate late into the night or the minutes that turned to hours of pillow talk about life, etc. you used to have with your spouse? Keep doing that.
Communicative/Creative. Do you make special gestures every now and then to show your spouse you care for them: flowers, notes, their favorite dessert smuggled past kids so your spouse can hoard it themselves?
Emotional/Psychological. Do you talk about the things that are important to you with your spouse? Do they communicate that back? Can you talk about your feelings? Can you have an argument and come to a resolution together? Can you laugh at yourselves?
In Touch Fertility has a great ebook/workbook outlining SPICE which couples can use to enrich their marriage.
There's an endless stream of amorphous thoughts on human sexuality, but in the end, it turns out that it's a really practical thing as well. These practical keys go beyond eroticism and get to the heart of what sex is all about. Knowledge is power and may just be the healing salve you need for your sexual anxiety.