Six negative things parents should stop saying, and their positive alternatives.
As parents, our words often go beyond what we intended them to mean. The child, with his different perspective and approach, does not hear things the same way and these words are often stress factors for him.
"Instead of creating a game of power and punishment, with a semblance of authority, it is better to listen to the child," advises psychotherapist Isabelle Filliozat, author of Understanding Children's Emotions. Dialogue is an excellent starting point to resolve a complicated situation. We have to find the right words to open a discussion and let the child express what he feels, and then guide him toward the right solution as opposed to shaming him into submission.
Here are 6 examples of negative phrases and their positive alternatives, according to Isabelle Filliozat.
The negative sentence: "You are unbearable/impossible!"
This sentence comes from a parent at the end of his rope. Stress leads her to attack the child and so she lashes out in anger. These are extremely violent and wicked words. The child may freeze, wilt, and fall silent. But very quickly, his body loosens up and the child becomes aggressive. He will go on the attack, not against his parent, but against one of his brothers or sisters, for example. His aggression is an extreme stress reaction, an overflow behavior.
The positive alternative: "I realize that we have not gone out enough today and that you have no other solution than to jump on the couch!"
The negative sentence: "Go to your room!"
This is a very difficult exclusion for children to understand. This sentence is doubly negative: it means "I don't want to see you here" and "I don't want to see you when you are misbehaving." Right when a child most needs her parent, she is being told to go away and isolate herself. The stress areas of the brain are activated. The smaller the child, the more she needs her parent to help her regulate her emotions. Before age 13 or 14, she is not able to control her emotions. Part of the learning process involves putting words to feelings. If we tell a child, "I see tears in your eyes," we help her to identify and then regulate her emotions.
The positive alternative:  "Come here, let's talk and cuddle."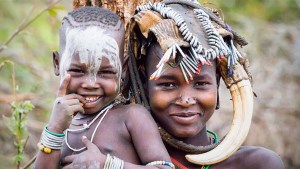 Read more:
Do you follow these 5 tribal parenting rules?
The negative sentence: "You do not pay any attention to me. You just did exactly what I told you not to do!"
A child's brain changes with his age. A child who is 2 to 3 years old does not hear the negative. When he is told, for example, "Don't go in the house with your boots full of mud!" he hears, "Go in the house with your boots full of mud!" He looks at the parent to make sure he is responding to the request.
From the moment when something is forbidden, there is the risk of the child wanting to do it again. It may seem that by scolding, the adult regains control. He freezes the child with a sense of fear and shame. But … he did not educate the child because the causal relationship is not defined. The child will do the forbidden thing again until the parent once again controls the situation with fear and shame.
The positive alternative: "What is happening? Tell me how you feel."
The negative sentence: "Stop asking me for that!"
When a child seems to be fussing for something, we have to look at what she wants, at the real need underneath. The child is expressing something. If she is begging to watch cartoons, for example, that is not what she wants most deeply. She is actually asking for attachment, a hug, to respond to the stress she feels, to calm her brain. Depending on the child's situation and character, the answer may be to offer a moment of rest or some play time outside.
The positive alternative: "Would you like to go for a walk?" or "What if we did a board game or a drawing?"
The negative sentence: "Sit down!"
This is one of the most toxic phrases one can say to a child. Forcing him to sit puts him in a position of maximum stress. It is not natural for him. On the contrary, the child needs to run or climb trees for his well-being but also to help him concentrate in the classroom, for example. Being active helps his attention span. The more he is forced to do his homework, the more he will be stressed with difficulties. Everyone has their own preferences. Some children can stand up to do their homework, so a high desk may suit them. On the other hand, being constantly seated damages the muscles of the back and the perineum. The child needs to use his muscles to develop his body and minimize stress. The result is better brain health and emotional regulation.
The positive alternative: "What position do you want to be in?"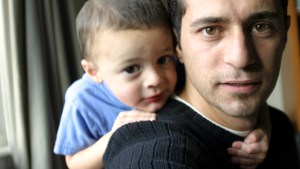 Read more:
What are we preparing our children for, if not how to face difficulty?
The negative sentence: "You exhaust me!"
This very common sentence is a way of making the child bear the responsibility for his parent's emotional state. It is a great stressor for the child. Instead of making him carry this burden, parents can show their mood in a pictorial way, with a magnet on the fridge, for example: a sun for the days when everything is fine, a small cloud for the moments when you feel a little worse, and a thunder cloud on difficult days. The child is naturally empathetic, so he will understand his parent's feelings and act accordingly.
The positive alternative: "I'm tired and I need a hug."
For more information, also try The Danish Way of Parenting: What the Happiest People in the World Know About Raising Confident, Capable Kids, by Jessica-Joelle Alexander and Iben Dissing Sandahl.
This article was originally published in the French Edition of Aleteia.