The tragic night gave residents an opportunity to show the world what they're made of
It is often when times are toughest that we see a person's true colors. On Monday night, after the devastating attack at the Ariana Grande concert, the heroes of Manchester revealed themselves.
One hero in particular, CNN reports, was taxi driver Sam Arshad, owner of Street Cars Manchester. He told CNN:
"I saw children screaming and running. It was horrifying to see young children running, just to imagine what they were going through." Arshad said it wasn't long before his company began receiving phone calls from "panicked parents". "It was clear from the calls that it was a very young audience, they were literally children and didn't have any money to pay for taxi fares."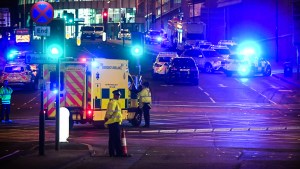 Read more:
A prayer for the victims of Manchester
Sympathizing with the parents of these frightened children, he decided that anyone who lacked the means to get home would have a ride from his cabs, free of charge.
The company gave away a total of 33 rides to children and adults who were stranded at the venue. CNN goes on to report that other residents of the area rallied behind the hashtag #RoomforManchester, offering a bed for the night to teens who could not return home.