The Church provides an ancient prayer to bless bees and to keep them from harm.
As we wrote previously, according to a recent report 40 percent of all invertebrate pollinators (bees, butterflies, crickets and other insects) and 16.5 percent of vertebrate pollinating species (mainly birds and bats) are facing extinction. There are many different factors that have gone into this unfortunate situation, but thankfully there has arisen a new movement to protector pollinators, including honeybees. Besides taking concrete steps to protect these necessary creatures, many have taken the leap to have their own backyard hive of bees.
This is certainly a worthy endeavor, one that the Church has recognized as a pursuit with many spiritual benefits. As Saint John Chrysostom once said, "The bee is more honored than other animals, not because it labors, but because it labors for others."
Read more:
In Search of Spiritual Guidance? Look to the Bees
Additionally, the Church has always had a special blessing reserved for bees that priests have used throughout the centuries. It recognizes their special role in the making of candles used during the celebration of Mass and invokes God's blessing upon them, asking for divine protection from all harm.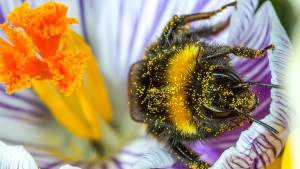 Read more:
Endangered pollinators: A threat to the world food supply
So, if you are concerned about the bee population and possess a hive of bees (or know someone who is a beekeeper), invite a priest to come along and bless the bees, doing your part to save a beautiful part of God's creation.
P: Our help is in the name of the Lord.

All: Who made heaven and earth.P: The Lord be with you.

All: And with your spirit.Let us pray.

Lord God almighty, who made the heavens and the earth, and all living things in the air and on land for the use of mankind; who ordered, through the ministers of holy Church, that candles made from the industry of bees should be lighted during the solemn mystery in which the most sacred body and blood of Jesus Christ, your Son, is confected and consumed; send your holy blessing + upon these bees and these beehives, causing them to multiply and to produce and to be kept from harm, so that their yield of wax can be turned to your honor, to that of the Son and Holy Spirit, and to the veneration of the blessed Virgin Mary; through Christ our Lord.All: Amen.

They are sprinkled with holy water.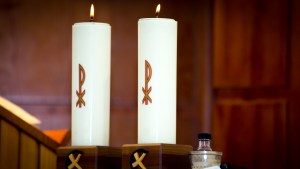 Read more:
Why do Catholics use candles at Mass?