Our May tour today brings us alongside a faithful son of Our Lady, who is also patron of Aleteia's English edition
We continue with our daily tour this month through a particular artistic expression of Marian devotion: Rome's "Madonnelle" ("little Madonnas"). These are images of Mary—some of them miraculous—scattered throughout the streets and alleyways of the city. They are the object of much popular devotion. Follow the series here: Little Madonnas of Rome
On May 26, the Church remembers Saint Philip Neri [(also known as "Pippo Buono," or "Good Little Phil")], the founder of the Congregation of the Oratory. The narrow streets of Rome still bear the traces of his contagiously joyful life that affected so many young people. Consequently, in the districts surrounding Saint Mary of the Vallicella—the church which has been the headquarters of the Fathers of the Oratory since their founding—it isn't difficult to run into Madonnelle in which the Virgin is accompanied by Saint Philip, her devoted son. One of these, the "Madonna of the Conception," is one of the most majestic outdoor shrines of Rome, despite being located in a very narrow alleyway, Via del Pellegrino.
It is a magnificent 18th-century work in stucco. The grandiose shrine contains a high-relief statue of the "Madonna of the Conception," holding up and almost seeming to show to passersby the child Jesus, who is giving his blessing. The whole is surmounted by a crown, held by two cherubim; inside the crown, there is a burst of rays with a symbolic dove at the center. In a medallion on the base is a bust of Saint Philip Neri.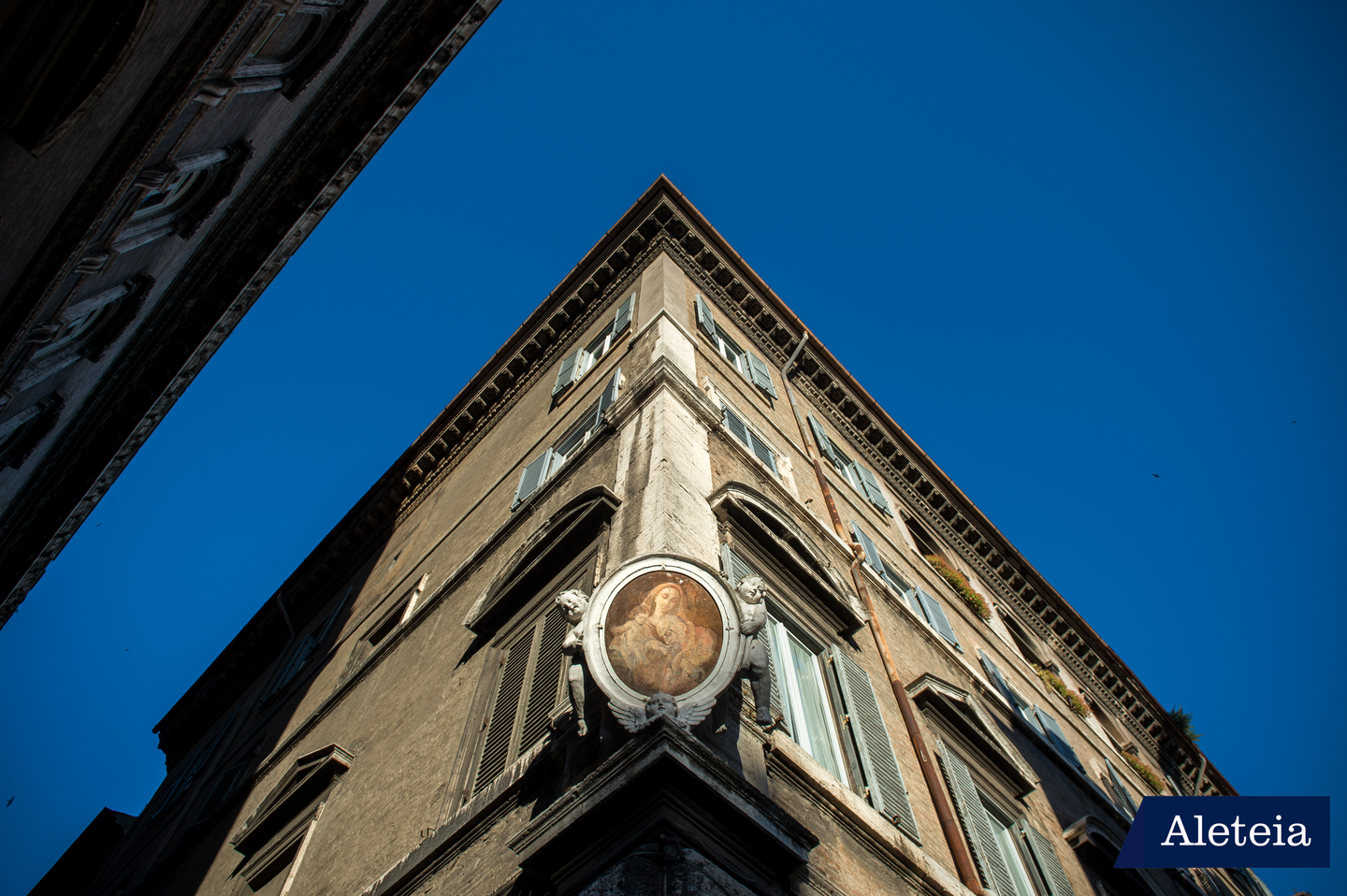 Not far away, on the corner of Via Monserrato facing Farnese Square, painted on a circle of slate framed in a stucco medallion, there is another beautiful image of the Madonna. Saint Philip Neri is next to her, bowing to kiss the foot of the Baby Jesus under his Mother's gaze. The image dates from somewhere between the end of the 16th century and the beginning of the 17th, and is attributed to the school of Barocci, of whose art Saint Philip Neri was particularly fond. This "Madonnella" is located near San Girolamo della Carità, the place where Philippo Neri lived from 1551 to 1583, and where the first group of the Congregation of the Oratory was formed.
~
Follow the series here: Little Madonnas of Rome
See more articles like this at Aleteia's Art & Travel section.