Terrorism could happen anywhere, I consoled myself, and then I turned to saints for help.
Some days, the lead story on the evening news grabs your attention in completely unexpected ways. That happened to me Monday night.
"22 dead in suicide bomber attack at Manchester Arena"
My youngest daughter and son-in-law will be moving to Manchester, England, this autumn.
Before a couple of months ago, when Kara and Tom told us he had been offered a job there, I rarely thought about that part of the world, much less Manchester. Maybe I'd be curious how the season was going for the Manchester United football team (that's soccer to us Americans). I'm not much of a follower of British football, so such thoughts were rare indeed. When I do think of Manchester, I actually think of work; my day job is in an office building on Manchester Road.
Monday's suicide bombing at an Ariana Grande concert in Manchester killed 22 people, with some concert-goers still unaccounted for hours after the attack. News of the event certainly struck me differently than it would have a year ago. I'm thinking of those mourning families. I'm thinking of the fear and anger and confusion that has descended upon that industrial city about 200 miles northwest of London.
But the biggest question I'm thinking is: Are my kids going to be safe?
An irrational thought, to be sure. In this time of seemingly random terrorist attacks throughout the world, such a deadly incident could just as easily have occurred at a nightclub in Orlando, Florida, or a museum in Paris. Like people throughout the world, though, I was gripped by irrational thoughts. What are Kara and Tom walking into? But couldn't that happen anywhere?
Shouldn't we all be afraid and angry and confused? What do we do with all that? And then I read this from the 38th chapter of the Book of Isaiah during Tuesday's Morning Prayer:
My eyes grow weak, gazing heavenward: O Lord, I am in straits; be my surety!
The key is to look toward heaven. The key is to know we don't always have the answers, to accept that we aren't in control, but to look to the Lord for any assurance.
Kara and Tom are flying to Manchester next month to meet some of the people with whom he will be working and get an idea about places to live. When that time comes, and when the time arrives for them to head that way again in the fall, I will send them off with Joshua 1:9 on my lips:
Be strong and courageous. Do not be afraid; do not be discouraged, for the LORD your God will be with you wherever you go.
And for all of us to find assurance, here are some thoughts from the saints that hold true as such tragedies come with such regularity.
"

Watch, O Lord, with those who wake or watch or weep tonight, and give your angels and saints charge over those who sleep. Tend your sick ones, O Lord Christ. Rest your weary ones. Bless your dying ones. Soothe your suffering ones. Pity your afflicted ones, shield your joyous ones. And all for love's sake." –

St. Augustine

"And of what should we be afraid? Our captain on this battlefield is Christ Jesus. We have discovered what we have to do. Christ has bound our enemies for us and weakened them that they cannot overcome us unless we so choose to let them. So we must fight courageously and mark ourselves with the sign of the most Holy Cross."

– St. Catherine of Siena

"Do not have any anxiety about the future. Leave everything in God's hands, for he will take care of you."

– St. John the Baptist de La Salle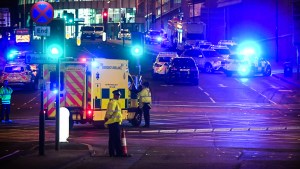 Read more:
A prayer for the victims of Manchester