It's a non-confrontational, relaxing night, with a refreshing beer calling your name.
What can God do in your life with one Bible verse a day?
Subscribe to Aleteia's new service and bring Scripture into your morning:
Just one verse each day.
Click to bring God's word to your inbox
Catholic Beer Club was started accidentally in Denver, Colorado. Three Catholic college students walked into a bar (no, this isn't a joke) and realized that a night of good conversation, good friends, and good beer should all be things people enjoy more often.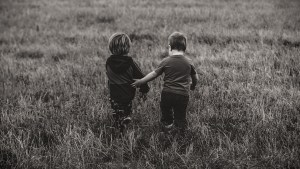 Read more:
There is nothing on this earth more to be prized than true friendship.
"It wasn't planned, and it was just kind of a unique night," Derek Roush, the current president of Catholic Beer Club, said. "They just thought it was fun and did it again. Then they invited two friends each to the next get-together and had nine people. They kept doing it, and by the end they had over a hundred people at these Catholic Beer Club events. The Facebook page started up and more people found out about it. It kind of just happened."
Catholic Beer Club recognizes that building community as a young adult after college can be challenging, especially when a job means a move to a new city. Built on a motto of "No agendas, just community and relationships," the events simply involve going to a bar, getting a cold one, and meeting new people.
"What I've found is that when people graduate from college, they think about two things: a job and a place to live," Derek said. "The Catholic community isn't on your radar. When you hit the ground, get a job, and find place to live, you look around ask yourself, "Shoot, where are my friends?" Then you realize how big of a deal community is."
Abraham Khadivi coordinates the Kansas City area Catholic Beer Clubs, and is also the director of new city development. When a new city wants to start up a Catholic Beer Club, Abraham contacts them to help them get started and connected. He loves watching new friendships form when people meet each other at a club event.
"Catholic Beer Club is about forming new friendships – I've watched even the people who are shy branch out," Abraham said. "Everyone fits in fine and people find others from every different type of background. Not everyone who comes is Catholic, but they connect and make new friends. That's the most rewarding part for me."
But what about those awkward first conversations? What do you say to someone after you know where they work and have commented on the weather outside? Derek has some hints. "You have to be patient. If you think the person you're talking too is awkward, you're awkward too. The beer helps." He laughed and continued, saying, "You just start one person at a time. Don't try to build this huge massive group or community. We look back at college and that's the expectation. If you had six friends in college, and you had an awesome community, that's the expectation that you have. Don't worry if your friend group isn't huge. Go for the one person next to you, push past the awkwardness and you may find you have a great connection."
Read more:
3 Friendship lies we need to stop believing
Both Derek and Abraham have witnessed Catholic Beer Club act as a springboard to further young adult community. In Phoenix Arizona, multiple other young adult groups have started with Catholic Beer Club events as their source. When young adults come to a Catholic Beer Club night, they can visit with their city coordinator and get plugged into Bible studies, small groups, sports leagues and other places for community.
"If we put Catholic people in the same room they naturally form friendships and we just have to get out of the way," he said. "If you host a talk, people are there for the talk. If you offer free food, they'll come for the food. But if you always gives something, people are just receivers. But when you take away the agenda, so many people realize I AM A GIFT. I can offer friendships to other people."
Catholic Beer Club is a non-confrontational, relaxing night. And let's be honest, having a beer helps. "Our motto mentally puts people at ease quickly," Abraham said. "Catholic Beer Club can attest to that – all kinds of people from every corner of my life are getting to connect and have a beer. It's amazing the amount of evangelization that it's doing even to the people around us at the bar, or our servers for the night."
With 20 cities participating, you can now find Catholic Beer Club all over the United States, and they are bringing the New Evangelization to their local pubs.
If you're interested in finding a Catholic Beer Club near you or bringing Catholic Beer Club to your city, you can visit their website here!