Remember, even a perfect wedding will not give you a perfect marriage. And even the worst wedding cannot destroy your marriage.
Hi. You are days before most important day in your life. I bet many thoughts are racing through your head right now. Your to-do list is about 2 billion items long. You think about the dress, about the room decor, you worry about the weather and are considering whether Uncle Henry should sit next to Aunt Sophie or rather next to the sister-in-law of your other uncle's cousin. I understand, I went through the same thing. That's why I want to tell you what I, in retrospect, consider crucial and essential so that this day will really be the most important in your life.
What does marriage mean?
On the eve of your wedding, stop for a moment and ask yourself, what exactly is marriage? It is a sacrament, a visible sign of an invisible grace. And God's grace is abundant because God is very generous. The sacrament of Marriage, which (in the Western Church) the bride and groom give each other, is not limited to the moment of the wedding, but is a sign of Christ's presence between you, in any situation, throughout your entire lives.
Marriage is a path. It is beautiful, though often challenging. Remember that God is walking that path with you. Seriously. I write those words because I have experienced this grace many times. In your daily life, it is easy to lose awareness of the extraordinary power of this sacrament. It gives you strength to do things that are humanly impossible — to forgive, serve one another, overcome selfishness, and most importantly, to love more and more each day. God wants to give us this grace every day. Are you ready for it?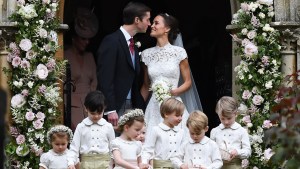 Read more:
A regal and youthful wedding!!!
Ceremony or reception?
The wedding day is special for all women; it's probably the most important day of our entire life. It's the day you have dreamed of since childhood. Even as a little girl, you pretended that white curtains were your wedding dress and imagined how it would be.
But a wedding also means a lot of practical preparations — finding a dress and the entire galaxy of things that need to get done before the celebration and the reception. And the danger is that all those organizational activities (especially right before the wedding) will absorb your attention so much that you will forget what this day is all about.
The day before the wedding, and on the big day itself too, you will be so busy, and you will have so many things to do, that you won't even notice when it is all over. These days we devote much more attention to planning the wedding reception than to preparing to receive the sacrament of marriage. So here are two tips to help you hold onto the most important part of the big day.
Let go and let God
Try not to let the wedding event eclipse what is most important — the spiritual preparation. Do everything you can to quiet yourself before that day. Keep your distance from the things you cannot control. Instead of worrying about the weather, try to organize everything quickly and then slow down. If possible, go on a retreat for a few days, even right before the wedding, and hand over the remaining organizational matters to a trusted person. If you cannot do that, reserve time for prayer, and give God all your pre-wedding worries.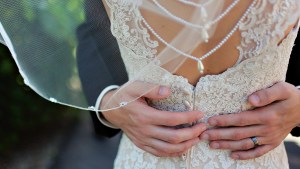 Read more:
3 Hallmarks of an authentic marriage
Take the long view
Don't forget that the most important moment of the day will be the promise you will make in the church before God and your family and friends, not the wedding reception. Such a perspective will give you some distance from the less important issues, such as the choice of the wedding cake, which still take up a lot of time. Remember, even the best wedding reception will not guarantee a successful marriage. And even the worst wedding will not be able to destroy it. Your sacrament will be just as valid if the wedding hall has a power outage, or there is snowfall in the middle of June, or if Uncle Steve has a fight with Uncle Bob.
There is nothing wrong with wanting a perfect wedding. But keep the right perspective in mind. Ask yourself, "What does it mean that marriage is now my way to holiness?" And are you answering this call with a pure heart and trust in God's plan?
This article was originally published in the Polish Edition of Aleteia.