In a return to what is natural, organic, environmentally friendly, more and more women are using a menstrual cup.
Health experts are increasingly concerned about the potential effects of tampons on women's health, particularly in the aftermath of tampon-induced Toxic Shock Syndrome (TSS) deaths, caused by bacterial infection on tampons. Aside from the (admittedly rare) danger of TSS, tampons may contain residual cotton pesticides, chemical additives, and dyes that pass almost directly into the bloodstream because vaginal tissue is so absorbent. These chemicals can have a harmful "cumulative effect" over time, according to Philip Tierno, a microbiology and pathology professor at New York University.
Research on the health effects of tampons in the United States is still surprisingly scant. There is as yet "no way of knowing if diseases such as cervical cancer, endometriosis, infertility, and ovarian cancer may be linked to a woman's use of feminine hygiene products," according to Rep. Carolyn Maloney (D-NY).
In that gray area of uncertainty, many women have found an appealing alternative that they say is practical, healthy, affordable, and environmentally friendly: menstrual cups.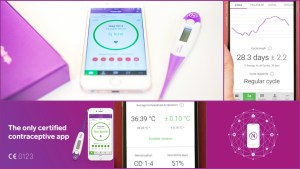 Read more:
Did Natural Family Planning just get a whole lot easier?
Comfort and convenience
"I had heard about the cup from some of my girlfriends," said Louise, 26, a Pilates teacher. "They said it was great, environmentally friendly, practical, healthy … but I was not convinced. And then I read articles about the toxicity of tampons and suddenly felt persuaded to try it. At first, I was not very comfortable with it. But I quickly got the hang of it and would not give it up for anything in the world. Especially in the summer, at the beach, because it is more convenient and comfortable than tampons."
At 43, Marie could no longer bear the cramps she felt each month. "It was exhausting and really painful. Ever since I switched to the menstrual cups, the pain has significantly diminished and I feel a lot better. "
Séverine, 35, suffered from dryness and vaginal itching. "I did not know there was another solution," she said, until the day her gynecologist recommended that she try the cup. "No more side effects!" she said with relief.
Lola, 32, first tried using a menstrual cup on a trip to Africa. "Before I left, a friend recommended it to me because it can stay in place for 12 hours in a row. This is very useful when you are in places where bathroom access is complicated."
Read more:
More Young Women Choosing Health Over Birth Control
An environmentally friendly solution
Some women opt for the washable menstrual cup for environmental reasons. American gynecologist Taraneh Shirazian,said the trend today "seems to be moving towards more environmentally friendly, natural, and hormone-free products."
Christelle, 29, uses it precisely for this reason. "Do you know how many health products women use around the world?" she asks. An average woman will toss 250 to 300 pounds of feminine hygiene trash over her lifetime, making up about 0.5 percent of her "personal landfill load," according to one estimate. A menstrual cup can erase at least part of our environmental footprint.
How it works
Menstrual cups are bell-shaped receptacles made of a flexible, non-toxic, and non-absorbent material, generally silicone. Tightly fold it up and insert it like a tampon (no applicator) before your period, and the cup will spring open once it is inside the vagina. According to WebMD, you shouldn't feel it at all and it can be kept in for 12 hours. It will hold about twice as much blood as a tampon, up to 1 ounce of liquid. Remove it by pulling the stem at the bottom and pinching the base to release the seal. It needs to be washed with soapy water after each use, and one cup lasts for 10 years.
Target and Walmart both carry them, and they can also be purchased online and in pharmacies. Depending on the brand (Diva Cup, Lily Cup, Keeper, etc.), they cost around $30 or $40 each. This is significantly cheaper than the accumulated cost of boxes of tampons: according to one calculation, a single woman spends about $1,773 on tampons over a lifetime!
Not for everyone
Even given its many advantages – its non-toxicity, lifetime, environmentally friendly material, and accessible price – not everyone is a fan.
Some find it difficult to insert, or uncomfortable, or tricky to remove. There is also the risk of spilling it during the removal process … or the embarrassment of having one of your colleagues walk in and see you when you are rinsing it in the bathroom sink.
For those who are still skeptical, one gynecologist says that they are worth a try, and that many women are tossing their tampons in favor of cups.
"Rest assured" she says. "I have had enough women in my office who swear by these alternative products to know that they are not just made for enlightened hippies."
This article is an adaptation of an original article published in the French Edition of Aleteia.