Since I was a kid, I have always associated church events with junk food.
As a nutritionist, I implement integrated health into my practice because I fully believe you can't be physically healthy without good emotional and spiritual health, too. As a longtime churchgoer, I don't see the favor being returned. Since I was a kid, I have always associated church events with junk food. To this day, I still don't understand why, because we were always taught that the body is a temple and we must take care of it.
Read more:
Food Fights: A Pediatrician's Attempt to Get Her Kids to Eat Well
I could give you hundreds of examples, but the number one instance that sticks out for me, for as long as I can remember, is doughnuts after church. As a little girl, this was the best thing ever. Now as an mom of a slew of little girls, I would love to change it. Our church offers bagels, too, so at least there is a better option. I'm not even sure how I would want this to change, to be honest.
On Mother's Day, I told my kids that instead of sugary treats we were getting strawberries after church and this really crazy thing happened. Nobody threw a fit! They actually were really excited to get fresh strawberries from the stand right down the street. It goes to show that kids really love the tradition of something after church and it doesn't have to be junk food.
The downside, of course, is missing out on the post-church connection with other families. As a compromise, we'll stick to the strawberry outing just every other week for now.
Every church event I've ever gone to has offered "light refreshments," meaning processed cookies, soda, etc. Everyone feels obligated to bring something, but they don't usually have time to make it fresh, so they run to the local market and pick up whatever looks easy.
From a nutritionist's standpoint, I see many of my clients being sabotaged by the very thing that should be most supportive — their church community. I've had more clients than I want to admit that feel embarrassed they have to turn down food at their Bible studies or women's group. They are also fearful of even telling the members of the group why they're committing to making life changes because they are afraid of the flak they will get.
I'm in a Catholic women's forum and this is the ONE group I've ever been in that truly honors the sanctity of the temple of the body. I'm not saying it's the only one that's ever existed, but it's a nice change to have that kind of support. We still have dessert and we still have adult beverages, but it's always after a healthy meal that typically includes veggies or salad, a lean protein and a healthy, starchy side. In our prayer groups, we have little time to actually devote to each other and I'm thankful mine understands that time can be maximized by feeling well.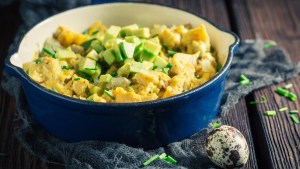 Read more:
Here's the daily meal plan of a busy nutritionist mom
We are well aware that addiction is wrong, yet if we're being honest, we really push those limits. We were fearfully and wonderfully made and keeping in mind that scripture; 1 Corinthians 6:19-20 says: "Do you not know that your bodies are temples of the Holy Spirit, who is in you, whom you have received from God? You are not your own; you were bought at a price. Therefore honor God with your bodies."
Like I've said before, I'm not sure what the solution is to this except doing your own part. What am I doing to try to make a change? Any clergy members, pastor or pastor's wife or anyone deeply involved in their church always gets a freebie from me and my business. If that's you, send me an email and I will help you learn how to make changes in your own church and life. In the fast paced world we live in, your daily food habits may be the last thing you want to think about, but if you think about it in the way that you can honor God at the same time, it may just be the change you are looking for.