Poland's Prime Minister Beata Szydło called the first Holy Mass celebrated by her own son "a historic day for our family."
Tymoteusz Szydło, age 25, received the sacrament of Holy Orders on Saturday, May 27, in the Cathedral of St. Nicolas in Bielsko-Biała and said his first Holy Mass the following day, in his native Przecieszyn (Małopolskie Region). Both events were attended by the young priest's parents, Polish Prime Minister Beata Szydło and her husband Edward, and Tymoteusz's younger brother Błażej.
Like the other 12 newly-ordained priests in his diocese, Fr. Szydło had been preparing for the Saturday event during the six years of formation in the Seminary of the Archdiocese of Krakow.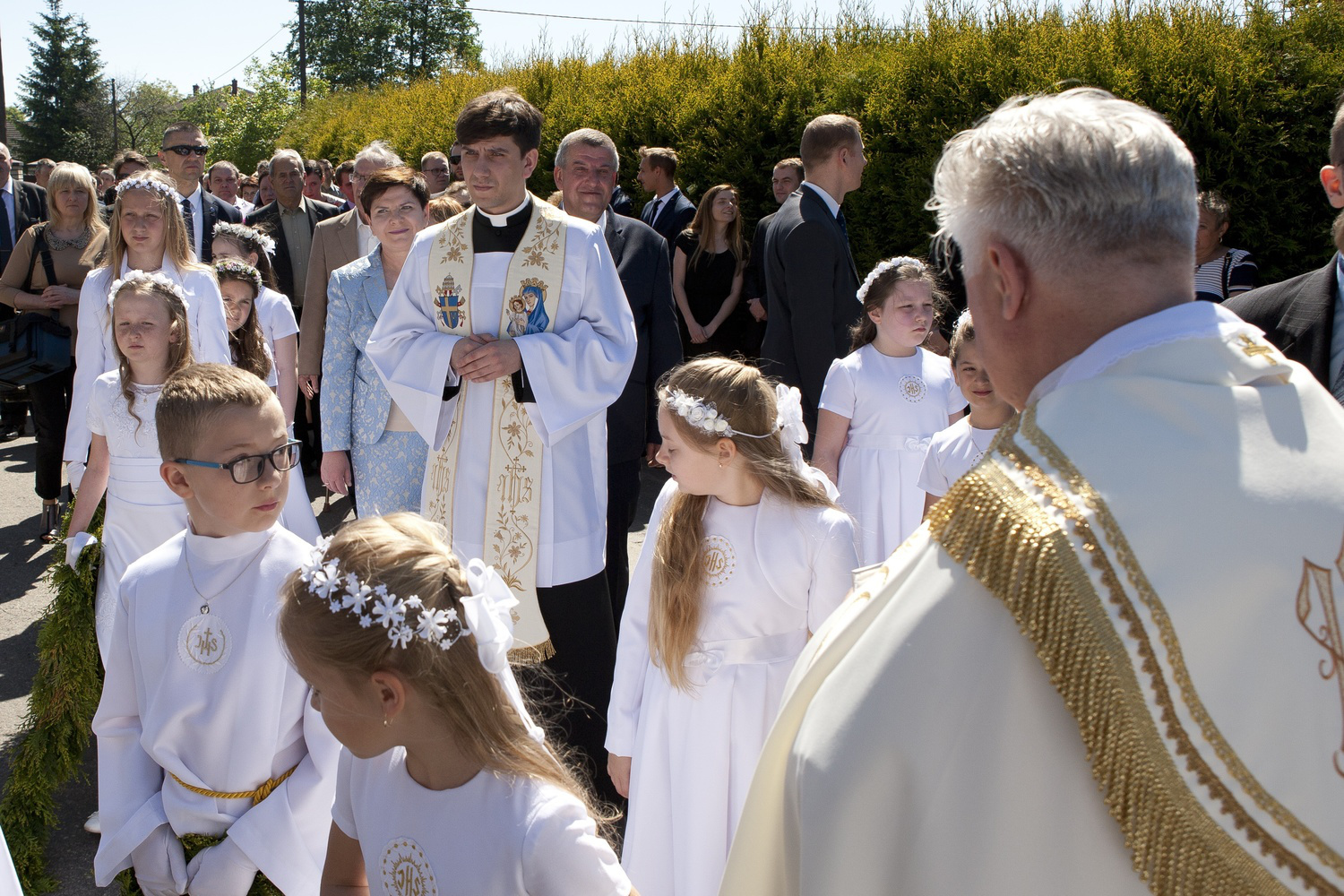 During his very first Mass, Fr. Tymoteusz Szydło expressed his deepest thanks, first of all to God: "Human words cannot express the gratitude I owe to you, my God. Therefore, I can only humbly ask you to preserve me in Your holy service."
He then addressed family, friends and village residents: "Pray for me. Do not ask that I become an excellent priest or that no evil befall me, or that I have a [successful] career [as a priest], but that I live my life the way I should as a priest, which I have now become."
At the end of the Eucharist the young priest blessed the faithful, including his parents. Social media posted photos of the scene: Poland's PM kneeling next to her husband and accepting her son's blessing.
"Extremely proud"
After the Eucharist, Prime Minister Szydło met with journalists at a briefing and introduced her son, Fr. Tymoteusz. She stressed that the entire family takes pride in the newly-ordained priest:
Yesterday he received Holy Orders in the cathedral and today he has said his first Holy Mass in his home parish, for our neighbours and family members. Here he was baptised, took his First Communion and was an altar boy. We are overjoyed … This is an historic day for our family, a great feast; we are extremely happy and equally proud.
Fr. Tymoteusz Szydło took as a motto of his priestly ministry words from the Epistle of St. Paul to the Galatians: "It is for freedom that Christ has set us free" (Gal 5: 1).
The deacons ordained to the priesthood last Saturday together with Tymoteusz Szydło received their Holy Orders from Bishop Roman Pindel. All of them entered the seminary at the end of September 2011, a few months after the beatification of Pope John Paul II, which is why the Polish pontiff was the patron of the entire year of young seminarians.
Read more:
The touching tribute to Supreme Court Justice Antonin Scalia, from his son, Father Paul Scalia
In a 2015 interview for Niedziela weekly, Beata Szydło spoke about how her son decided to become a priest: "When our son Tymoteusz came to us saying that he was entering a seminary, I knew that there was no arguing with that. My husband says that he takes after me in many respects – he is as consistent and, first of all, as adamant as myself."
Madam Prime Minister added that the decision was far from easy and that her son Tymoteusz "had all the makings of a good philosopher," yet was confident that this was a good choice: "I never saw him have any second thoughts. We prayed a lot throughout his formation years. I want him to be simply a good priest and I am sure this is going to happen."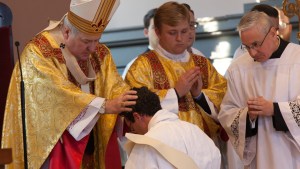 Read more:
How a newly ordained priest really feels