A Lone Star tick bite can lead to food allergy symptoms, like hives, itching and anaphylaxis.
Ah, summer. Time to head to the beach, go hiking and biking, and bust out the grill — unless, of course, you've had an encounter with the Lone Star tick.
According to NJ.com, one New Jersey man began suffering from frequent hives and ferocious itching "four times worse than poison ivy" after a winter in Florida:
After enduring one misdiagnosis after another, Jerry Dotoli finally learned from a blood test that he had become allergic to meat, pork and dairy — the very allergens he'd been happily ingesting nearly every day. And the culprit? Most likely a bite from the Lone Star tick.
The Lone Star tick can transmit a dangerous Lyme-like illness called human ehrlichiosis, but what Dotoli got was something different. The tick transmitted an antibody that reacts to an alpha-gal, a carbohydrate in mammalian meat. When a person with this antibody eats meat, the alpha-gal triggers the release of histamine, causing typical food allergy symptoms like hives, itching, and sometimes anaphylaxis.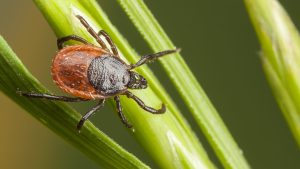 Read more:
4 Ways to reduce your anxiety about ticks
The difference between a meat allergy and a peanut allergy is time. People who are allergic to nuts react immediately, within minutes of ingestion. The meat allergy is delayed-onset, occurring three to six hours after ingestion. This makes the culprit more difficult to identify, particularly if meat is a standard part of the person's diet.
The good news is that unlike most food allergies, alpha-gal allergy can diminish and disappear with time. Some patients recover completely in as little as eight months (provided they don't get bitten by another tick), but some still have symptoms years after exposure.
Even the ones who don't recover don't have to give up the grill entirely, though — hamburgers and hot dogs might be off the menu, but chicken kebabs and grilled shrimp are still okay! Poultry and fish don't have alpha-gal like beef, lamb, and pork.
Still, an ounce of prevention is worth a pound of cure, so if you live in the eastern and southern US you should take precautions to avoid being bitten by the Lone Star tick. If you know you'll be outdoors in a tick-friendly environment (humid, grassy areas), apply repellent with DEET to prevent tick bites. After you come in, make sure you check your clothes and body for ticks and shower within a few hours to get rid of any ticks that might have gone unnoticed.
For more tick prevention tips and information on how to remove ticks, visit the CDC website.