Spouting off this cliche doesn't show your attempts to understand and empathize with others.
When someone laments their troubles to us, it often seems like a good idea to find and point out the positives in their situation. A mother, for example, overwhelmed by parenthood might reveal her distress to a friend, only to be told, "Try looking on the bright side. This is just a phase."
Read more:
How the Cult of Positivity is turning us against each other
For some, receiving such a reaction after disclosing their struggles might be beneficial and appreciated. For the majority of us, however, being told to reframe our perspective is utterly useless. In fact, as writer Oliver Burkeman reveals, a recent study appearing in the Journal of Personality and Social Psychology supports the notion "that telling others to look on the bright side is unwelcome and counterproductive even when it's done with the best of intentions."
Why?
We've all been there. When we vent about or lament something, are we usually hoping to be told that it's not actually so bad and the real problem is how we're choosing to view the situation? In other words, the real problem is us? No. Not likely. What we're typically seeking, as Burkeman explains, is "'negative validation' – comments encouraging [us] to feel that expressing negative emotions [is] appropriate." Because, after all, it is!
Positivity isn't always a good thing
Of course, this doesn't mean we ought to pitilessly affirm that the lamenter's circumstance is hopeless. What it does mean is that sincerely validating their feelings and struggles with phrases such as, "That must be so hard" and "I'm really sorry you're going through that" will resonate better than, "Hey, at least you tried" or "tomorrow's a new day."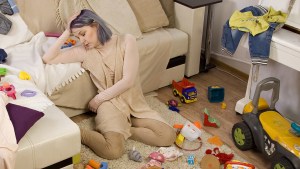 Read more:
How to break the cycle of negative thinking and be more positive
What's more, jumping to the conclusion that a person ought to be more optimistic prevents us from developing a deeper understanding of them. The principle of seeking not so much to be understood as to understand is more than simply a line in St. Francis' Peace Prayer. In fact, the value of doing so is emphasized by renowned author, businessman and speaker Stephen Covey in The 7 Habits of Highly Effective People. "We have such a tendency to rush in, to fix things up with good advice," Covey writes. "But we often fail to take the time to … really, deeply understand."
If, in the midst of a person opening up to us about their difficulties, we're mentally preparing our list of reasons they should look on the bright side, we're not sincerely attempting to understand and empathize with them. It's only through listening, asking questions, and taking to heart what they're expressing through their words and tone of voice that we can offer sincere empathy.
What are WE afraid of? 
As Covey acknowledges, we often choose not to listen empathetically because of the risk it involves. "It takes a great deal of security to go into a deep listening experience because you open yourself up to be influenced," he explains. "You become vulnerable." And so, more often than not, we fish for the most convenient advice in our arsenal, usually something like, "cheer up," and dismiss the real depth of the person's woes.
In actuality, this rarely solves anything. As Burkeman writes, "We're prone to resist such instructions … in order to preserve a sense of autonomy ('I don't have to do what you tell me!'). And when you instruct someone who's feeling bad to feel better, the not-so-hidden criticism is that he or she is behaving unacceptably, and needs to change." Ouch.
The same concept can be applied when dealing with children's woes. Actress Kristen Bell recently revealed that she avoids telling her daughters "it's okay" when they're upset about something. "I think saying, 'It's OK,' all the time doesn't do anyone any favors. It just makes them subconsciously think that they're not supposed to be having those feelings."
Sure, there are certain circumstances in which children benefit from being assured that everything is okay. But as far as the importance of acknowledging their difficulty and the accompanying negative emotions, the principle remains the same as with adults: Sometimes we all just need to know that not feeling okay is okay.
As Covey says, "Next to physical survival, the greatest need of a human being is psychological survival—to be understood, to be affirmed, to be validated, to be appreciated." This is ultimately what we are in search of when enduring distressing conditions. We want to know that what we're feeling is not wrong; that, in fact given the circumstances, it's entirely appropriate.
So next time we find ourselves ready to inform someone of all the ways they could potentially view their situation from a more positive perspective, let's first remember that, in all likelihood, that's the last response they're hoping for.