This month's prayer intention video follows just days after Francis asked Trump to work for world peace.
The Pope Video from the Pope's Worldwide Prayer Network takes up this month a contentious theme: the elimination of the arms trade.
Pope Francis begins the video declaring, "It is an absurd contradiction to speak of peace, to negotiate peace, and at the same time, promote or permit the arms trade." He thus alludes not only to the problem itself, but to the governments resisting a real commitment to resolving this global issue.
During the video, the Pope puts forward this unsettling question: "Is this war or that war really a war to solve problems or is it a commercial war for selling weapons in illegal trade and so that the merchants of death get rich?"
According to a study from the Stockholm International Peace Research Institute (SIPRI), the commercial arms trade is at its highest level since the end of the Cold War. The increase has been caused by the conflicts in the Middle East, the tensions in the South China Sea, and the perception of the threat Russia poses to its neighbors. The majority of arms sales comes from the five permanent members of the UN Security Council: the United States, Russia, China, France and the United Kingdom. Germany, Spain and Italy, meanwhile, are among the main manufacturers, while Saudi Arabia, the United Arab Emirates, and Turkey are among the main buyers.
"The Pope's request this month is forceful," said Jesuit Father Frédéric Fornos, international director of the Pope's Worldwide Prayer Network and its youth branch, the Eucharistic Youth Movement. "We need cooperation and commitment, to urge world leaders to firmly commit to putting an end to the arms trade. There are so many dark strategic, industrial, and political interests that result in the death of so many innocent victims around the world. Do we know which industries in our countries benefit from the arms trade?"
The release of the video comes shortly after the meeting with US President Donald Trump, where Pope Francis presented the president with a small sculpture of an olive tree crafted by a Roman artist that the pope said symbolizes peace. "We can use peace," Trump commented.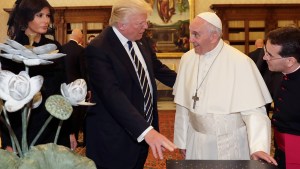 Read more:
Donald Trump says he will remember what Pope Francis told him
The pope's monthly intentions are entrusted each month to the Pope's Worldwide Prayer Network and The Pope Video represents the intentions in a video format.
~
The Pope Video is made possible thanks to the support of many people. You can donate at this link.