The Disney film reveals that children teach us just as many lessons as we teach them, if we're humble enough to listen.
My mom recently rocked my family's world by giving my girls Moana on DVD for Easter. Since then the family has become avid Moana fans, having probably watched it 15 or so times in the last five weeks. And the parents have mirrored the kids' obsession, discussing the symbolism behind all the different scenes and engaging in an in-depth analysis of several of the song lyrics. We've gone pretty deep into this stuff and have definitely contrived our own sense of depth in the pretty uncomplicated plot. But that said, my wife and I have been reflecting a lot on parenting lessons from the movie.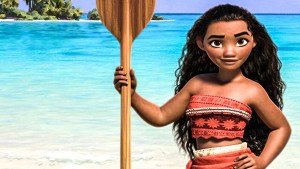 Read more:
5 Timeless truths about the heart you'll find in 'Moana'



One of the main themes of Disney criticism, especially in the Christian world, is that is seems like all the plots revolve around kids disobeying their parents and getting away with it  — or even worse, proving their parents wrong. A fair criticism to be sure when it comes to some of their movies, but I don't think it fits with this one. One line from a song puts this argument to rest for me, and got me pondering my fatherhood.

, Moana's sassy grandma sings:

You are your father's daughter/ Stubbornness and pride/ Mind what he says but remember/ You may hear a voice inside/ And if the voice starts to whisper/ To follow the farthest star/ Moana, that voice inside is who you are.

These lines are a summary of Moana and her father's relationship.

I think Moana's relationship with her father is a fitting parable for modern, over-protective, avoidant parenting, and I've gleaned several lessons from the movie. And reflecting, I came away with two parenting lessons from this parable:
1. Don't let fear be your main motivator when raising kids
Moana and her family live on an island and her father is terrified of letting Moana go out into the sea beyond the reef surrounding it. He is motivated, sure, by his desire for his daughter's safety, but that concern is born of his fear, his own wounds. And he shuts out his daughter "for her own good."
Is it good, though, to never experience any hurt and be clouded by constant fear because of an overprotective upbringing? I'd wager not. I remember the days of riding my bike around the neighborhood, the days of scraped knees and bruised elbows and it was glorious! Why would I want to rob my girls of that by tampering their adventurous spirit with my over-protective paranoia? Even better, in our less-than-safe world, why don't I go out on their adventures with them?
2. Just being the parent doesn't always make you right
I am wrong sometimes. My children call me on it, and I should listen. This flies in the face of the "shut up and listen" culture. It flies in the face of a warped sense of obedience.
I'm constantly asking myself: what's going on inside my 4- and 2-year old?
Chaos, I would guess, but I would be mostly wrong. Longing to learn, experience, understand, and love would be more accurate. It just looks like chaos to me because I don't pay attention. It's easier to be stubborn with my schedule and my desires (usually to tune out on the couch with my lazy self).
Read more:
The Fight for Fatherhood
It doesn't go down easy when my 4-year-old corrects me, but that doesn't make her wrong. I tell her one thing and often do the other. Maybe she's just helping me to not be such a hypocrite, and what's wrong with that?
This wounded approach to parenting is basically built-up by our attachment to our phones, etc. and stoked from a spark into a flame by a self-help culture that boils your mental health down to a line drilled into our heads by flight attendants: "If you are traveling with a child or someone who requires assistance, secure your mask on first, and then assist the other person."
Children teach us just as many lessons as we teach them if we're humble enough to listen, to drop what we're doing and to step out of our own preconceived notions.
In many ways she also knows what she needs better than I do.  For example, if I'm exhausted after a long day of work and she throws a fit because I throw myself on the couch and she wants me to go on an adventure in the front yard, she's actually the right one in the situation. I can always address the fit later, but the main point is she desires time with me — quality time. Instead of shutting our kids out, that's the greatest thing a dad can do.