The golf legend joins a slew of celebrity dads making a statement about family first.
Every parent knows how tricky it is juggling career commitments with family life, doing our level best to get to all our kids' major events. But recently champion golfer Phil Mickelson had to decide between attending his daughter's graduation ceremony and competing in the U.S. Open that both happen to fall on the same day, June 15. If he won the U.S. Open he'd actually win a career Grand Slam putting him among other golfing legends, so both his wife Amy and his daughter Amanda gave them his blessing to skip the graduation. However, for the father of three there was simply no competition: his daughter came first.
Read more:
The Perfect Movie for Dads and Sons
The golfer confirmed in a press conference: "Barring something unforeseen, I won't be there." This unforeseen circumstance could be bad weather that would delay the start of the golfing tournament, allowing Mickelson to grab his golf clubs and get to Erin Hills, Wisconsin to join the tournament —is it wrong to wish a little thunder storm around the golf course come June 15?
Mickelson has certainly got his priorities in order. Of course that elusive Grand Slam would be the hole in one of his golfing career, but as he says of Amanda's graduation: "As I look back on life, this is a moment I'll always cherish and be glad I was present." And it is an occasion that will certainly make his heart swell when his daughter also delivers the commencement address.
"I would have totally understood had he needed to play the U.S. Open. We could have done a video or this or that," Amanda said. But there's nothing like turning up for your kids, being that familiar smiling face among the crowds.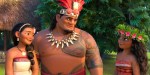 Read more:
The 2 parenting lessons I've learned from 'Moana' as a father


It is perhaps no surprise that Mickelson is choosing his family over his career. Back in 1999 Amanda was actually due on the same day as the U.S. Open in Pinehurst, North Carolina. Mickelson had one ear on his bleeper while playing in the tournament, ready to drop everything and run to the hospital if his wife went into labor. Amanda timed her arrival to perfection, allowing Mickelson to complete the tournament, although he lost out to the late Payne Stewart.
Mickelson's sacrifice is one that comes naturally to many fathers, who adapt, change, or give up their careers for their families. NBA player LeBron James left his team in Miami to return to his hometown of Cleveland to raise his family, explaining: "I looked at other teams, but I wasn't going to leave Miami for anywhere except Cleveland. The more time passed, the more it felt right. This is what makes me happy."
Whereas actor Rick Moranis, you may have seen him in Ghostbusters or Honey I Shrunk The Kids, gave up his film career to become a stay-at-home dad. It's only now, 20 years later, that Moranis will be making a small comeback, appearing in a benefit concert on July 18 in Toronto. Perhaps it will mark the return of a great comedic actor to our screens.
Surprisingly Cary Grant, the suave star with the perfect hair from the 50s, virtually gave up his career to focus on his only daughter, Jennifer. The star was a very attentive dad, and after he and his wife divorced, he wanted to devote his time to his girl.
Dave Chappelle took the radical decision to end his promising TV career because of the toll being a celebrity had on his family. The dad of three recognized how "that kind of attention wouldn't have been conducive to raising a family."
And White Sox veteran, Adam LaRoche retired from baseball when his club asked him to decrease the amount of time his 14-year-old spent at the clubhouse. LaRoche gave up his chance of earning $13 million by taking a stance and supporting his son over his club.
We appreciate and admire any dad, or mom, who gives up the chance of a lucrative career by prioritizing their families. We know it isn't always easy, and for some of us we don't get to make that decision. However, these famous dads are inspirational in showing their kids that their love goes above and beyond celebrity status and million dollar contracts — to us that makes them real champions!