First of all, as with any breviary, there are the all-important "ribbons." These are extremely important and allow you to mark the correct parts of the Divine Office.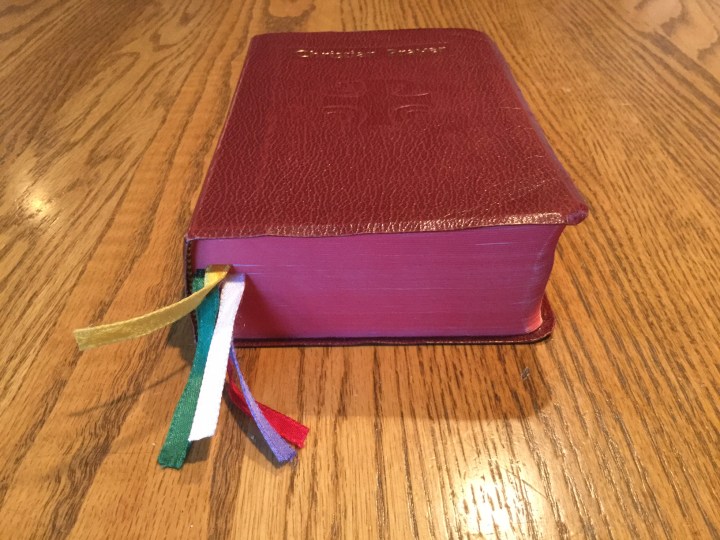 To begin setting the ribbons, take one of them and open to page 686 where the "Ordinary" and "Invitatory" are located. The Ordinary is the basic "instruction manual" for the Liturgy of the Hours and acts as a reference point if you ever get stuck.
In the Ordinary we abide by the common phrase "Say the Black, Do the Red." All the words printed in the color red are instructions and all the words printed in black are the prayers you actually pray. There are plenty of instructions and options, so read it all carefully. It is suggested to read through the entire Ordinary before going any further.
The Ordinary also has prayers that are repeated each day such as the Magnificat and Benedictus. These prayers are said at Evening and Morning Prayer and are typically memorized when prayed frequently. Until you have them memorized, you can always turn to the Ordinary to find them.
After you have read the Ordinary, leave your first ribbon where it says Invitatory. This is composed of an antiphon and Psalm 95 and is typically prayed before Morning Prayer (or the Office of Readings). If you are praying the Invitatory on your own, you will say the correct antiphon once, pray Psalm 95 and then recite the same antiphon at the end. When praying with other people, you will recite the antiphon after every stanza.
Before we go any further, a note about Christian Prayer. Unlike the full version of the divine office, the antiphons are only printed once at the beginning of each Psalm. That means after praying a Psalm, you will have to flip the page backwards to recite the correct antiphon. This is important to remember and will be repeated in Morning Prayer, Evening Prayer, etc.