Blesseds Diana, Amata, and Cecilia were friends of St. Dominic.
If you ask most people to tell you which of their acquaintances is most likely to become a nun, nine times out of 10 you'll be directed to the shy, quiet, awkward girl. But anyone who's spent 10 minutes with a group of nuns will tell you that not every nun is meek and homely—quite the contrary. Convents are filled with beauty queens, actresses, and investment bankers, filled with the shy retiring type, the loud and sassy type, and plenty of "problems like Maria."
On June 8, the Church celebrates a group of these nuns: Blesseds Diana, Amata, and Cecilia, friends of St. Dominic and among the very first Dominican nuns.
Blessed Cecilia Caesarini was a Benedictine noblewoman. Unfortunately, while her community was ancient and esteemed, it was also lax and caught up in scandal. When Cecilia was 17, Dominic arrived to reform the community at the request of the pope. Hearing him speak of the beauty of a life entirely handed over to God, Cecilia was enthralled and threw herself at the feet of the great preacher, asking to be received into his order and becoming one of the first Dominican nuns.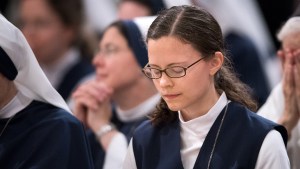 Read more:
21 years old, and entering a cloistered convent? An interview with my little sister
The identity of Blessed Amata is less certain. We know that she was dear to the heart of St. Dominic, that she received her name from him, and that she was a nun with Diana and Cecilia.
The most spirited of the bunch was Diana d'Andalo, a young noblewoman who was described as being "of outstanding beauty," as well as being eloquent, charming, intelligent, and rather spoiled. Diana was fond of beautiful and expensive things until she heard the preaching of Blessed Reginald of Orleans, an early Dominican preacher. Convicted by his words on luxury and vanity, Diana gave away the beautiful things she loved and even persuaded her father to donate some of his land to the friars.
Not satisfied with this, Diana soon made a vow of virginity witnessed by Dominic himself. This sort of occasion usually involves proud fathers and teary-eyed mothers, but Diana's profession had neither, for the simple reason that she hadn't told her parents of her plans. She was (understandably) concerned that her wealthy family would insist that she marry, so she made the ill-advised decision to ask forgiveness rather than permission.
Her secret consecration was further complicated by the fact that there was still no Dominican convent for her to enter. Diana set about living as a nun in her family home but her family made it difficult for her to pray and fast as she wanted, so Diana hatched a plan: she and her girlfriends would go have a picnic at an Augustinian convent. At the end of the day, all the girls would go home—all but Diana, who would be hidden away behind the convent walls.
Diana hadn't counted on the fury of her family. When her friends arrived back in Bologna with the news that Diana had decided to stay, her father, brothers, and uncles rode out after her. They galloped up to the convent and demanded that she return with them. Diana refused, clinging to the very building until they dragged her away—breaking at least one of her ribs in the process.
Diana appeared to be near death when she arrived back at her family home and was confined to bed. During that time, she received letters from Dominic who, though he was on his deathbed, encouraged her to persevere in her vocation. Persevere she did, and before terribly long she had exhausted the resistance of her family. The second time she sneaked out to become a nun, they didn't follow her.
Not long after the death of St. Dominic, Diana left her temporary home with the Augustinians for the convent of St. Agnes where she began to live according to the rule of St. Dominic. For a few months Diana served as prioress, but soon Blessed Jordan of Saxony (the master general of the Dominicans after the death of Dominic) sent for some more experienced nuns from Rome. Of these, Blessed Cecilia was appointed prioress.
Read more:
Need a saint you can relate to? Here's one way you might find one
From there, life continued rather as expected for cloistered nuns, excepting only Diana's deep friendship with Blessed Jordan. The many letters from Jordan to Diana give us a model of transformative spiritual direction and of chaste friendship. These letters, along with the description of St. Dominic given to us by Blessed Cecilia, form the literary legacy of this trio of holy women, but their witness of holiness as God made them (not as they were expected to be) might be even more valuable.
On their feast day, let's ask them to pray for all women discerning religious life and for women who don't quite seem to fit the mold. Blesseds Diana, Amata, and Cecilia, pray for us!
Read more:
I was not the kind of girl anyone wanted to talk 'vocations' with