An interest in homebrewed beer and a liking for social media brought an unexpected opportunity to this podcaster.
Sarah Vabulas began her career working for a member of the House of Representatives. Three years into that, she discovered that life online was more fun, so she entered the software industry, where she remains. After hours, Vabulas is a self-described "Catholic geek, homebrewer and beer connoisseur" at Catholic Drinkie, where she podcasts about living as a faithful young adult Catholic and about her pursuit for the perfect homebrewed beer. You can often find Sarah on Twitter, where her handle is @CatholicDrinkie. Her dream is to share a beer with Pope Francis or Cardinal Timothy Dolan.
Here she explains to Aleteia the origins and purposes of her unusual and charming book, The Catholic Drinkie's Guide to Homebrewed Evangelism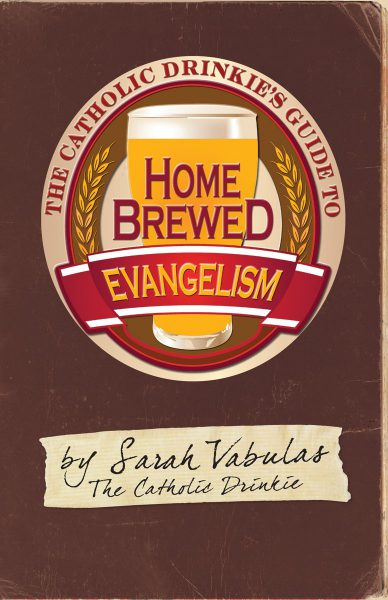 What inspired the book?
I absolutely love to talk to people about some of the most mundane things in life and relate them back to our Catholic faith. St. Paul inspires me daily to evangelize even in the most odd pathways. In 2010, I started my blog and it led to incredible friendships which paved the way for this book to happen. I have a knack for helping others find a good drink and my blog was built upon that very thing. I also think the Catholic Church's history around the spread of wine, beer and spirits is fascinating and a great conversation starter. So with these two things, I decided to write a book that melds the beauty of that history with how to evangelize using something as everyday as beer or wine.
If you could give this book another title, what would it be?
Naming the book was a challenge the first time around since it truly covers many topics from history to saints to home-brew recipes. That said, another apt title could be, "Reimagining Evangelization: A journey through the history of Catholicism, wine and beer."
What story or anecdote (or piece of advice) in this book most personally resonated with you?
It was such a thrill to share my evangelization stories with the world. On days when I'm not being a total introvert, I enjoy talking with strangers about their lives while sharing a drink. You never really know when the Holy Spirit is going to show up. So my biggest takeaway from writing this is the friendly reminder to allow the Holy Spirit to work through you always in all ways. God is incredible when you allow Him to work through you.
Did writing this book teach you anything?
I learned quite a lot writing this book, including that I can accomplish my dreams. I also learned that often when you write a book, it isn't always received by the audience you expect. My book is about more than just beer and I would love for audiences who are passionate about connecting with young adults or fallen away Catholics to read it as it arms you with truly interesting facts about everyday topics. You don't have to love beer or want to homebrew to enjoy the stories and the tactics I offer.
If there is one person you want to reach with this book, who would that be?
When I wrote the book, I imagined reaching young adults passionate about creating community. I also wanted to reach out to anyone interested in Church history since this covers fairly in depth both from a Biblical perspective as well as from a historical perspective. It was good fun to write about the saints and other facts about the spreading of Catholicism through beer and wine.
What is the ideal beverage to have in hand while reading your book?
I personally recommend with this one anything made by a Catholic monk: spirit, wine or beer. Your choice!