Dads (and moms) share favorite past gifts to inspire you this June 18.
Maybe your husband works long hours for not enough pay to take care of his family. Or he puts his hobbies on the back burner so he can support your children's passions — and yours. If your spouse is the giving kind, why not "up the ante" on Father's Day this year?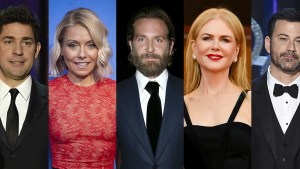 Read more:
5 Celebrities you may not have known are Catholic
I'm not talking about spending more money than you usually do. What if — instead of purchasing a dress shirt or an expensive pair of concert tickets – -you gave your mate a low-cost, high-impact, gift? We asked dads (and moms) about favorite gifts from years past. Their answers provide a trove of ideas for presents dads will treasure, long after the calendar pages have turned:
Photo gifts
Does your spouse hoard memories and mementoes of vacations and school years past? He might enjoy a photo gift.
"My husband travels a lot, so we had luggage tags made with the kids' pictures on them," says author and counselor Michele Nietert, married 14 years with two kids. "Once, the kids and I had photos made of the three of us for him (in red, white, and blue, because that combination's his favorite). He is especially grateful for that picture, because he hates photo shoots!"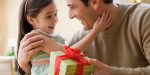 Read more:
7 Father's Day gifts that can make a real difference


One year, I grabbed a printed picture of my two sons and me, purchased a square smooth tile at Home Depot, and used Mod Podge to attach the picture to the tile. I then put Mod Podge over it to seal the picture. My husband displayed it in his office.
Heather Enright, blogger and adoption social worker, posed her three kids three different times, so their bodies spelled out the letters in "Dad," and then printed and framed the pictures as a Father's Day present. "Years later, he still has it hanging up," says Enright, married 22 years.
Handprint or fingerprint gifts
https://www.instagram.com/p/BUr3gSqhGyr/
Does your sweetie travel away from home or work long hours at the office? Give him a gift to enjoy when he's missing the kids. "Once, a studio took the kids' fingerprints and turned them into a keychain fob, where my husband could touch his children's fingerprints when he missed them," Nietert adds.
Matt Bufkin, a banker from Granbury, Texas and father of three kids, noted: "My favorite Father's Day gift is a wooden plaque my wife gave me years ago, with each of the kids' handprints and a little saying on it. I still have it hanging in my office."
Gifts from hobbies or collections
If your spouse is the kind who coaches Little League or runs the scout troop, he might enjoy a gift that takes effort, not cash, to implement.
"My son made a bear out of Legos one year. I've received similar sculptures over the years," says Marcus Goodyear, a communications director with two kids.
Mary Parsely Mustard, an educator from Texas with four kids, and married 32 years, notes: "My husband is happy when we've had a good home-cooked meal together (dessert definitely included). However, the best part is afterwards, when all three boys watch one of his favorite movies, like a John Wayne western, with him."
Gifts of labor or time
Don't forget to get your kids in on the action: engage them in making gifts with you, or on their own. Dads love it when their children expend effort on their behalf (my hubby loves homemade cards, and our boys can be counted on to think of funny ideas, complete with "inside" family jokes).
"When my two sons were little, they gave me a coupon book for things like movie time, hugs, or breakfast. I loved it," John Morgan explains.
If your spouse is a fisherman and a candy lover, you could put together a "Daddy  Tacklebox."
Read more:
The Fight for Fatherhood
"I woke up once to a sparkling clean car, inside and out," says Paul Soupiset, a poet, artist, and brand strategist from San Antonio. He's been married for 24 years and has 4 kids. 
Wouldn't that be a nice way to greet your hubby when he wakes up on Father's Day?
Does your man likes to snack when he relaxes? Put together a "Pop Rocks" basket. He'll think of you and the kids whenever he dives into the goodies.
"One year, I got a small Moleskin calendar-style notebook in my husband's favorite color and on every day, we wrote something we liked/loved about him," nurse and author Jordyn Redwood, married 19 years with two kids and living in Denver, says. "He cried — and he's a man who rarely does."
I did much the same thing using a large jar for my husband. The boys and I wrote things about him for which we were grateful on small colored pieces of paper. We then folded the pieces a few times and put them all in a jar which we labeled "Open When You Need a Smile."
Another mom mentioned giving her hubby a printable survey with her child's answers on it. Search on Pinterest for websites which have free Father's Day surveys and questionnaires you can download.
Finally, you could purchase a journaling Bible and fill the journaling pages with dozens of prayers, memories and thoughts. Encourage your spouse to keep seeking God and making his family a priority. Thank him for the ways he sacrifices and serves.
Here's a prayer to get you started:
"Father God, thank you for my husband. Thank you for his hard work through the years. Thank you for the way he loves You, our kids, and me. Grant him peace, health, safety, and joy. Keep him from temptation, and show him the way to go. May he meet with more and more success, but most of all, may He always seek You and Your kingdom first. Amen."