This simple spiritual practice changed my marriage. And it's not just for wives: husbands take note!
My youngest is not even 3, but the kid loves a good coloring book and crayon (you know, after he got over the initial "edible or not?" experiment). When he first sits down, he gets really focused and leans his little head and body in and holds the crayon with precision like he's about to create a masterpiece.
After the first stroke, his body shifts and the crayon flies freely over the page, negligent, in typical toddler fashion, of lines on the paper.
Read more:
A simple daily reflection to put the brakes on our rush-hour lives
I find it all fascinating, because he's just trying to imitate his brothers. Having three (with fourth on the way) children, I've observed that innate growth that takes place as they go from broad strokes to detailed and deliberate strokes. And not only while coloring, but with everything they are learning in life. They are fine-tuning "humanness," and it's amazing to witness.
When I first entered marriage, my heart was filled with the same tenacity that my son exhibits. I approached it in a lot of ways with the attitude of "yeah, I got this! Let's sit down and get to business." Like my toddler, I just was excited to be doing what I saw so many beautiful marriages do before me. I was a little ignorant of what it took to actually create the masterpiece of holy marriage—but at the time, I was just excited to be in it.
But as all couples do, we started growing. And much like for my middle son, who's 3, the color on paper isn't too enthralling anymore as you see others creating great works of art—and you're still puttering around trying to get the crayon in the lines. I wanted holiness, deep, and lasting love. But stuck somewhere in the middle, I just felt frustrated.
I was praying regularly and doing a short examination of conscience each night, reflecting on my day in general, seeking forgiveness, and praying to do better the next day. Yet something was urging me to dive deeper, some way to hold myself accountable for how I was living out my vocation to marriage, not just living a generally upright life.
I wanted something to challenge me and teach me to keep in the lines, so to speak, and begin working on that masterpiece I wanted.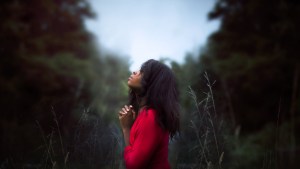 Read more:
The best kind of prayer is not what you may think
During this time, I was reading the writings of St. Mother Teresa in Come Be My Light. At the end of the book, she shares her writings in which she would examine a specific vow or promise of life she made. She would then reflect on questions examining how well she was living her faith day in, day out. Her answers were raw and honest. There was no room for justifying things. She was to the point and held herself accountable.
Reading this made me deeply desire that kind of reflection in my own vocation. Beyond just a general sense of doing good and following the Commandments, I wanted to go even deeper and start working out imperfections, so I could become a better wife, too.
This lead me to the practice of doing an examen. If you've never prayed with one, a particular examen is a more focused and intense form of the shorter daily examination at the end of each day. It's like the child learning to stay in the lines rather than just making sure the color gets on the page.
An examen zeroes in on a specific part of life or spirituality and helps us dig deeper so we can uncover things preventing us from loving as God would have us love. Many saints have recommended the practice for a fruitful prayer life. The general format is to set aside a time of prayer and go through a series of questions or reflections slowly and deliberately, opening the heart (these questions or promptings are usually based on a specific virtue to work on). From these questions, we can uncover areas we've failed and then ask for forgiveness, determined to grow in that area in the future.
This type of prayer in my marriage was spurred by a few years of ugly selfishness brought on by not admitting our own failings and blaming instead. We were stressed, hurt, and focusing on protecting ourselves rather than seeking forgiveness and holiness together. Though we still prayed with and for each other, we weren't digging deeper spiritually, intent on growing in virtue. So I began asking questions in my heart about my marriage and my actions in the same spirit of St. Mother Teresa's writings:
Do I speak with words that are good, true, lovely, and beautiful? Or do I use harsh, judgmental, and condemning words when speaking to him?
Have I complained about my spouse (interiorly or aloud)?
Do I share with others information about my spouse that isn't meant to be shared? Specifically failings or faults?
Do I blame my spouse for my own failings?
Do I cling to pride when my spouse brings up grievances or do I bear wrongs patiently?
These initial questions evolved into writing a Nightly Examen for Husbands and Wives to help keep me focused on God's will for my life and holiness in this vocation.
To do this examen, I take the full list of questions, and before bed find a quiet prayer space. I begin by asking for grace. Then I pray with the questions slowly. Sometimes certain questions aren't things I need to work on at the time, so I don't linger on those.
But the Holy Spirit has a great way of pressing upon my heart the ones I need to pray with and the areas that need growth. If it's been a long week and I've spoken harshly with my husband, I take time to really reflect on that, ask God's forgiveness, and the grace to seek my husband's forgiveness and do better. My husband uses the examen in a similar fashion as I do and will pray it separately to reflect on the ways he can grow as a husband.
Spiritually, it has given us the chance to step back from our own selfishness and reorient our hearts heavenward and to each other. It has become like a spiritual check-up for our marriage—we can go back to that examen when we feel the need and see how much we've grown or the ways we can love better. It's helped us grow in compassion, understanding, patience, and love.
St. Francis de Sales goes through several particular examens in order to prepare a soul for general confession in his book Introduction to the Devout Life. Fr. Michael Gaitley has a more simple form that leads the reader through a series of questions on the topic of mercy in his book Consoling the Heart of Jesus. My own reflection for a married person's examen is based on the teaching and style of those found in Fr. John Hardon's Catholic Prayer Book.
Are they necessary? No, of course not. But doing this practice, even just occasionally, can open up an oasis of grace during hard times or growing times.
One of the paths to this growth is the thorough examining of our own faults and seeking to live out our vocations with intentional learning and intense prayer. We are working on holiness in the path God has set before us.
I'm nowhere near the masterpieces of marriage I've seen witnessed around me, or close to the holiness I desire, but doing a particular examen specific to my vocation has brought undeniable fruit. As I unveil my dark parts more and more, I sense the light and healing taking root in our marriage deeper and deeper.