It's not easy to eat healthy on the road. These suggestions from a nutritionist mom can help.
Living in sunny Southern California, my family and I love exploring the glorious beauty God has given us. But as life with four little ones would have it — whether it's soccer or dance or religious school or whatever — we are always on the go. Summer for some families means lovely lazy days around the house, but not for us! We are always moving, which makes sticking to healthy menus all the more challenging.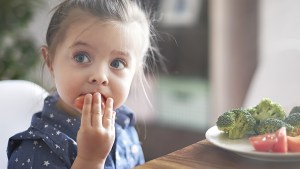 Read more:
3 Ways to help kids eat healthy foods
If you are an active mom like me, you …
1. Hate being hungry. I always have food in my car, at least nuts or trail mix to bide myself a little more time until a meal. But typically, we have snacks and water packed everywhere we go.
2. Hate taking four kids into a store or restaurant unnecessarily. Let's face it, the only stop I'd even consider making after an exhausting outing is a drive-thru and there's not a ton of good looking options there, if you ask me. Plus it's so expensive.
But my rule of thumb is that it's always better to eat than to skip meals, and to make the best of the options you have. Granted, those options are limited when we're stuck in the car with the kids. It's always a good idea to keep a stash of nuts and bars in the car just in case, or with a little planning you can try these grab-and-go ideas for some of your local destinations this summer:
The beach
I used to pack the kitchen sink when we went to the beach or park. I would literally take everything we'd picked up at the store that week: grapes, carrots, apples, oranges, bars, nuts, cheese, Pirate's Booty. I would throw in the entire bag, too, to save time on the packing end. It was way too much stuff and I learned my lesson. How? We got attacked by sea gulls and they pecked open my Costco size bag of $15 almonds. After that, meals were on a just-what-we-need basis. Everyone gets:
1. Protein. Peanut butter or turkey sandwich on sprouted grain bread or container of pistachios or another nut. Other options are an organic beef stick, turkey pepperoni, and cheese.
2. Fruit and veggie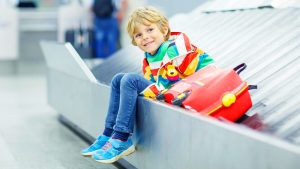 Read more:
5 Do's and don'ts of traveling with a large family
3. A protein-packed fruit or granola bar
4. Snack. Like Pirate's Booty, veggie sticks, whole wheat pretzels, or something similar.
5. Water bottle
Sporting events
Going to a weekend soccer tournament is similar to packing for the beach in that we have our options of protein, fruit and veggies, bars and snacks. We always pack a whole case of water too! The last tournament we went to I brought a ton of fresh fruit because it was 95 degrees and the sweet little 7-year-old girls were losing their energy storage a little faster than usual. We pack and drag around a large cooler at these events as well. Everyone gets to choose from:
1. String cheese, nuts, turkey breast, pepperonis, left over organic beef hot dogs, hummus packs, guacamole packs.
2. Oranges, blueberries, strawberries, applesauce, carrot sticks, jicama sticks, cucumbers.
3. Box of organic protein bars, box of Aussie bites from Costco, almond butter cookies from Trader Joe's.
4. Air popped popcorn, veggie sticks, tortilla chips, whole wheat pita chips.
5. Two one-gallon water bottles, a 24-pack of water bottles and Honest Kids juice boxes.
The mall
The one place we go without packing a feast is the mall. My girls love the mall! At least we know we can expect some decent food options when we're there. You can easily find cafes with salads and Asian cuisine with rice and veggie bowls. But the one thing my girls look forward to every single time is getting a smoothie that Mommy didn't make. We always make a trip to Jamba Juice and they share a large (no sherbet and added greens and Greek yogurt) and get a bag of Popped Chips. It's our routine and one I don't stress about too much.
If we are out on an unexpected adventure, there are a few national chains that I know will offer some healthy options:
1. Starbucks. They have a variety of fresh fruit and some veggies, a protein pack, hard-boiled eggs and some decent sandwiches. Be careful to choose wisely and look past the dessert window.
2. Panera Bread. They offer 100% clean options with no added preservatives or harsh ingredients. My kids opt for the broccoli soup, even if it's 100 degrees out or breakfast time. I go for a salad, dressing on the side and an apple or whole grain baguette.
3. Chipotle, Wahoo's fish tacos, Baja Fresh. They all offer a great Mexican cuisine, but all clean ingredients and easy to find. The one negative: no drive-thru.
I promise filling your bellies with nutrient-dense food will make any experience more enjoyable for all, especially since you'll have the energy to keep up and mental clarity to remember all the good times!