Ginger root has a wide range of health benefits, from reducing blood sugar to treating morning sickness and colds.
Herbs and spices have been used since ancient times for treating a wide variety of illnesses. One of those beneficial spices is ginger, which has been used for thousands of years. It belongs to the "zingiber officinale" family, and is closely related to turmeric, cardamom, and galangal.
Ginger is currently cultivated in India, China, Japan, Indonesia, the islands of the Caribbean, and some areas of Latin America.
The part of the plant that is usually used as a spice is the rhizome (a part of the stem that grows underground), which is usually known as ginger root, or just ginger. It is considered a food with useful natural properties, as it contains chemicals with health benefits.
Nutritional properties
On a nutritional level, it contains carbohydrates, present in a greater proportion in powdered ginger than in fresh ginger. As far as mineral content goes, what most stands out is potassium, which improves circulation and treats cramps. People who suffer from renal insufficiency should only consume ginger in moderation.
Gingerol is the main bioactive constituent of ginger. It is responsible for many of its medicinal properties, as well as its anti-inflammatory and antioxidant effects.


Read more:
7 books and 7 drinks to sip through summer


Various studies have shown that three grams of ginger reduce LDL cholesterol ("bad" cholesterol) levels, as well as total cholesterol levels and triglycerides.
Other studies indicate that it reduces blood sugar levels, thus helping to improve various cardiovascular risk factors in diabetics.
Some beneficial effects of eating ginger
One of the best-known properties of ginger is that it relieves the sensation of motion sickness while traveling. A small amount is also currently recommended for pregnant women suffering from morning sickness (although they should consult with their doctor regarding ginger consumption).
In addition, it has carminative properties (reducing flatulence), is an antispasmodic, helps treat ulcers, helps discharge bile from the digestive system, protects the liver, is an antitussive (cough suppressant), reduces blood pressure, and is an expectorant and laxative.
It is an antihistamine, so ginger tea can help relieve colds, coughs, and sore throats, for example.
It also relieves muscle pain (cramps) and improves blood circulation.
These properties vary according to the form in which ginger is consumed. For example:
Fresh ginger: principally for treating vomiting, cough, abdominal bloating, and fever.
Dry ginger: for abdominal pain and diarrhea.
Dry powdered ginger: for stimulating the lungs and digestion, and for avoiding morning sickness for pregnant women.
Ginger oil: for treating fevers and stimulating the appetite.
Various uses of ginger in the kitchen
Nowadays, fresh ginger is what is most widely used for culinary purposes, but it is also used in its dry or powdered forms, and in preserves and oils.
Its strong, intense, and slightly sweet flavor makes it very distinct, and very useful in various dishes such as salads, drinks, cocktails, and assorted gourmet dishes.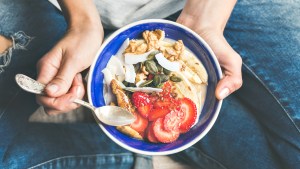 Read more:
6 Nutrients that help you stay in a good mood
Fresh ginger: It can be used with seafood, meat, and fish to neutralize odors. It is good in spicy sauces and curry, or also to flavor oils along with garlic and onion. Finely chopped, crushed, or cut into small sticks, it is used for seasoning various kinds of salad, together with turmeric, chili, and lime juice. It is useful for adding aroma to soups, fried vegetables, stews, and oriental dishes. It can also be used in the preparation of sweet dishes, such as jams, pastries, sweet breads, and cookies, among others.
Powdered ginger: It has a different, somewhat stronger flavor, and is principally used in desserts, jams, candies, curry, and mixtures of hot spices. It's ideal for breads, cakes, and cookies, or for giving aroma to vegetables and sweet-and-sour dishes. One of its well-known uses is to accompany raw fish such as sushi, and in a variety of drinks such as beer, tea, and coffee.
Ginger preserves: This is generally used in refreshing drinks, spiced breads, ice cream, and sweet sauces.
Ginger oil: In this form, ginger is usually used in confectionery products, and both alcoholic and non-alcoholic beverages.
Ginger is a very healthy and enriching spice that offers multiple health benefits. It's always best to be careful with the amounts you add to food, because it has an intense flavor.
This article was originally published in the Spanish Edition of Aleteia.