Disney and Pixar's latest animated romp rolls into theaters this weekend, with something children need to hear.
If the average 7-year-old boy had a drivers' license, he'd race down to the nearest multiplex like Lightning McQueen.
The average parent, meanwhile, might want to slam on the brakes.
Oh, there's nothing particularly wrong with the Cars movies, to be sure. They're fine, entertaining fare for the kiddos. But most adult-folk stick the flicks in the realm of the Pixar also-rans. If films like Finding Nemo, Inside Out and the Toy Story films are in Pixar's penthouse, the Cars series are stuck in the basement.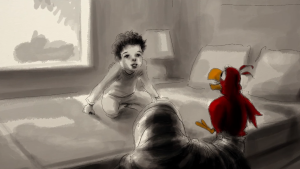 Read more:
Oscar-nominated documentary tells story of autistic boy who found his voice through Disney movies
Or so they say anyway. But I wonder whether we, as a culture, are selling these movies short. Sure, they may not jerk the same pint of tears that, say, Up might. But the films still have some good and surprisingly sophisticated messages in play. And it conveys those messages by using — and subverting — the prime symbol of American culture, independence, and excess: The car itself.
We Americans love our cars. We have for decades. We sing about our Pink Cadillacs and Little Deuce Coupes. We ogle the Ferraris and Teslas that cruise past us on the highways. Even though the best and fastest automobiles tend to be made outside the States, the car culture is quintessentially American. For many of us, cars are an extension of our personalities. We align ourselves with manufacturers (Ford or Chevy? Ferarri or Lamborghini?). We trick out our rides. We salivate over them as 8-year-olds and then buy when we try to stave off middle age.
Cars can represent freedom and status, excess and youth. And most especially, they're a symbol for our sometimes overtly materialistic culture. When rappers want to tell us how rich and powerful they are, they don't rattle off bank accounts: They talk about their cars.
"I don't want the Chrysler that looks like a [Rolls-Royce] Phantom," rapper Puff Daddy says in a commercial for his new documentary, Can't Stop, Won't Stop. "I want the Phantom."
The original Cars inhabited this world of high-octane vanity, and Lightning McQueen was the top dog — the preening king in this world of anthropomorphic autos with all the swagger of Puff Daddy. "I am speed," he says. "One winner, 42 losers. I eat losers for breakfast."
But Lightning gets lost, both physically and spiritually, and he finds himself in a backwater called Radiator Springs. There he learns that life is about more than racing and winning: It's about enjoying the ride. It's about the friends and family you have along with you.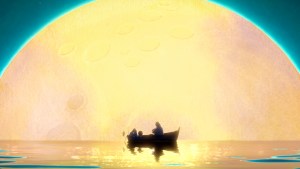 Read more:
'La Luna': Pixar's short film teaching us how to let ourselves be taught
When Lightning meets Doc Hudson, a legendary race-car in his day, he's floored. "I can't believe it!" Lightning says. "Just look at those trophies!"
"You look," Doc says. "All I see is a bunch of empty cups."
The movie tells us that our cups — our achievements, our possessions, our often shallow selfish goals — are empty. They're not necessarily bad things, but they don't really satisfy in and of themselves. It's what we fill them with that's important.
If ever Pixar made a throwaway film, it'd be Cars 2 — the only film in Pixar's canon that has a Rotten Tomatoes "freshness" rating of under 50%. (It weighs in at 39%, or certified "rotten.") But even here, we see some subtle sublimation of American standards at work.
See, Lightning's not really the hero of this flick: Instead it's Mater, the rusted, bucktoothed, hayseed tow truck — the sort of vehicle that Puff Daddy wouldn't be caught dead in. Granted, Mater's not particularly heroic from the get-go. He messes up plenty, and other characters — often suave and savvy sports cars — underestimate this junky jalopy. And little wonder: Mater embodies everything that our car culture — heck, culture itself — avoids like a pothole. He's ugly in a world that values beauty.
But Mater suggests that, far from being ashamed of his dilapidated appearance, he's kinda proud of it.
"I don't get them dents buffed, pulled, filled or painted by nobody," he tells another vehicle. "They way too valuable… I come by each one of 'em with my best friend Lightning McQueen. I don't fix these. I want to remember these dents forever."
Read more:
Video: Should You Take Your Kids to See Pixar's New Film "Inside Out?"
Again, Pixar uses America's ultimate symbol for status and excess and flips it on its head.
Now Cars 3 is here. Lightning McQueen's in the spotlight again, but he's not the fastest car around anymore. A new breed of race cars (led by the sleek Jackson Storm) is passing him by. No one wants to say it, but everybody knows it: Lightning's a has-been.
Our materialistic world nods knowingly. Youth, in this culture, is king. Kids spend their young lives trying to reach age 17, and then fritter away the rest of it trying to stay there. We slap on our anti-age cream and hide our paunch to look younger. We go skydiving and, yes, buy sports cars to help us feel younger.
Something tells me that Lightning won't go gently into that good night. The trailers make it look like a Rocky sort of story — a car gunning for one more chance at greatness. But at the same time, knowing Pixar's (ahem) track record with Cars, the studio may have more to say about the subject — and our often messed-up cultural priorities. Even in the trailer, Cars 3 suggests that what we often value in this world is of no real value at all. That trophies, however dearly earned, are just empty cups. It's what you fill them with that counts.
"The racing is the reward," Lightning says in the trailer. "Not the stuff."
In America, cars are the pinnacle of "stuff." We dote on them, baby them, work like the dickens to buy them and then slavishly show them off. They are objects of adoration. Objects of envy.
Pixar gets it. The studio knows full well how popular cars are — especially among the little boys that are the Cars' movies' biggest fans.
But then it takes the next step — suggesting to those car-crazy boys that there's something more worthwhile yet than those fancy vehicles of freedom and fantasy. Even as they root for Lightning, they'll get an important lesson or two in what really matters. What's really valuable. And maybe they — and you — will re-discover that the real treasure is sitting right there in the movie theater.