Planes, trains, and automobiles: what's safe and what's not.
Pregnancy is not a disease — it's an abundance of life! So the answer is: yes, you can travel while pregnant. However, pregnancy is an exceptional state and it's important to keep in mind some advice that will help the trip go smoothly for both mom and baby.
Let's break it down…
General recommendations
The best time to travel is during the second trimester of pregnancy. At this stage, the most delicate moments of pregnancy have passed. At the same time, we are not yet in the final stages, where our body becomes heavier and we feel more uncomfortable and could possibly go into labor.
It's best to wear comfortable clothes and shoes that are not too constricting and that allow you to move easily.
Make sure to research any restrictions on the entry of pregnant women in some countries, as well as their health situation. Be aware of the risks of contagious diseases (zika, malaria, cholera, etc) and any precautions that may be required.
Before going on a trip, talk to your gynecologist about your plans and destinations because he or she will have good recommendations for your specific situation. He or she could also provide you with a medical report in case you need to seek a doctor at your destination.
Read more:
What pregnancy taught me about my own powerlessness
It is also important to bring your insurance card and coverage info (make sure you have coverage in the country you are going to). You may also want to take out additional insurance covering the cost of a preterm birth or any other pregnancy problems that could occur during the trip.
Travel by car
There is no reason to stop traveling by car, although you should plan stops every two hours to stretch your legs and go to the bathroom. At the end of the third trimester, it's better to avoid driving when possible, because the belly will be very close to the steering wheel and it could affect your range of motion.
It is very important, as always and for everyone, to wear a seat belt. Make sure that it does not cross directly over the belly in order to prevent a sudden brake from squeezing the baby. The horizontal part of the belt should be under the belly and the crossed part should pass between the breasts, above the belly. Also push the seat back as far as possible from the dashboard so that the airbag will not reach the belly if it opens.
Travel by train
This is an excellent travel option for pregnant women. There is usually enough space between the seats to stretch your legs, and you can always get up to walk a little (holding on in case the train jostles or stops suddenly). The high-speed option on some trains can make the journey less cumbersome.
Travel by bus
Bus travel is not recommended for long trips. There is not usually much space between the seats and it is difficult to get up and walk down the aisle. Remember that you need to wear your seat belt and that it should be under your belly.
 Travel by boat
Waves and motion sickness are the only drawback, since many women are more prone to vomiting during pregnancy, even into the second trimester.
Travel by plane
Flying is a great choice because of the speed. But be aware that some airlines impose restrictions. Many do not allow pregnant women after the 32nd week of gestation to board and may require a document that exempts the airline from any liability in case of a problem. Some companies also request a medical certificate confirming the gestational age and possible risk situations.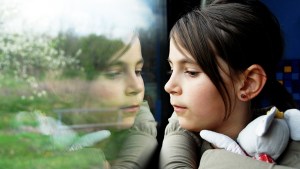 Read more:
How to travel overseas with kids — and actually enjoy it
The space between the seats is not very wide, so we recommend choosing an aisle seat so you can walk for at least five minutes every hour. And remember: put the belt under your belly.
Do not worry about airport metal detectors, as they are not dangerous for mother or baby. Be careful when you leave the plane, as all of the passengers are in a hurry and someone could hit your belly with an elbow or your head with their bag, for example. It is better to leave last, with tranquility and without haste.
Enjoy your trip. Remember that traveling is fun and can take you to wonderful places — hopefully to a babymoon getaway!
This article was originally published in the Portuguese Edition of Aleteia.