Feelings of "losing myself" are transformed into something wonderful thanks to St. John the Baptist.
I finally have the courage or foolhardiness to say what I've felt before during pregnancy: that though I have not experienced extreme pain or tragedy, I have found each one a particular mental suffering.
It's weightier to feel the kicks of a fifth baby than a first. I've seen the whole swollen beauty and brutality of labor four times now, and have drawn from within myself my sons, my daughters. My tears have stroked the heads of my crumpled, moist babies as they tumbled onto my chest. I've waited breathless to see those petite lungs shudder with their first draughts of air. I've gazed four times, in pain threaded with cosmic delight, at a person who in the whole world knew only me, desired me. The promise of all of this is in each fifth baby nudge.
But as always, as I grow larger and birth treads a day closer, I don't know who I am. I am overshadowed by this presence, this person, my daughter; she has taken over and I feel I will lose myself to her by the end.
My feeling of "losing myself" is not about the external limitations of behavior based on current CDC recommendations. Foregoing sushi and vodka is tiresome but doesn't alter my selfhood. I'm talking about something internal and immovable, about the inability to forget the other being wrapped within my skin, and how this colors my thoughts.
I find myself withdrawing from friendship in little ways while pregnant. I fumble at words to share my inner heart, because my heart often seems of two worlds. One is working, studying, loving my new, unseen, child; the other is caught up in daily sorrow or struggle of feeling lost behind her, and the two hearts usually arrive at a truce and I find I have nothing to say.
Why? Because what "I" want to do or think or say is immutably wrapped up in "We" — the two of us represented by the one me. My understanding of what constitutes myself at that moment is in flux — my body changes, but so do my heart and mind — I am undertaking a brand-new relationship. How will it change me? Who am I now? Without this footing I lose confidence. What do I say, as me-and-her?
Read more:
What pregnancy taught me about my own powerlessness
At the best of times, I'm overawed by this. That little hesitation that enters my mind before I behave not as woman, but woman with child – this is a gift, it is joy, and I can't contemplate it enough. God has given this Secret Girl to grow with me as her source and soil. Lord, Lord, you overwhelm me with your beauty.
At the worst of times, I feel alienated. I want to behave as me, just me, and not consider 'what the pregnant lady is doing.' I want to see eyes lock with mine when I enter a room, and not slyly analyze the size of my belly or the way I move or speak while wearing this shape. Who IS this person who is sharing me, anyway, and is she sharing? Or deposing? Can I just stop for a minute and feel my singular, alone self that God made in a particular way, never to be made again? I miss her. I've lost her.
But I realize as I carry this fifth baby, my daughter, that loss of self is the wrong word.
I am experiencing a diminishment of self – a contracting, a hibernating – that is the right and just response to the work of another person preparing to enter the world.
This year I've found relief while contemplating the diminishment of someone who very clearly knew his own self and his purpose; a vigorous, fiery man. I mean, of course, John the Baptist. He chose diminishment. And he didn't become weak in it, he showed the strength that acknowledges the eternal things as he stepped down for a new manifestation. John's explanation "he must increase, I must decrease" comes from that sinewy steadfast rootedness in the Lord that doesn't need to explain or question.
John the Baptist decreased not so that Christ could increase – as though it couldn't have happened without John's surrendering the popularity crown – but because Christ was here, at the appointed time. The time for the fruition of my child is now, and it is happening here, in my own flesh and tissue and muscle. Her presence is necessarily at the forefront, and like my brother, John the Baptist, I feel myself decreasing, reducing, behind my insistent belly.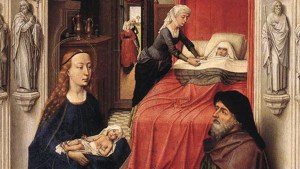 Read more:
Only 3 birthdays are celebrated on the Church's calendar