Child psychiatrist Nicole Catheline offers parents advice on how to cope with this ordeal.
Sadly, bullying at school is an all too common issue that can have detrimental effects on the victim's mental health. Repeated physical and psychological bullying takes its toll on both the child and the family and it's not always easy to know what to do. As it is such a sensitive issue, we looked to child psychiatrist Nicole Catheline, a specialist in adolescents with difficulties and the author of School Bullying,to give us some pointers.
What are the warning signs of bullying to look out for?
"There aren't any specific telltale signs but there are changes in behavior to watch out for, such as irritability, hypersensitivity, tiredness, problems with eating or sleeping, video game addiction, being slow in the mornings to avoid going to school, or missing the bus. Unfortunately, adults tend to assume that these changes are just the typical signs of adolescence but this is not always the case."
Do victims of bullying have a profile?
"You shouldn't really address the problem in this way because it would imply that it's the victim's fault that she's being bullied. Bullying is the result of a failure in a group's internal dynamics.
"During adolescence, the group is important for building a child's personality. It protects and sends out a positive image of those who belong to it. For a group to function effectively, it needs to gather together as often as possible. Each child contributes something different.
Read more:
Do Anti-Bullying Programs Lead to More Bullying?
"However, the kids in the group may believe that the victim threatens their collective identity because her clothes, interests, or other aspects do not fit with theirs. So the institution has to intervene. Educators cannot allow the law of the jungle or the survival of the fittest to prevail."
Why don't those suffering from bullying confide in their parents?
"The child is in the middle of developing and he wants a positive self-image, so he will try to find the solution on his own. However, he may keep silent out of a fear of retaliation if his parents notify the school, or because of the burden of shame or the fear of adding extra worries to a family that's already got a plateful. But after a while, he will get exhausted and will confide in someone. It usually takes four to six months for the victim to open up. But some never do."
How should we talk to our children without being too pushy?
"You need to be as neutral as possible, so try saying, 'Bullying can happen to anyone and if it should happen, we'll do everything we can to put a stop to it.' Whatever you do, don't say, 'Nobody's bothering you at school, right?' since this could convey our own anxiety and result in our child clamming up."
How can we stop the bullying?
"You shouldn't try to solve the problem by yourself, nor should you approach the bully or his parents, since this could make the situation worse! The first thing to do is to notify the teachers, the school counselor, and the principal. They can get the two kids together and find out what's going on, helping the bully understand his motives and enabling the victim to know the reasons why he is being picked on. Then, it is important to be part of the deconstruction – 'what solution can we find together?'– and not the accusation."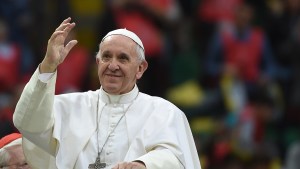 Read more:
Pope Francis to youth: Promise Jesus and promise me that you will never bully
What if the school doesn't want to know? Contact the PTO, the school board, or the superintendent. If you feel your child's safety is at risk, go to your local police.
Isn't there always a ringleader?
"The bully could be anyone, with no real ringleader. We've all got that side of us that can be easily led. That's why working in groups of pairs can be a really useful exercise: it gets kids thinking and it encourages them to find their voice in opting out, rather than following blindly like a sheep just to be part of a group. Most importantly, it shows them how to help the victim."
Should we push our kids to fight back? Press charges? Change schools?
"You must understand the bully's intentions. Most of the time, the bullying means, 'We don't want you,' and hitting back isn't going to help. Taking the legal approach won't really give you the end result you're after, except in cases of true depravity. Changing schools isn't the answer, since the child will develop a body language of fear (withdrawal, lowered eyes… ) that could attract another bully. These three measures need to be considered on a case-by-case basis."
Read more:
Bullied gaming nerd turned world-renowned violinist shines in "Gateway"
How can you help a child regain confidence?
"Give her activities where she feels valued and a platform to speak, by helping her find her confidence in a group once more, perhaps by joining a sports or cultural club. (We also suggest looking to your kids' church groups.) It's just like falling off a horse: you have to encourage kids to try again and return to 'living together.'"
There are lots of useful literature available for both children and parents. When Your Child Is Being Bullied: Real Solutions for Parents, Educators & Other Professionals by DiMarco, J.E. & Newman, M.K. is useful for guiding parents through the the whole bullying process. There are also a myriad of books recommended by teachers for kids of all ages on how to cope or prevent bullying.
Some anti-bullying videos you might also want to check out: