Although he didn't live past 23, his life is an example of how charity should have no boundaries.
What can God do in your life with one Bible verse a day?
Subscribe to Aleteia's new service and bring Scripture into your morning:
Just one verse each day.
Click to bring God's word to your inbox
Born to a wealthy family, Aloysius was destined to become a solider and take on his father's privileged status. However, Aloysius felt drawn to be a missionary and eventually renounced his rights of inheritance to join the Jesuits.
He was accepted into the order in 1585 and Saint Robert Bellarmine became a trusted spiritual advisor. By 1591 a plague struck Rome and the Jesuits sought to respond to the epidemic. They opened a hospital to treat the patients and Aloysius was among those who went out to help the plague victims dying in the streets.
Aloysius would carry the dying to the Jesuit hospital, wash them, feed them and prepare them for the last sacraments. It was a difficult task and he later confessed to Saint Robert Ballarmine that he was personally revolted by the work he was doing. However, he overcame his natural inclinations and served the sick until he too contracted the plague and died at the age of 23.
In 1991, in response to the rising AIDS epidemic, the Jesuits proposed to Pope John Paul II that Saint Aloysius be the patron saint of AIDS patients and caregivers. They did this in honor of the 400th anniversary of the saint's death and in recognition of his unfailing love and care for those suffering on the fringes of society.
A few years earlier in 1987, John Paul II was visiting the United States and made a special visit to AIDS patients and their families. According to the Los Angeles Times, John Paul II said to the crowd, "God loves you all, without distinction, without limit … He loves those of you who are sick, those of you who are suffering from AIDS and from AIDS-related complex … He loves the relatives and friends of the sick and those who care for them. He loves us all with an unconditional and everlasting love."
Around the same time Mother Teresa began opening up hospitals to care for AIDS patients, providing a service that few wanted to do at the time.
What these three saints show us is that God's love has no boundaries and our charity should be the same. God has infinite love for all people, and those who are suffering in any way can be particularly close to him. God's boundless charity challenges Christians to care for all people, regardless of the background or circumstances of the person suffering. It recalls the Parable of the Good Samaritan and how the Samaritan took care of the dying man on the side of the road, even though he would become "unclean" in the process.
The chief lesson is that even if we do not agree with the lifestyle choice of someone, it does not exempt us from exercising charity and compassion and being an instrument of God's love.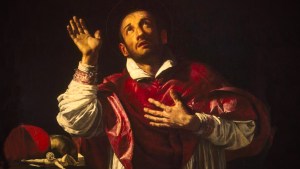 Read more:
St. Charles Borromeo: The "provocative" reformer translated into English after 400 years