Jacee Dellapenna wasn't about to be left hanging in the waiting room this time around.
You can get Aleteia inspiration and news in your inbox. Our specially curated newsletter is sent each morning. The best part? It's free.
Sign up here
Waiting for the arrival of a new sibling is pretty exciting, and a little bit nerve-wracking, but not if you're 12-year-old Jacee Dellapenna from Mississippi. The schoolgirl decided that when her baby brother was coming she was not going to be left hanging around in the visitor's room; the big sister wanted to be present in his life the very second he was born.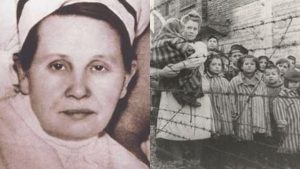 Read more:
Midwife from Auschwitz: The woman who saved hundreds of newborns
Jacee had asked her mom to be present at the birth of her other little brother, Zaydn, 18 months ago but understandably her mom believed she was too young. This time around, though, Jacee was there, ready to watch her second little brother make his entrance. However, Jacee hadn't quite realized that if you're going to be in the labor room you're there to do a little work, too! As her mom got into position to deliver the baby Jacee realized she couldn't see a thing and started crying. So the doctor told her to don some scrubs and come join him.
The photos of the big but petite sister in her mini OB-GYN attire are cute enough as it is; couple that with the look of love, surprise, awe, and shock as she helps deliver her brother and it's almost enough to make any mom want to give birth all over again … almost! After the safe delivery, the dedicated sister was also put in charge of cutting baby Cayson's cord. We're pretty sure that as the physical tie between mom and baby was snipped, it marked a very beautiful sibling bond that will last a lifetime.
We can understand how lots of birthing moms would not really want their other children anywhere near the labor room; however, the experience has not put Jacee off the birthing process. Jaycee's mom, Dede Carraway, explained to HuffPost: "That's what she wants to do when she grows up. She said it was the most amazing experience she has ever had. She's never been so happy." So who knows, perhaps one day there will be a future Dr. Dellapenna delivering your kids, grandkids, or even great-grandkids!