The second of two interviews with Enrico Petrillo on his young wife's great holiness and sacrifice
As Aleteia noted earlier this week, the cause of canonization for a young Italian laywoman has just opened — on the fifth anniversary of her death. Our readers have been inspired by the story of Chiara Corbella, both tragic and inspiring.
On June 13 (the anniversary of her death), Aleteia was able to speak further with her husband, Enrico Petrillo, who shared more insight into the holiness of his bride.
Chiara was born into heaven in 2012; cancer took her life at age 28.
She and Enrico had three children, but two of them preceded Chiara into eternity. You can read more about their first two children, both of whom died shortly after birth, in the earlier article: Interview: The husband of Chiara Corbella on his wife's sacrifice and possible canonization
Here, Enrico tells us about Chiara's striking faith and virtue, and gives us a glimpse of the true power of the sacrament of matrimony and the cross of widowhood.
Hello, Enrico. Among the many things I'd like to ask you, the first is that I would like to know more about your shared faith. Did Chiara have a special conversion experience?
Chiara didn't have a moment of conversion: She was always a believer. But there is a moment for everyone, I think, when your faith grows and you have to decide which path you want your life to take. And she decided to continue on the way she was already living. Right from when she was a child of four, she went with her mother to Renewal in the Spirit meetings; this was, shall we say, "the air she breathed," her "imprinting." I also frequented Renewal meetings, but I belonged to a different community. Her beautiful and important experiences in the Renewal taught her to have a simple and direct relationship with the Lord. Her faith journey also grew, thanks to the friars in Assisi, who were invaluable, especially at the crucial moment of our engagement, and when we met Father Fabio Rosini, an encounter which enriched our faith even more.
Was there an exact moment when you both embraced the cross?
Chiara and I cried together, but honestly, we never experienced a moment when we rejected the cross. The Lord granted us the grace of seeing the straight path, right from the first moment. We never had to make decisions; rather, we just had to accept His will. It was laborious and painful, but we knew that He was there. Christians aren't made from one moment to the next. Faith, like life, is a journey, and if you want to die happy like Chiara, you need to walk that path. During this voyage, God sends you things you must embrace, because He knows He can ask them of you; He wants what is good for you, and doesn't give you a cross to crush you, but rather, to make you open to something else, to something you have not even imagined. We had no doubt that was the case here. We were in a relationship with God, and therefore we knew that what He was asking of us was good for us, because it had been that way so many other times. All our difficulties helped us have a new encounter with Him.
We celebrated the Solemnity of Pentecost a short time ago. In the final verse of the sequence, "Come, Holy Spirit," we say, "Give us the reward of virtue, give us a holy death, give us eternal joy."* Did Chiara ask, in prayer, for a holy death?
Of course. It was a blessing we asked for in prayer. We loved the invocation to the Holy Spirit. A holy death is the moment of truth; when you are at the point of death, you are about to take that leap, to finish this journey, and that is when what is in your heart comes to light. This is why you can tell from a person's death whose child they are. Who knows how many people the Roman centurion had seen die on a cross, but looking at Jesus, he said, "Truly, this man was the Son of God." In my little son, I have seen Chiara, who was afraid of many things, but not of dying, because she knew that the Lord was waiting for her on the other side: that's why she was happy. Perhaps someone might think that a holy death ["morte santa" in Italian] means dying healthy ["morire sano" in Italian], but there's a "t" in the middle that makes a difference—san(t)a—a "t" shaped like a cross, and it is that letter that makes you become holy.
We picture Chiara as a strong, brave woman… We have seen videos and photos, and have read so many testimonies… But we'd like to "meet" her through your words: What was Chiara like?
For me, she was stunningly beautiful. The first thing that struck me about Chiara, and what also attracted other people, was her elegance. She was a princess. Her demeanor was elegant. Once, I introduced her to the mother of one of my friends, and she said, "Enrico, where did you find this princess?" That's the kind of comment you'd hear. Beyond her elegance, she was a likable woman, sociable and happy: a person who was great company, and made everyone feel comfortable. Chiara wasn't brave. For example, here's something that's silly but which can illustrate the idea: at school, she never raised her hand to answer a question voluntarily. She herself often told that story. She wasn't a brave woman who wanted to face things; no, she was a woman of faith. That she was. Faith and courage aren't the same. The opposite of fear isn't bravery, but faith. When you have faith, your strength comes from Someone else; when you are brave, you are the one who makes the effort alone. She had Someone else's strength.
How did you manage to stay united throughout your suffering?
Chiara and I walked this path together, each one in our own role. Chiara was preparing herself to die, and God gave her the grace to do it, and He gave me the grace of being under the cross. We cried, we despaired, we prayed together, and we always found refuge in the Lord. That was our strength! We were always united, always together. What we experienced was precisely the grace of the sacrament of matrimony. During our engagement, it wasn't that way; once we were married, however, we received God's grace. Each of us, in our own role, did what the Lord asked us to do. We always knew that death would not have the last word; the center of our faith is Jesus, who rises from the dead, and therefore, we too shall rise again. All of our life was oriented by that fact. We are born, and we shall die no more.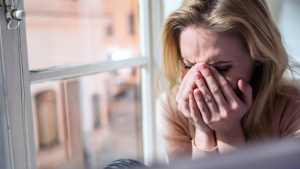 Read more:
When God's timing seems just awful
How do you live your relationship with Chiara today?
Today, I love Chiara in a different way, because physically, she's not here. I know that when I am in paradise—I hope to end up in paradise—we will recognize each other. However, many people's idea of widowhood is too romantic. When my wife died, many people said to me, "Don't worry, Enrico. You will feel her near you, so you won't miss her." I have never felt her nearby, and I miss her constantly. The Lord is the one who consoles me. I pray to Chiara and I think of Chiara all the time. Francesco, our son, is so much like her. However, I don't think of her with melancholy or nostalgia; time transforms sorrow. Plus, if you truly love someone, you seek to let them go. I try to let Chiara go, and in fact, I am happy that she belongs more and more to other people and a bit less to me.
[*Translator's note: Translated from the Latin and Italian versions of the sequence. The English version is a poetic translation that does not make a clear reference to a holy death.]
This article originally ran in Aleteia's Italian edition.