It was the most hardened, the most vicious criminals whom St. Joseph Cafasso loved most.
What can God do in your life with one Bible verse a day?
Subscribe to Aleteia's new service and bring Scripture into your morning:
Just one verse each day.
Click to bring God's word to your inbox
When you get to know the saints of 19th-century Italy, it sometimes seems that everybody St. John Bosco met had to be fitted for a halo. But even Bosco needed someone to look up to, and he found that mentor in St. Joseph Cafasso (1811-1860), the priest of the gallows.
On the day that 12-year-old Bosco met Cafasso, he ran home to tell his mother he had met a saint. Later, he would ask Cafasso to be his spiritual director, and for 25 years the founder of the Salesians (which today number more than 30,000 members) submitted himself to the authority and direction of Fr. Joseph Cafasso.
Bosco could hardly have chosen a better model; though only three years older, Cafasso had been holy from childhood. It's reported that nobody who knew him could recall him ever having committed a sin. He was small and had a twisted spine but was healthy enough and moved rapidly through seminary before being ordained at 22. His power as a preacher quickly became obvious; though he was unimpressive to look at, his voice held people spellbound as he preached the desperate love of God for each soul.
It was Fr. Cafasso's skill in the confessional that truly defined him. He was said to have a charism of counsel that spoke to the exact needs of the penitent, leaving hardened sinners weeping for joy over God's mercy.
This was nowhere more evident than in his work with condemned prisoners. Though small and weak, Fr. Cafasso wasn't hesitant to stand up to the most frightening of men. One time (by the inspiration of the Holy Spirit), he seized an enormous inmate by the beard and told him that he wouldn't let go until the man confessed his sins. Awkwardly, he began, impelled by the priest's courage and ardor. Before long, the penitent was weeping; he emerged from the confessional giving praise to God. He told the other prisoners that he had never been so happy in his life and convinced them all to go to confession as well.
Fr. Cafasso spent hours each day in the various prisons in Turin and often returned to his poor lodgings covered in lice, which he called "living silver and moving riches." Nobody, it seemed, was immune to the love he showed, nor to his exhortation. After he won the heart of one particularly difficult man, the repentant sinner worried that he could never be saved. "Who is it that will be able to take you out of my hands?" Fr. Cafasso replied. "Even if you were in the vestibule of Hell, and if there remained outside but one hair of your head, that would be sufficient for me to drag you from the claws of the devil and transport you to Heaven."
It was the most hardened, the most vicious criminals whom he loved most. He ministered to more than five dozen men who were sentenced to death, working not only to make them repentant but to make them saints. He prayed with these men, heard their confessions, offered Mass for them, and accompanied them to the scaffold. He even promised that if they offered their executions to the Lord, they would go straight to heaven.
Though Cafasso had been holy from earliest childhood, he never looked down on the prisoners, emphasizing always God's mercy and his joy in receiving great sinners back into his embrace. "When we hear confessions, our Lord wants us to be loving and compassionate, to be fatherly towards all who come to us, without reference to who they are or what they have done," he wrote. "If we repel anybody, if any soul is lost through our fault, we shall be held to account—their blood will be upon our hands."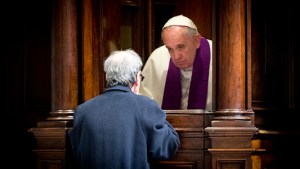 Read more:
Pope Francis asks churches worldwide to offer 24-hour confession
In addition to spending hours each day in the confessional, hours in the prison, and hours at prayer, Fr. Cafasso was a well-respected professor, instructing young priests in preaching and moral theology, and a prolific writer. He was known to be the last in the chapel each night and the first there each morning, celebrating Mass at 4:30 am. Cafasso had taken a vow never to waste any time and his contemporaries were baffled by his ability to accomplish so much while spending so many hours in prayer. When asked if he wasn't worn out from his hard work and penances, Fr. Cafasso replied, "Our rest will be in Heaven. O Heaven, whoever thinks on you will not suffer from weariness!"
In the end, his fasting and diligence caught up with him.  He died at the age of 49, entirely worn out by a life of service to sinners.
On June 23, the feast of St. Joseph Cafasso, let's ask his intercession for prisoners, unrepentant sinners, and those who try to bring the love of Christ to them. St. Joseph Cafasso, pray for us!