Catholic leader sees joy amidst the suffering.
What can God do in your life with one Bible verse a day?
Subscribe to Aleteia's new service and bring Scripture into your morning:
Just one verse each day.
Click to bring God's word to your inbox
Bishop Oscar Cantú was in northern Iraq on one of his many missions around the world in which he extends the help of the bishops of the United States to those facing persecution and harassment. One might have expected that he would find a very dismal situation, with thousands of Christians from Mosul and the Nineveh Plain still holed up in refugee camps in Erbil, three years after the Islamic State invaded their homelands.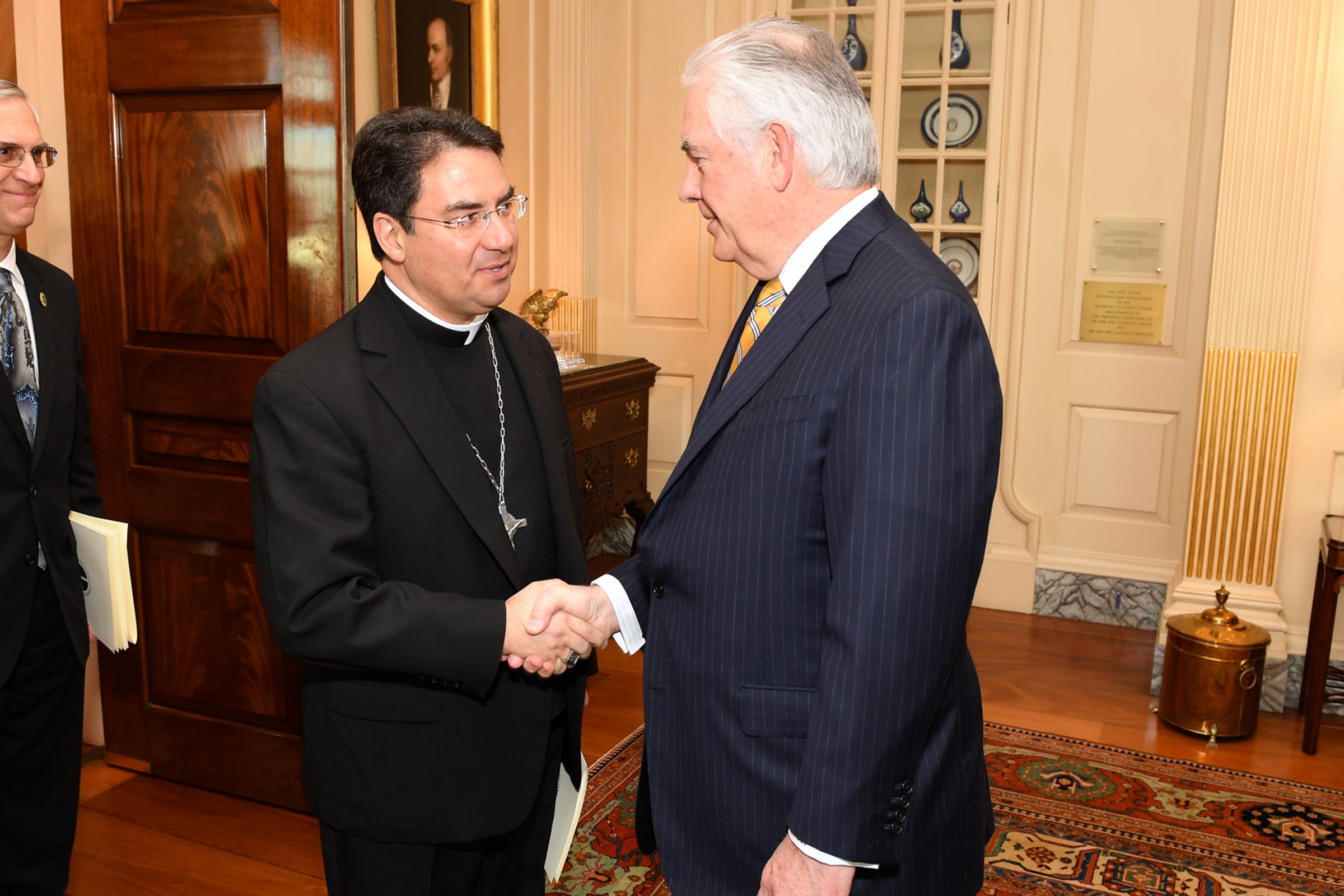 Indeed, there was "a tent camp for Christians" covering "the Church grounds across the street from our hotel," filled with people wondering whether they would ever get their real homes back.
But amidst the suffering there was joy, he said, because three men were being ordained to the diaconate that day, and one of them was from Mosul.
"The cathedral erupted" in joy, Bishop Cantú said.
"Persecution has a face," said Cantú, who chairs the U.S. Conference of Catholic Bishops' Committee on International Justice and Peace and is bishop of Las Cruces, New Mexico. He made his remarks in an oral report to the U.S. bishops' annual spring meeting in Indianapolis on the situation of religious discrimination and persecution in Asia and the Middle East.
"Tragically, religious persecution and harassment is not limited to one or two regions in our world," said Bishop Cantú. Citing statistics from the Pew Research Center, he noted that "Christians are harassed in the largest number of countries, 128, followed closely by Muslims in 125 countries. This is partly due to the fact that Christians and Muslims are the largest religious groups in the world."
And persecution can take many forms, some of which don't always make headlines."It finds expression in physical assaults, arrests and detentions, desecration of holy sites, and in discrimination against religious groups in employment, education, housing, the selection of a marriage partner and whether you are considered a citizen," he said.
The bishop said that when his office offers help to local Churches dealing with persecution, it respects their approaches and seeks to "adopt strategies that complement" their work, according to a report by Catholic News Service. That might be as extreme as "openly challenging persecution by government or non-state actors, … organizing nonviolent protests or doing human rights advocacy in courts." But it might also take the form of avoiding the situation altogether.
"At times it is dangerous for the local Church to be publicly associated with Church leaders from the United States due to U.S. actions or policies, for example in the wake of a U.S. drone strike that killed civilians," he said.
In his report, Bishop Cantú highlighted the following recommendations for the U.S. government:
Providing assistance to refugees and displaced persons, including through faith-based organizations like Catholic Relief Services.
Assisting in the resettlement of refugees, including victims of genocidal actions and other vulnerable families.
Encouraging central and regional governments in Iraq and Syria to strengthen the rule of law based on citizenship, to insure the protection of vulnerable minorities, and to improve policing, judiciary and local governance with the help of U.S. assistance.
He also invited the Church and Catholics in the United States who wish to help to pray for those suffering from persecution; become aware of the Christian presence in the Middle East and of an accurate understanding of Islam with openness to dialogue with Muslim neighbors; donate to non-profit Catholic organizations such as CRS, Catholic Near East Welfare Association (CNEWA), Aid to the Church in Need and the Knights of Columbus, and advocate with the U.S. government for assistance and the dignity of refugees.