New research says the secret to willpower is thinking about it the right way.
Need an idea for Lenten almsgiving?
Help us spread faith on the internet. Would you consider donating just $10, so we can continue creating free, uplifting content?
Make a Lenten donation here
For years, the common wisdom on willpower was that it's a finite resource. That's why uber-successful people like Mark Zuckerberg wear the same clothes every day, to avoid draining willpower on simple choices and save it up for the things that matter.
Studies on willpower backed up this theory, focusing on "ego depletion" or how long a participant could withstand a second task after performing an initial task. By and large, these studies found a level of willpower depletion that led to the conclusion that willpower functions like a mental muscle — it has limits and can be exhausted.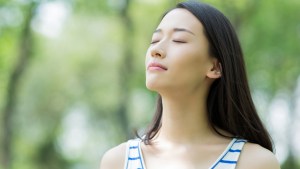 Read more:
3 Simple exercises to effectively reduce stress
But that wisdom is starting to shift. Several recent studies found that ego depletion only occurs when the subject believes their willpower is a finite resource. Subjects who don't believe there are limits to their willpower don't show signs of ego depletion. Researchers are starting to find that those with unlimited belief in their own willpower mentally approach tasks differently, as opportunities for fun rather than obligations to work.
This makes sense to me. I used to run as my primary form of exercise, but I dreaded it. I would force myself through a few miles and then come home exhausted, completely useless for the rest of the day.
When we started taekwondo, I was equally exhausted by the workouts. But I was also exhilarated by them. The physical exhaustion wore off quickly, leaving only the exhilaration. Now, I can work 10 times harder in an hour-long taekwondo class than I ever did on my two-mile slogs, and leave with more energy than I had going in.
Even better, that exhilaration seeps out into every part of my life. When I'm training hard in taekwondo, it's easier to resist the siren song of Milano cookies and Talenti gelato. I mean, let's be real — it's never easy. But it is easier, because I know that filling up on empty calories instead of nutritional food will make it harder to perform well in class later.
Read more:
The Mental Wellness Loft: A modern way to show compassion to the mentally ill
Not everyone is motivated by martial arts, but everyone is motivated by something. The best way to develop unlimited willpower is to find what motivates you, and reframe your approach to unpleasant tasks (like not eating cookies) in light of what you're passionate about (like kicking things).
The more you can reframe your approach to tasks positively, in light of things you enjoy doing, the better chance you have of keeping your motivation high and being successful in your endeavors.
This might mean being practical, though, and giving up on things that you simply can't find motivation for. I still run sometimes, but solely as mental and cardio training for sparring. I never run for the sake of running, because that's not what motivates me.
If you find motivation in activities you love and use that motivation as a springboard to propel you through all the less-exciting work of life, there will be no limits to your willpower or to what you can accomplish.